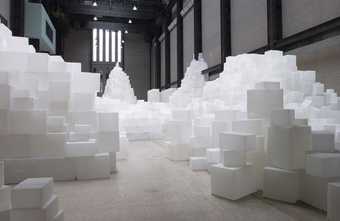 The latest in the celebrated Unilever Series of commissions for Tate Modern's Turbine Hall has been undertaken by sculptor Rachel Whiteread.
As one of Britain's leading contemporary sculptors, Whiteread has undertaken several significant public commissions. She was awarded the Turner Prize in 1993 following her acclaimed project Untitled (House), a life-sized cast of a condemned terraced house in London's East End. More recently, she has produced the Holocaust memorial in Vienna and has also created Monument which was displayed on the empty plinth in Trafalgar Square.
For the Turbine Hall, Rachel has created a work of monumental scale but which also continues her preoccupation with representing familiar and intimate domestic objects in a thought-provoking and unexpected form.