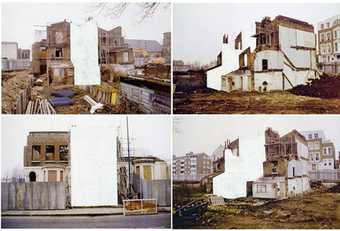 Rachel Whiteread is one of the foremost artists of her generation. Born in London in 1963, she studied painting in Brighton from 1982 to 1985 and sculpture at the Slade School of Art in London from 1985 to 1987. She was first nominated for the Turner Prize in 1991, and won it in 1993, the year she made House, a sculpture cast in concrete from a condemned terraced house in East London.
Whiteread is best known for House, but her practice is grounded in the intimate, domestic sculptures which are the focus of this exhibition. Sculptures cast in plaster, rubber and resin, a set of prints, photographs of House and the model for the forthcoming Judenplatz Holocaust Memorial in Vienna, trace the development of a coherent artistic project from the artist's earliest exhibited sculptures to her most recent, previously unexhibited work. This exhibition, the most substantial showing of White read's work in Britain to date, offers the opportunity to experience her sculptures together, as they work best, changing and offering new meanings in the relationships they take up one to another.
Since 1988, Whiteread has been making sculptures which solidify space. Casting directly from objects which are part of our everyday experience, she makes visible the spaces in, under, on or between things. Her approach is consistent: whether she is casting from a small stool or a house, she is interested in the space which surrounds and defines the objects. Her sculptures, often seeming to be direct transcriptions or representations of the objects they denote, are in fact negative impressions of them: the space around or inside an object and not the object itself. To make Closet, for example, the artist explains:
I simply found a wardrobe that was familiar, somehow rooted in my childhood. I stripped the interior to its bare minimum, turned it on its back, drilled some holes in the doors and filled it with plaster until it overflowed. After the curing process the wooden wardrobe was discarded and I was left with a perfect replica of the inside.
Whiteread's interest can be said to be figurative, her sculpture to do with the human body. The objects from which she casts – mattresses, beds, sinks, chairs – all have an intimate, physical relationship to the body's shape and function.
The objects with which Whiteread chooses to work all have a familiar, human resonance. Although she works both inside and outside galleries, on a wide­ranging scale, her constant reference is human, involved with objects that people can hold, use and inhabit. She speaks of a fascination with things which have been designed for human use, and this fascination is embedded in her sculpture. The objects from which she casts are always second-hand, they have had a life prior to the artist's treatment of them, and bring their own history to the meaning of the casts she takes from them.