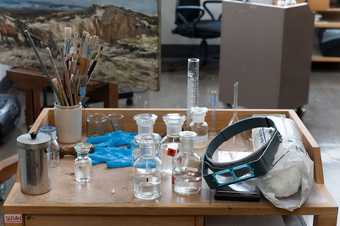 Conservation brings excellence and innovation to the care of our collection, preventing damage and deterioration and ensuring that the collection is available for current and future generations to enjoy. To achieve this in our roles we:
• Have a preventive and risk-based approach
• Develop and implement policies and strategies to ensure long term preservation
• Examine and develop strategies to care for collection and individual artworks
• Research and use scientific analysis to study an artist's technique, method and use of material
• Undertake treatments to the highest standards, fully documenting our work
• Work with artists or their estate to ensure the artist's intention is retained
• Provide best practice for storage, handling and display
• Ensure a holistic approach to collection care through environmental management and monitoring
Whatever the material or medium our role is to understand it and how it behaves to ensure long-term preservation of the collection.
We provide specialist conservation services to facilitate and support our programme acquisition, exhibition, display, loan and international touring.