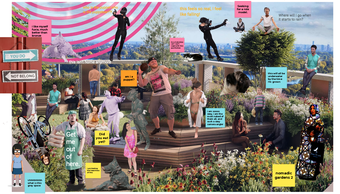 Social practice is a growing global phenomenon, with artists increasingly drawing on their creativity to address urgent intersectional issues of social and environmental justice. There are, nevertheless, still relatively few opportunities to formally develop the knowledge and understanding needed for effective practice in this field.
This research project, funded by the Arts and Humanities Research Council, explores how the teaching of social practice can be improved for arts practitioners through partnership between cultural and higher education institutions. It uses online communications to test practical possibilities for augmenting learning through collaboration across national boundaries, and investigates other benefits that networking across institutional and geographical divides can bring. The network is expected to result in the formation of a nascent community of practitioners, cultural providers and educators to encourage co-operation, exchange and possibilities for greater future collaboration.
The project's research questions are:
How can collaboration between higher education and cultural institutions improve the teaching of social practice?
In what ways could international communication and exchange support this?
The project's objectives are to:
Investigate current pedagogy in social practice, both within and beyond UK borders
Investigate current approaches to teaching social practice within higher education institutions and to supporting emerging practitioners within cultural institutions
Develop understanding of issues underlying the teaching of social practice and support of emerging practitioners, including current best practice, barriers to effective learning; and ideas for enhancing future teaching and learning
Identify next steps for establishing new, cross-institutional and cross-national provision for learning in this field
Develop new knowledge regarding ways that socially engaged art can be taught more effectively
Research Activities
Initial networking
Communications will commence between a core of four arts institutions and universities in the UK and US, two countries that are foundational to social practice arts and its education. This will then be expanded to a wider network. The core organisations are Tate and Middlesex University, and Queens Museum and City University of New York (CUNY), each of which has specific experience of supporting social engagement in art.
Workshops
Each of the core institutions will host a workshop, two online and two face-to-face (one at Tate Modern, London and one at Queens Museum, New York). These workshops present the opportunity to test out new methods and practices of teaching collaboratively across higher education and cultural institutions, as well as with an international cohort of participants.
Symposium
The research project will culminate in a virtual symposium where findings from the workshops, outcomes and outputs will be demonstrated, discussed and disseminated. This event will address how future learning in this field can be expanded through cooperation, exchange and ongoing networking.