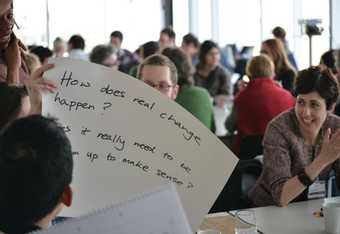 This year-long project is led by Dr Karen Salt, Director of the Centre for Research in Race and Rights at the University of Nottingham, who is Tate's inaugural Futures Fellow and an expert in the field.
Inclusive Futures aims to inform Tate's future work in the area of diversity and inclusion, and act as a pilot for the cultural sector more widely. The project has two distinct stages, both of which aim to involve staff at all levels and in all parts of the organisation.
The first part, titled 'Ghost Projects', will unearth and explore past projects at Tate which have focused on race, power, equality and social justice. The title 'Ghost Projects' is based on the idea that these projects and the learnings from them are largely ephemeral. As part of this research, Tate has invited all colleagues to share projects that focus on these issues with a view to building an internal database of Tate's collective past experience for future study. Part of the work of 'Ghost Projects' is to grapple with the past – including the things that worked but were never integrated into Tate – and begin to assemble the collective experiences that can help shape the future of the organisation.
'Futures Work' is the second part of the project, designed to support future decision-making and shape the development of Tate's diversity and inclusion strategy. This part of the project will see Karen Salt working closely with teams across Tate to understand how they are applying diversity and inclusion strategies, policies and processes in a practical way and the ways that Tate can collectively build into its strategising and practice the knowledge embedded within all teams.
Details of the project will be shared on this site as the work progresses.
Contact Karen Salt or Emily Pringle (Head of Learning Practice and Research at Tate) if you would like more information on Inclusive Futures.