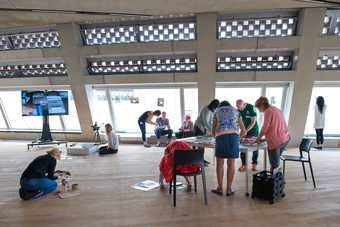 Tracking Arts Learning and Engagement (TALE) was a collaborative research project involving Tate, The Royal Shakespeare Company (RSC) and the University of Nottingham. Over three-years (2015 – 2018) the research investigated four main questions:
What do teachers learn from deep engagement with cultural organisations?
How do teachers translate this learning into the classroom?
What do pupils gain from these learning experiences?
What do the two different models of teacher professional development at Tate and RSC offer and achieve?
The research focused on thirty secondary schools spread across England and included three special schools. During the three years of the project the researchers tracked students and 63 teachers and analysed 6,000 responses from young people aged 14 – 18.
The study brings to light the voices and opinions of young people and provides new insights into the positive difference that sustained engagement with arts and cultural engagement has on the lives of young people. However, the research was carried out against a background of funding cuts and a rapid decline in the number of arts teachers and hours spent on arts subjects in state-funded schools across England. This is reflected in the TALE findings which also reveal the challenges teachers face in providing a rich arts and cultural education for young people.
The research findings were launched at an event at the House of Lords on October 15th, 2018 during which Tate Director Maria Balshaw joined with Erica Whyman, RSC Deputy Artistic Director to call for five changes to ensure that arts and culture features in all young people's education.
Further information can be found on the TALE project blog.
Tracking Arts Learning and Engagement is supported by Arts Council England.