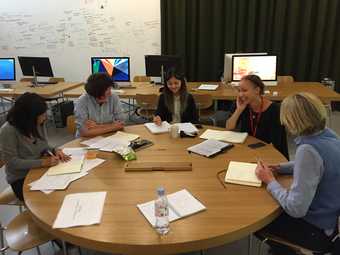 Emily Pringle, Head of Learning Practice and Research, Tate Learning is currently undertaking an AHRC Leadership Fellowship examining how museum professionals can (and do) undertake research and the ways in which art museums can support curators, gallery educators and audiences to generate and participate in research processes. This project is interrogating current conceptions and real world examples of practice and research in galleries. It is also applying practitioner researcher scholarship developed across relevant disciplines and what is variously described as practice-led, practice-based and practice as research to the art museum context.
Further insights into how practitioner researchers generate and apply knowledge with audiences are surfacing through detailed case study investigations of galleries in the UK and internationally. The fellowship is utilising a practice-based methodology, thereby foregrounding the lived experience of a practitioner researcher in the art museum and seeks to address two current priorities for art galleries; the nurturing of research-led practice and greater co-production of knowledge with audiences.
Project progress is being documented on the Practitioner Researcher in the Art Museum (PRAM) blog.