Tate and Zooniverse's online crowdsourcing transcription tool AnnoTate launched on 1 September, and since then has welcomed over 10,500 unique visitors to the site. By getting involved, each visitor will play a crucial role in the process of transcribing 17,000 letters, diaries, notes and sketchbooks from the archives of artists (find out more information about the project). From jotted 'to-do's' and reminders, to a moving description of the outbreak of war, AnnoTate transcribers are working through a wealth of material from the mundane to the magical; from professional gripes to professions of love, social commentary to shopping lists, and so much more.
So what has inspired transcribers to get involved?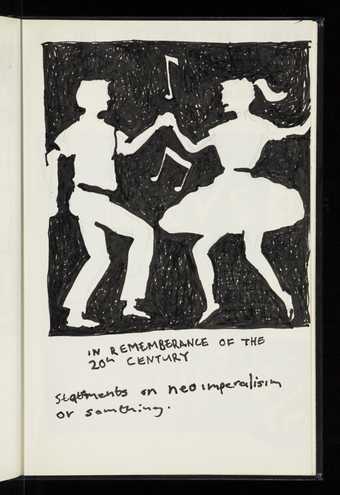 To find out, let's hear from two participants who have shared their thoughts on the project, and described their experiences with AnnoTate.
Curiousity
'… I was curious to see what it was about.'
AnnoTate user @starrymirth explains that on the one hand 'the AnnoTate concept is something that I consider quite important – the digitization of data, making it searchable and accessible; but on the other hand I transcribe simply because I find the process enjoyable.'
Sharing discoveries
Many users have posted interesting finds to the AnnoTate Talk forum. Talk is both a social hub and a noticeboard where shared articles can be browsed, questioned, and commented on. The materials featured in Talk speak of the entire gambit of human experience, from comedy to tragedy, poetry to bureaucracy. Fascinating posts there include a discussion of a typescript of a 1986 talk by Klaus Hinrichsen at the Camden Arts Centre, and this sketch by Donald Rodney. Frequently too, transcribers uncover personal notes on health, career and family, such as this love note penned by Paul Nash.
Learning as you transcribe
AnnoTate visitors can begin a transcription in two ways: they can chose to 'Start transcribing' and jump straight in to work with randomised items (links back to the Tate website are provided per article, so the transcriber can learn more about the artist, their work and the piece's context); or they can 'Find Artists' and focus on the archive or a particular individual. User @jules is currently transcribing Keith Vaughan's notebooks which she describes as both poignant and revealing:
The transcription process is illuminating in many respects, with participants learning about aspects of and approaches to practice, gaining insights into societal histories, and encountering striking biographical details.
Thanks to @starrymirth (Laura) and @jules (Julia) for contributing to this post, and to all getting involved with AnnoTate for your vital contributions to this exciting project!