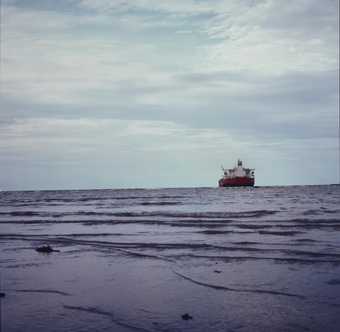 The climate and ecological emergency is one of the greatest challenges of our time and Tate is committed to continue working towards increasing sustainability, protecting the environment and becoming one of the world's most sustainable art institutions.
We declared a climate and ecological emergency in July 2019, recognising the unique role art and art museums can play in creating fundamental societal change. We exceeded our target to reduce carbon emissions by 50 per cent by 2023 from the baseline year of 2007/8 and we are working towards reducing emissions to net zero by 2030.
In 2023 Tate hosted the first ever museums COP sustainability summit, where representatives of UK museums, sector bodies and funders agreed actions to address the climate crisis. Tate worked with the Bizot Group of international museums to develop and agree a refreshed Green Protocol, providing key principles, guidelines on climate controls, and a series of handbooks to support best practice. This helps museums make collection care less energy intensive, change the way we transport items and reduce the carbon footprint of our buildings.
We pledge to continually examine our systems, values and programmes to find ways to become more adaptive, more responsible and greener. We are determined to inspire environmental change, amplify the voices of our artists and audiences, and make our long-term commitments ambitious and effective.
'I'm not a scientist or a campaigner, I'm an artist. […] I'm coming at it from a different perspective by asking the question: what is philosophically, ethically and morally at stake here if we continue on this course? I don't think you need to be licensed by the scientific community to ask that sort of question about the times we live in or to reflect on the anxiety many of us feel about the future of the planet.' – John Akomfrah
Progress so far
Here are some of the recent ways in which Tate has gone green:
Switched to a 100 per cent renewable energy green electricity tariff across all galleries in 2019.
Reduced staff business travel by 44 per cent between 2013/14 and 2019/2020.
Harvested around 226m³ of rainwater annually which is used to flush toilets at Tate Modern.
Installed 330 solar panels that produce 100 per cent renewable energy. The energy generated could boil 654,560 kettles or power 12 homes for a year.
Re-used and recycled approximately 75 per cent of our waste. Any non-recyclable waste is diverted from landfill to produce energy.
Installed a Wi-Fi environmental monitoring system to monitor gallery conditions.
Revised temperature and humidity conditions in our galleries in accordance with internationally recognised guidelines.
Innovated the way we store and transport art. Packing cases are made from sustainable wood.
Our Shops used FSC certified or recycled paper for Tate Publishing books and art prints as well as recycled or recyclable packaging for shop deliveries.
Made T-shirts in our shops from sustainable cotton.
Made our own honey, encouraging bees with hives at Tate Modern and Tate Britain.

Commitments
Operations
We commit to examining and reviewing our systems, structures and business models.
Continuing to reduce the energy, water and materials used in our galleries, offices and store facilities.
Auditing and reducing our business travel. Reducing air travel through the introduction of a 'train-first' policy for travel in the UK and Europe.
Continuing to examine the goods and services provided through our shops, cafés and restaurants.
Art and Artists
We commit to raising awareness of climate and ecological emergency through our programme both within the walls of our galleries and across the world, responding to and amplifying the concerns of living artists.
Programming exhibitions and events that address climate and ecological emergency and highlight the important intersection between climate change and other social injustices.
Adapting the ways in which we collect, care for, store and transport the artwork in Tate's collection. Our strategy includes an Environmental Risk Rating for artworks entering the collection to help us identify and mitigate their effect on our carbon footprint.
Adapting the ways in which we curate, install and de-install exhibitions. Our strategy includes borrowing artworks from fewer locations and reviewing the length of our exhibitions.
Using enhanced communication to support the transport and installation of artwork on loan to Tate and on loan from Tate's collection, further reducing the need for business travel.
'Art is always about reappraising the way we look at the world. It can speak more eloquently than propaganda because it can inject emotion into facts. And sometimes it can work like a Stealth Bomber: it can slip under the radar and hit home.' – Cornelia Parker

Collaborating and Communicating
We commit to working in partnership with other arts organisations to support sustainability initiatives across the sector internationally and to working in collaboration with community organisations to embed sustainability in our neighbourhoods. We commit to informing our visitors of our sustainability work.
Measuring and communicating our environmental performance. See our carbon footprint in this report by Julie's Bicycle [PDF, 3.81 Mb] and in our annual accounts [PDF, 115 Kb].
Providing information about the environmental impact of exhibitions, commissions and facilities. Visitors can find labels throughout the galleries explaining how we are making our work more sustainable.
Shaping international museum principles for sustainable practice through groups such as the International Committee for Museums and Collections of Modern Art (CIMAM), International Council of Museums (ICOM) and the Bizot museum group.
Running until September 2025, the GREENART project is working with international partners to research ways to preserve cultural heritage using environmentally friendly 'green' sustainable materials made from renewable natural sources or recycled waste.
Working with Better Bankside to achieve net zero neighbourhood status by 2030.
Our Environmental Policy details our commitment to reduce the negative environmental impact of our activities. The policy applies to all activities and operations across Tate sites, as well as all our employees, volunteers, working partners, patrons and visitors.