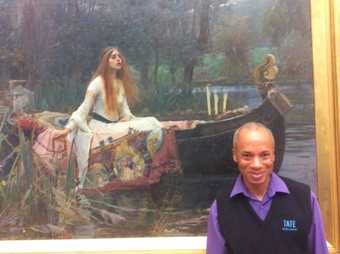 What does your job involve?
My job involves answering visitors' questions about artwork on display to the best of my ability. I also try to make sure visitors have an excellent experience at Tate Britain or Tate Modern by providing any other information they may need. Ensuring visitors' and artworks' safety are also an essential part of my role.
What qualifications, knowledge, skills, experience or interests do you need in your career?
A qualification is not required for the job of Visitor Assistant but would be a plus. Good customer service related experience is recommended. I would say that the ability to deal with visitors' needs effectively; to be an ambassador for the museum; to be an excellent team member (or at least aim to be one!) are all good skills to have. Being able to work individually and use your own initiative is also helpful. An interest in British and international art is also important.
What attracted you to do this job at Tate?
The opportunity to work permanently for Tate was very attractive to me because the gallery had an international reputation – I had heard about the gallery since being a child. The Tate Collection is well known and there are artworks for everyone: Whether they like classical, modern, British or international art (which is on display at Tate Modern). I was very keen to work in the Visitor Experience Department as I was interested in working in customer services.
Briefly describe a typical working day
Usually I check the galleries I am working in on the day to make sure everything is fine. I also help with visitors' needs and questions – whether they are looking for artworks or gallery facilities such as the cloakroom, cafeteria, library and archive, the boat pier, guided tours…
At the end of the day, along with my colleagues, I clear the galleries and exhibition areas. I also see myself as an ambassador for Tate, because as a Front of House member of staff I am the first point of contact. I aim to provide a good service for our diverse visitors and to ensure they enjoy their visit and remember it when they leave. I'd like visitors to come back and see us again!
What are the most rewarding and most difficult things about your job?
The most rewarding things about my job are visitors' thanks or congratulations when they have enjoyed their visit and tell you face-to-face or leave their comments on a comment card. Visitors don't always have to say it, but when I know I have made someone's visit a good one, it brings a smile to my face. Congratulations from our managers after we have achieved a task such as a Ten Minute Talk is also very rewarding.
What I sometimes find difficult is changing visitors' minds when they have not been happy with their visit, because they found a service too expensive – such as the cafeteria. We cannot always satisfy all visitors, and we do not have an answer for everything, however we do our best to improve our services. Spending a lot of time patrolling can be tiring, so I try to make the most of my break times to relax.
What advice would you give to someone interested in a career in visitor experience?
My advice would be to make sure you enjoy customer services and to think how you can offer the best possible experience for visitors to the gallery.