Hear artist Tania Bruguera and the Tate Neighbours speak about art as a tool for inspiring social action and creating institutional change.
Can art be a force for social change?
Like many artists working today, Cuban artist Tania Bruguera grapples with issues of power and control in her work. But she creates her installations and performances using an unusual medium – other people. Through her work, a single passerby or an entire local community can become an active participant in artistic creation. This type of art, which has been gaining momentum since the 1960s, can go by many names: socially engaged practice, community art, new genre public art, and activist art, among others. What unites these approaches is a new take on who holds the power, shifting agency away from institutions and even artists, and giving ordinary people the ability to create meaningful change in unprecedented ways.
As part of the Hyundai Commission: Tania Bruguera – 10,147,976, Bruguera brought together a group of residents local to Tate Modern to shape her project. These Tate Neighbours curated a series of community workshops at Tate Exchange, working to share their knowledge and equip visitors with the skills to create change in their local communities. But they also created lasting impact in the gallery, drawing up their own manifesto for art and social action, and even renaming an entire gallery building after local volunteer and activist Natalie Bell.
Despite all this, you might be wondering: where's the art? The answer is that it lies in the people who take part in it, the actions they take, and the change they create. Instead of just portraying or reflecting the power structures around us, activist or socially engaged art addresses those structures directly. In doing so, it becomes a kind of social or political currency, and creates the conditions for society to shift. It's arte útil, or "useful art."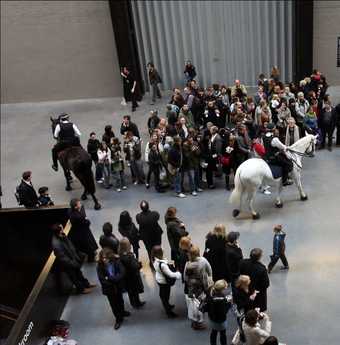 Taking action in the gallery and beyond
Other artists engaging with social practice include Suzanne Lacy, whose work spans visual art, film and performance art to installation, public practice and writing. All her work is linked by its engagement with social themes and urban issues, through conversation within communities of people. Her Crystal Quilt (1985-7) brought together 430 women aged over 60 in a live tableau, where they sat arranged in the pattern of a giant rug, speaking to one another about womahood, activism, and the lost potential of old age.
Like Tania Bruguera, Jeremy Deller moves away from making conventional objects and instead curates situations between groups of people. In 2001, Deller staged a recreation of the Battle of Orgreave, a confrontation between striking miners and police in the 1980s. He enlisted both skilled re-enactors and veterans of the original conflict, bringing to light issues around the innacuracy of memory and written history, and the power we hold to re-write it.
And some artists have been bringing this practice out into the world. Since the early 2000s, Theaster Gates has been creating spaces for communities to gather and openly discuss the issues affecting them, from race to politics to regeneration. His Dorchester Projects took a number of abandoned buildings in the South Side of Chicago and, through selling artworks made from local scrap materials, financed their redevelopment into a community hub of artist studios, libraries, and performance rooms.
In an increasingly uncertain world, artists working in social practice give us the tools to better understand our place in it, examine it, and change it.