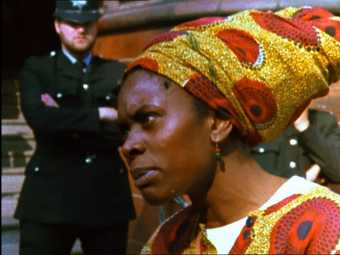 The movement was founded around the time of the First National Black Art Convention organised by the Blk Art Group and held at Wolverhampton Polytechnic. Their work was both inspired and promoted by the cultural theorist Stuart Hall, who was one of the main proponents of reception theory, particularly in relation to race and the media. The group were highly influential, instrumental in de-imperialising the institutional mind and in changing the nature and perception of British culture.
A key moment in the British black arts movement was the exhibition The Other Story staged at the Hayward Gallery in 1989 and curated by Rasheed Araeen. Featuring Modern artists of African, Caribbean and Asian ancestry, the show revealed how these artists had been marginalised in the West through discrimination.
Artists and curators associated with the movement include Rasheed Araeen, David A. Bailey, Black Audio Film Collective, Sonia Boyce, Eddie Chambers, Shakka Dedi, Denzil Forrester, Lubaina Himid, Claudette Johnson, Remi Kapo, Eugene Palmer, Keith Piper, Donald Rodney, Mark Sealy, Marlene Smith and Maud Sulter.