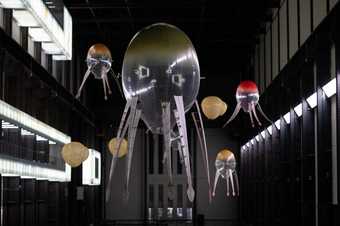 Throughout history, art has both influenced and been influenced by technology. This relationship has led to many exciting artworks. Here we explore six artists who have used machines within their work ...

1. Anicka Yi, In Love With The World, 2021
Artist Anicka Yi is interested in the links between art and science. Her practice explores the merging of technology and biology, breaking down distinctions between plants, animals, micro-organisms and machines. Through her work, Yi challenges the idea that humans are distinct from other forms of life by blurring these divisions between technology and biology. The artist's studio collaborates with experts across many fields including philosophers, fabricators, engineers, microbiologists, and perfumers.
Yi's installation In Love With The World populates the Turbine Hall at Tate Modern with floating machines which she calls aerobes. The shape of these uncrewed aerial vehicles (UAVs) is based on ocean life forms and mushrooms. They do not require humans to pilot them. Instead they follow a unique flight path generated from a vast range of options in their software. The aerobes' individual and group behaviours develop over time, influenced by the ecosystem, including the heat signatures of people nearby.
Combining forms of aquatic and terrestrial life, the aerobes signal new possibilities of hybrid machine species. They prompt us to think about embodied and biodiverse forms of artificial intelligence (AI), and new ways machines might inhabit the world.

Most AI functions like a mind without a body, but living organisms learn so much about the world through the senses. Knowledge emerging from being a body in the world, engaging with other creatures and environments, is called physical intelligence. What if AI could learn through the senses? Could machines develop their own experiences of the world? Could they become independent from humans? Could they exchange intelligence with plants, animals and micro-organisms? - Anicka Yi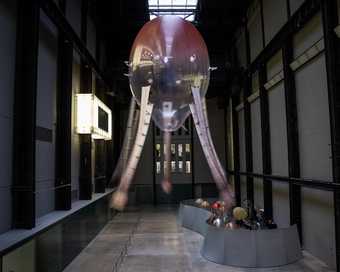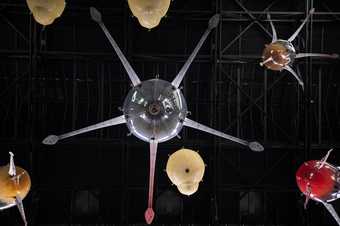 2. Gustav Metzger, Liquid Crystal Environment, 1965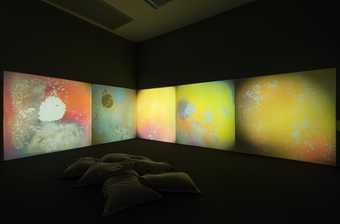 In 1961 German artist Gustav Metzger became interested in the concept of auto-creative art which uses technology to construct processes of positive change and growth. We can see an example of this 'auto creation' in Liquid Crystal Environment. The work consists of heat-sensitive liquid crystals which are inserted into projectors, then heated and cooled to form crystal patterns of alternating colours. These are then projected onto screens around the exhibiting space, all under the control of a computer program. The psychedelic patterns projected create a total sensory environment, inviting us into a world where art and technology collide. In 1966, the artwork became the stage set for performances by Cream, The Move and The Who at the Roundhouse, London.

3. Nam June Paik, Bakelite Robot, 2002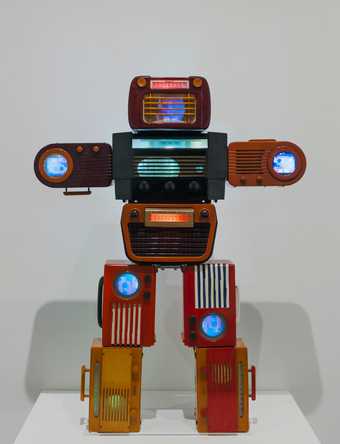 Often recognised as a founder of video art, Nam June Paik worked across video sculpture, television productions, robotic devices, performance and installation. In a pre-internet era, Paik embraced mass media and predicted that 'technology would enable people to communicate immediately' .

Inspired by his visits to Tokyo, and often using rejected media artefacts within his work, Paik constructed Bakelite Robot from nine vintage Bakelite radios to form a miniature robot sculpture. Associated with access to information and entertainment, the radio has become a symbol of the twentieth-century modern home and technology featuring as part of everyday life.

Where the radio dials would usually sit, Paik placed tiny television monitors displaying footage from science fiction films and recordings of vintage robot toys. Interested in the connection between technology and the human body, the work demonstrates Paik's attempts to 'humanise the technology and the electronic medium'.

4. 9 Evenings: Theatre and Engineering and Experiments in Art and Technology (E.A.T.)
Technician Billy Klüver believed that specialists in art and technology should collaborate. Throughout the 1960s and 70s, Klüver worked at Bell Laboratories, a research facility at the centre of the American telecommunications revolution and also had access to the avant-garde artistic circles of New York. He was able to bring these two worlds together and pave the way for a new digital age.

In 1966, thirty engineers from Bell Laboratories and ten artists, including Robert Rauschenberg and Jean Tinguely, took part in the New York art project 9 Evenings: Theatre and Engineering. Led-by Klüver, this series of collaborations between artists and technicians resulted in many ground-breaking artworks, dances and pieces of theatre and music. The engineers involved used new technologies, such as wireless microphones and fiber optic cables, and the artists pushed their work in new directions, incorporating technological elements. 9 Evenings: Theatre and Engineering highlighted the artistic potential of electronics and is considered a turning point in media art.

Following the event, Klüver founded Experiments in Art and Technology (E.A.T.), an organisation which aimed to create further collaboration between artists and engineers. The group grew to have over 5000 members, including artists Andy Warhol and Jasper Johns, as well as choreographer Yvonne Rainer.

5. Angela Bulloch, West Ham - Sculpture for Football Songs, 1998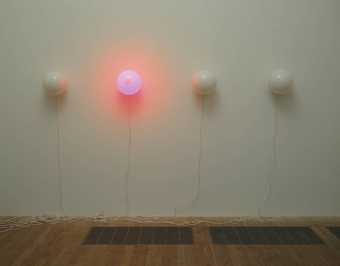 Recognised as one of the Young British Artists, Angela Bulloch works across multiple media such as sculpture, sound, video and installation. She uses electronic technologies to bring a 'gadget quality' to her work. Bulloch's work often contains an interactive element which responds to, or is triggered by, the viewer. The use of digital technology within her art enables Bulloch to manipulate how the viewer interprets different types of information and their understanding of her work. The colours of the lights within West Ham – Sculpture for Football Songs reflect the colours of the West Ham football strip. The lights turn on and off depending on the presence of the viewer. If the microphone (positioned nearby) detects the sound of a viewer, the bulbs are illuminated for a shorter period of time. In this way Bulloch invites the viewer to be an active participant within her work. While technology is integral to her work, Bulloch argues that she is not interested in technology for its own sake, but rather the ways in which people 'interface' with it and 'what psychological effect this has'.

6. Amalia Ulman, Excellences & Perfections (Instagram Update, 8th July 2014), (#itsjustdifferent), 2015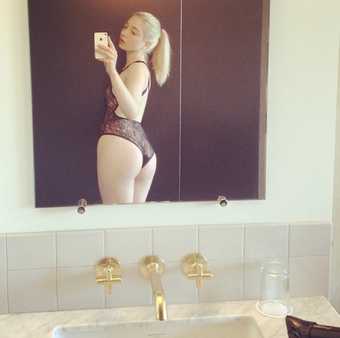 Amalia Ulman works across mediums including painting, installation, video and graphic design. Her works explore issues of class, gender and sexuality, and often use social media apps and an iPhone to do so. In 2014 Ulman began her Excellences & Perfections project, a durational performance which was displayed on her personal Instagram account. Creating a fictitious character, whose story unfolded across the course of the four-month long performance, the artist fooled her followers into believing in her character and following her journey from 'cute girl' to 'life goddess'. As she explains:
the idea was to bring fiction to a platform that has been designed for supposedly "authentic" behaviour, interactions and content'. The provocative work uses everyday technology to highlight the potentially manipulative nature of social media.