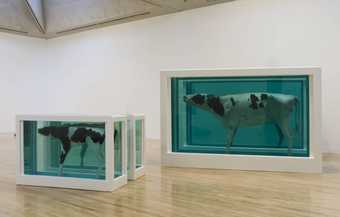 In the late 1980s British art entered what was quickly recognised as a new and excitingly distinctive phase, the era of what became known as the YBAs – the Young British Artists. Young British Art can be seen to have a convenient starting point in the exhibition Freeze organised in 1988 by Damien Hirst (the most celebrated, or notorious, of the YBAs) while he was still a student at Goldsmiths College of Art. Freeze included the work of fellow Goldsmiths students, many of whom also became leading artists associated with the YBAs, such as Sarah Lucas, Angus Fairhurst and Michael Landy.
Goldsmiths College of Art played an important role in the development of the movement. It had for some years been fostering new forms of creativity through its courses which abolished the traditional separation of media into painting, sculpture, printmaking etc. Michael Craig-Martin was among its most influential teachers.
The YBA brand
The first use of the term 'young British artists' to describe the work of Hirst and these other young artists was by Michael Corris in Artforum, May 1992. The acronym 'YBA' was coined later in 1996 in Art Monthly magazine. The label turned out to be a powerful brand recognised worldwide and a useful marketing tool for the artists associated with it (as well as for British art generally in the 1990s). One of the features that defines the YBAs is their 'can do' entrepreneurial approach to showing and marketing their work. This can be seen in ambitious exhibitions such as Freeze organised by Hirst and his contemporaries, as well as in ventures such as the Pharmacy restaurant opened in Notting Hill in 1998 and backed by Hirst, and The Shop set up in an empty shop in East London by artists Tracey Emin and Sarah Lucas in order to market their work.
What does YBA art look like?
Although certain broad trends both formal and thematic can be seen in YBA art, (such as the use of found objects and imagery that is sometimes perceived as shocking); there is no one YBA style or approach. The era is marked by a complete openness towards the materials and processes with which art can be made, and the form that it can take.
Leading YBA artists have preserved dead animals (Damien Hirst); crushed found objects with a steamroller (Cornelia Parker); appropriated objects from medical history (Christine Borland); presented her own bed as art (Tracey Emin); made sculpture from fresh food, cigarettes, or women's tights (Sarah Lucas). YBA artists have made extensive use of film, video and photography; used drawing and printmaking in every conceivable way (e.g. Michael Landy); increasingly developed the concept of the installation (a multi-part work occupying a single space), and not least, refreshed and revitalised the art of painting (Gary Hume).