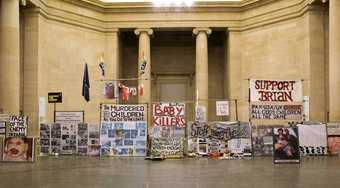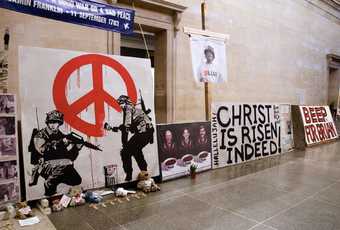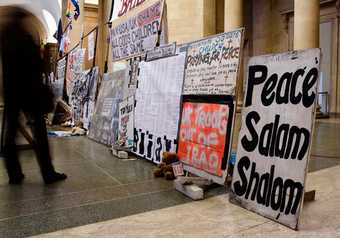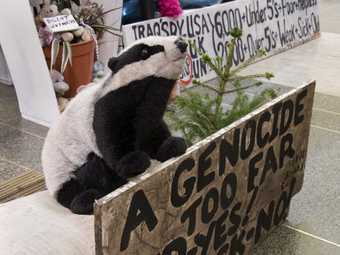 Mark Wallinger is one of Britain's foremost contemporary artists and has been invited to produce an ambitious new work for the Duveen Galleries at Tate Britain. Wallinger's work engages with questions of personal and national identity, history and belief systems. Typically uncompromising in scale and intention, this major site specific commission explores issues relating to the liberty of the individual and freedom of speech.
Mark Wallinger has recreated peace campaigner Brian Haw's Parliament Square protest. Running along the full length of the Duveen Galleries, State Britain consists of a meticulous reconstruction of over 600 weather-beaten banners, photographs, peace flags and messages from well-wishers that have been amassed by Haw over the past five years.
Faithful in every detail, each section of Brian Haw's peace camp from the makeshift tarpaulin shelter and tea-making area to the profusion of hand-painted placards and teddy bears wearing peace-slogan t-shirts has been painstakingly sourced and replicated for the display.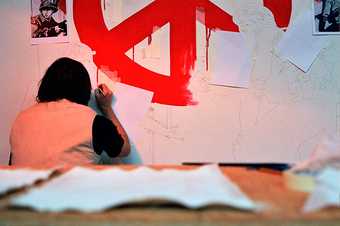 Brian Haw began his protest against the economic sanction in Iraq in June 2001, and has remained opposite the Palace of Westminster ever since. On 23 May 2006, following the passing by Parliament of the 'Serious Organised Crime and Police Act' prohibiting unauthorised demonstrations within a one kilometre radius of Parliament Square, the majority of Haw's protest was removed. Taken literally, the edge of this exclusion zone bisects Tate Britain. Wallinger has marked a line on the floor of the galleries throughout the building, positioning State Britain half inside and half outside the border.
In bringing a reconstruction of Haw's protest before curtailment back into the public domain, Wallinger raises challenging questions about issues of freedom of expression and the erosion of civil liberties in Britain today.
State Britain is the latest in an ongoing series of contemporary sculpture commissions whose previous contributors include Michael Landy, Mona Hatoum and Anya Gallaccio. The series builds on a long tradition of exhibitions in the Duveen Galleries, which has included memorable installations by Richard Long, Richard Serra and Luciano Fabro.
This display contains images of human suffering which some visitors may find distressing.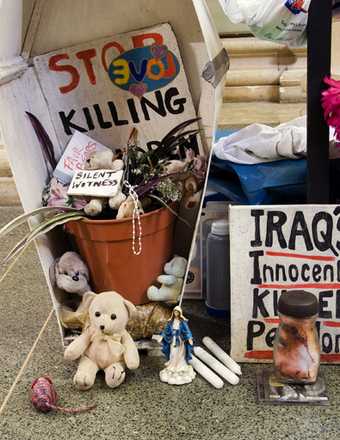 About the artist
State Britain is Wallinger's first major project in London since Ecce Homo 1999, one of his most celebrated works to date, a modern day, life-size Christ figure crowned with barbed-wire thorns that temporarily occupied The Fourth Plinth in Trafalgar Square, London.
Wallinger was born in Chigwell in 1959. He lives and works in London. He studied at Chelsea School of Art, London (1978–81) and Goldsmiths' College, London (1983–5). Since the mid-1980s Wallinger's primary concern has been to establish a valid critical approach to the 'politics of representation and the representation of politics' and has often explored issues of the responsibilities of individuals and those of society in his work. He was shortlisted for the Turner Prize in 1995 and represented Britain at the 49th Venice Biennale in 2001.
State Britain is curated by Clarrie Wallis, Curator, Tate Britain in collaboration with the artist.