1. Many came to London to escape war in France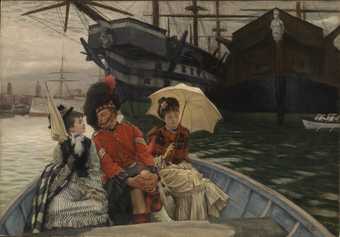 The Franco-Prussian War, which marked the fall of the Second Empire, severely tested France, and Paris in particular, which was attacked by the Prussians during the exceptionally cold winter of 1870-71. Parisians were cut off from the rest of the country and the threat of starvation was real. In some cases they resorted to eating pets, rats and even animals from the zoo. Unwilling to accept the terms of the Peace Treaty, some Parisians went against the government in 1871. This rebellion, called the Paris Commune, left 20,000 people dead and Parisian buildings and monuments in flames.
Seeking protection, many artists fled to Britain. As Théodore Duret, Edouard Manet's friend, wrote:
The horror and terror are still everywhere … Paris is empty and will become even emptier … Anyone would think there never were any painters and artists in Paris.
Safety in London allowed them to continue painting, something the French impressionists would have struggled to achieve in Paris.
2. Others moved for love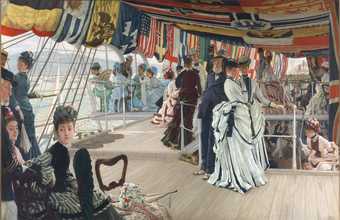 Painter Camille Pissarro wanted to marry his companion and the mother of his children, Julie Vellay. Julie was originally the Pissarro family's maid and so their relationship was disapproved of. His upset mother had indicated she would only tolerate the marriage as long as it happened in London 'without [her] blessing and without anyone knowing'. Leaving France, where his house had been turned into a stable by Prussian soldiers and virtually all his paintings destroyed, Pissarro travelled to London and was able to marry Julie at Croydon Register Office in June 1871.
3. London's famous landmarks feature in their work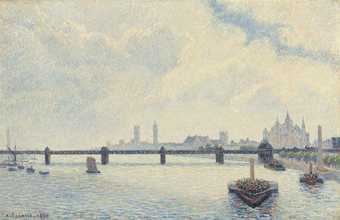 While living in the London, certain themes caught the impressionists' imagination. Many of their paintings illustrate parks as spaces of freedom, while others reveal a fascination with the city's crowds. Above all, the Thames and the Palace of Westminster frequently feature as symbols of Britain within their work.
Monet and I were very enthusiastic over the London landscapes.
Camille Pissarro
4. They formed their own artistic community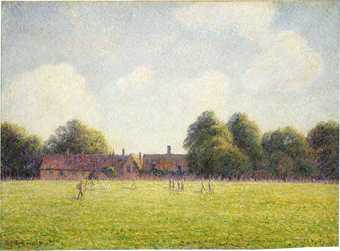 While in London, French impressionists interacted with their fellow countrymen and British artists. A network of friendships soon developed with exiles and refugees from France occupying specific areas. They mostly centred around Soho, which was nicknamed the 'French ghetto'. Many of the cafés and restaurants the artists visited still exist today. This includes Maison Bertaux and Café Royal, which was set-up by a French wine merchant, and became the meeting place of artists such as Daubigny, Pissarro and Monet.
5. Some received great support, even from Queen Victoria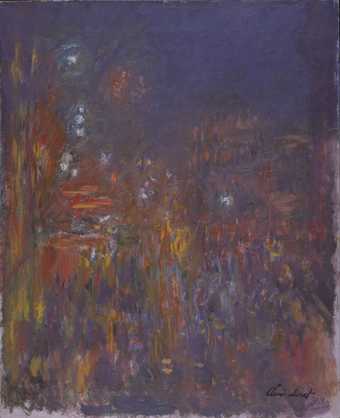 Artists such as the French sculptor Jules Dalou were supported by British aristocrats, some of which became their patrons and dealers. In 1877, Queen Victoria asked Dalou to make a private memorial to five of her grandchildren who has died in infancy. Similarly French artist Alphonse Legros benefited from the support of artists James Abbott McNeill Whistler, Dante Gabriel Rossetti, Edward Burne-Jones and their patrons. Legros was considered a model of success by French artists, many of which came to him for help and advice when in London.
6. They would often paint outside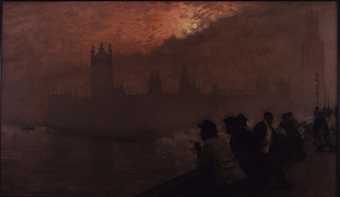 With many of the artists living in cramped lodgings, away from their friends and families, isolation and homesickness encouraged them even more to work outside or en plein air, which already was their practice in France. This saw refugee painters come and work together, whatever the weather.
7. They didn't all enjoy the city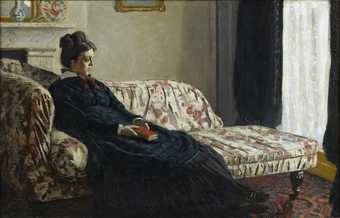 Despite the appeal of London's thriving art market, many of the French impressionists struggled with the British weather and language barrier. As Pissarro remarked:
It is only when you are abroad that you realise how beautiful, grand and hospitable France is.
This sense of homesickness is illustrated in Monet's painting of his wife Camille, Meditation, Mrs Monet Sitting on a Sofa 1871. Sitting on a chaise longue, Camille's face is expressionless and highlighted by a pale winter light. The viewer can almost feel her boredom.
8. Some were not successful in London, even Monet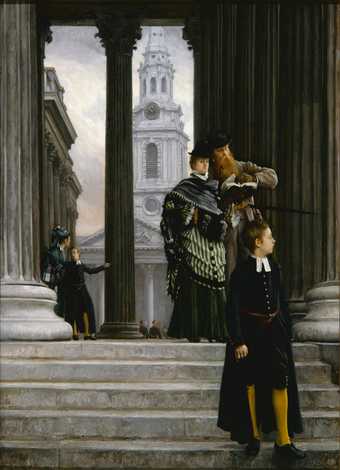 Art dealer Paul Durand-Ruel played a key role in promoting and exhibiting the work of French impressionists in London. A fellow French refugee, Durand-Ruel was a respected name on the Parisian art scene and opened a London gallery in 1870. Hoping to promote the French artists, his first exhibition was of the Society of French Artists, an imaginary, official-sounding committee of painters. Despite Durand-Ruel's championing of the French impressionists, artists including Claude Monet and Camille Pissarro achieved little success among London collectors.
England did not want any of our paintings. It was tough.
Claude Monet