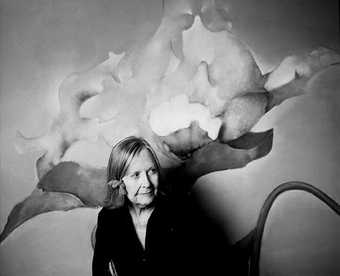 'It can safely be said,' Dorothea Tanning wrote in her memoir, Between Lives, 'that during this last century our way of seeing the world was profoundly changed by contact with Surrealism.' The modern world, she added, had perhaps more completely embraced and made its own the iconoclasm of the earlier Dada movement. But it was Surrealism – 'a milder form of challenge and far more suited to poetry and painting' – that altered our perception of things. It also transformed her life.
Unlike many artists who swam for a time with the Surrealist tide, Tanning never attempted to distance herself from the movement. Surrealism was integral to her personal life and helped sustain her commitment to being the artist she wanted to be. In 1936 the landmark exhibition Fantastic Art, Dada and Surrealism, organised by Alfred Barr at MoMA New York, had an immense impact on her and led, ultimately, to an ill-timed pilgrimage to Paris in August 1939. Soon after, the war brought Surrealism to New York, in the persons of the poet André Breton and such artists as Yves Tanguy and Max Ernst. ('A Paris blaze, its sparks had now fallen on New York to provide a little alchemical warfare,' was how Tanning described it.) She fell in love with and married Max Ernst, through whom she was propelled into the heart of avant-garde circles in New York and, later, in Paris.
Tanning's Surrealism was not that of a first-generation Surrealist, all politics and philosophical debates, intense friendships and bitter exclusions. At Breton's meetings, she spoke hardly a word of French and he refused to speak any English. Within the group she was seen as Ernst's companion, and her relationship with Breton was inevitably coloured by his less and less cordial relationship with her husband.
Tanning's Surrealism came more from the prehistory of the movement; that is, the narratives of fantastic and supernatural happenings found in Gothic and Romantic literature. She was born in 1910 in Galesburg, Illinois, a place, she said, 'where nothing happens but the wallpaper'. Her father's Swedish origins and tales of the old country provided hints of an exotic 'elsewhere'. Galesburg Public Library provided a gateway for her imaginary excursions into enchanted forests and haunted castles, to scenes of encounters between maidens, chivalrous knights and ghosts. She was 'forever corrupted' by such authors as Poe, Coleridge, Flaubert and Walpole. Books nurtured the visions within her throughout her life, and became a shared passion with Ernst – new books arrived at their home in France nearly every day.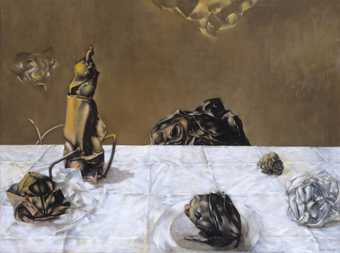 Tanning's paintings of the early 1940s reveal her taste for the unsettling moods and preternatural occurrences of Gothic novels. Girlish figures struggle with unearthly forces in scenes that combine the familiar and the imaginary. With growing technical mastery she manipulated colour and light to infuse the quotidian with metamorphic identity and extraordinary surface qualities. In Some Roses and Their Phantoms 1952, roses and a rampant insect form have become half-animal and half-metallic. A rose – or a phantom rose? – appears to grow through the white tablecloth. Others begin to push through the background wall. Tanning wrote of these roses, 'As I saw them take shape on the canvas I was amazed by their solemn colours and their quiet mystery that called for – seemed to demand – some sort of phantoms. So I tried to give them their phantoms and their still-lifeness. Did I succeed? Clearly they are not going to tell me, but the white linen gave me a good feeling as if I had folded it myself, then opened it on the table.'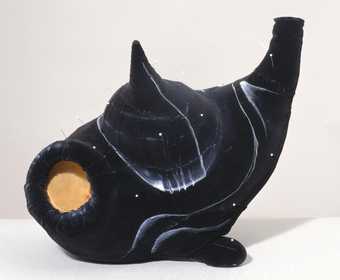 In the late 1960s and early 1970s Tanning made a number of cloth sculptures. Other artists in this period made sculptures evoking bodily forms and using unconventional materials, but their example, if known, was irrelevant to Tanning: her aim was to make three-dimensional avatars of her painted universe. One of the very earliest of her sculptures, Pincushion to Serve as a Fetish 1965 resembles no known form but, to quote Tanning, is 'bristling with images'. Its curves, protuberances and orifices (which include a domestic plastic funnel) suggest a lively creature. But the white lines on the black velvet, and with the pins pushed into it, hint also at magic or ritual. A few years later Tanning began sculpture-making in earnest, focusing on transformed or imagined bodies. Using wool to stuff and pink crêpe or grey tweed to cover them, Tanning created 20 or so fragile creatures that flaunt an assumed sexuality or couple with furniture.
Recognition – inevitably an issue for an artist married to a more famous one – came in these years with several major exhibitions, including a retrospective at the Centre national d'art contemporain, Paris, in 1974. Of the critics who wrote about Tanning in these years Donald Kuspit was perhaps the one who engaged most subtly with her themes of the body, of women and of sexuality. Shifting the critical focus away from Surrealism towards notions of a Dionysian fluidity and energy, he wrote in 1987, 'Tanning shows a baroque fascination with indeterminacy as a process of creation, an indeterminacy that refuses to mirror – even darkly, distortedly – a preordained content.'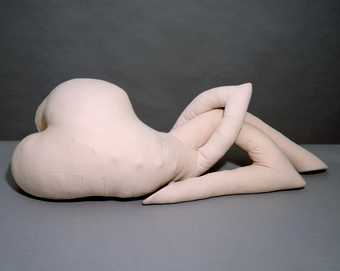 Tanning herself always stressed the absolute continuity of her approach: her way of doing things changed but her preoccupations – often informed by literary memories – remained the same. Nue couchée 1969–70, with its outrageously displayed bottom and languorously crossed limbs, seems to invite comment about Tanning's representation of female sexuality and to have little to do with Romanticism. In a letter to the author, however, Tanning recalled with pleasure the way the sculpture was recently displayed at the Zabriskie Gallery, New York – placed on a low plinth and encased in Perspex – and how this had reminded her of a scene described in Phantastes (1858) by the Scots writer George MacDonald. In his novel the hero enters a cave and discovers a block of pure alabaster in which he can dimly see the sculpted marble form of a beautiful woman. Entranced by her beauty, he sings to her and brings her to life. But the woman proves to be an evil spirit who nearly lures the hero to his death.
This shows how those who would separate Tanning's work from a context of imaginings miss its fantastical and narrative dimension. It also throws light on the gulf that has emerged between Tanning's own vision of her work and those of the critics and historians who would analyse it in terms of gender and sexuality.
Tanning's exasperated ripostes to feminist art historians are well known. Refusing to be co-opted into the re-evaluation of women artists associated with Surrealism, she has repeatedly said that the forces that impelled her to take up the career of artist, and that sustained her work, had everything to do with being human but nothing to do with being a woman.
Not that she has been anything less than acutely aware of the various inequalities that have affected her life and the reception of her work. In her memoir she wrote movingly of the compromises that life with Max Ernst entailed. But these paled compared with the joy brought by her partner. 'Does the sharing of a direction deprive a female of her imagination? Or her hands? Is it a hardship, is it unfair to have to live in an enchanted space where striving after approval by other not always distinguished human beings is no more than a faraway rumour, frivolous as the place cards at a distant dinner party?'
Equally, critics' assumed knowledge of Tanning's libido and their use of psychoanalytical categorisations fall wide of the mark in the eyes of an artist who considers art as an escape from life, not its mirror. When painting, she has said, her mind was in a state of 'perpetual vertigo'. 'Everything is a miracle, iridescent, obsessive and alive. Everything is in motion. Also, behind the invisible door (doors), another door. You might say I lead a double life. Or a triple or multiple life. In fact, outside my studio, I am not who I pretend to be. There is no showing who one really is.' Painting – a 'wrenching, exalted, pulverising process' – led to the realisation of an inner vision, 'the kind that shifts behind your eyes in and out of focus'. Subtle allusions to other art can be sensed in her work, and certain motifs have become her trademarks. But the inspiration came always from within, and was open to unpredictable and surprising suggestions from the deeper levels of consciousness.
It could be argued that, in many respects, Surrealism is not a very appropriate category for much of Tanning's work. But what other modern movement acknowledged so freely the role of the unknown and the imaginary in the creative act? Or embraced so wholeheartedly the narratives of visual and verbal fantasy? Hinting at her allegiance to the idea of a 'surreality' that was more compelling than reality itself, Tanning said that her aim was to 'seduce by means of imperceptible passages from one reality to another'. She continued: 'The viewer is caught in a net from which there is no escape save by going through the whole picture until he comes to the exit. My wish: to make a trap (picture) with no exit at all either for you or for me.'