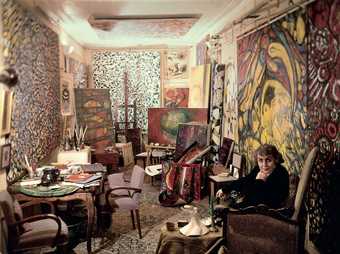 Born into a prominent Ottoman family in Istanbul, Princess Fahrelnissa Zeid (1901–1991) married a diplomat who was a member of the Hashemite royal family of Iraq. She began drawing at an early age, but didn't dedicate herself to life as an artist until much later. Having become one of the first women to attend the Fine Arts Academy in Istanbul, she then studied at the Académie Ranson in Paris, where she was taught by Roger Bissière. She was inspired by the art she saw in the city's museums and the technique of old masters in the numerous institutions she visited across Europe. As well as Italian Renaissance art, Zeid had a particular fascination for Jan Brueghel and Pieter Brueghel the Elder, whose work would influence hers in the 1940s.
After living in Berlin (when a purported visit to tea with Hitler saw them discussing painting) and spells in Baghdad, she returned to Istanbul, where in 1944 she became affiliated with the avant-garde d group. Her art became increasingly abstract, while also revealing the myriad influences from both Eastern and Western traditions – including the geometry found in Byzantine mosaics and Islamic architecture.
Zeid moved to London in 1946 when her husband was appointed the first ambassador from the Kingdom of Iraq. She also took a studio in Paris, where she made friends with writer Gertrude Stein and artists Serge Poliakoff and Sonia Delaunay.
From the late 1940s and early 1950s the princess became associated with and exhibited alongside members of the Nouvelle École de Paris group that included Pierre Soulages and Maria Helena Vieira da Silva. During the same period she had several successful exhibitions in London, including a solo show of 57 works at the notable St George's Gallery in 1948 and at the Institute of Contemporary Arts in 1954, the catalogue for which Roland Penrose, artist and co-founder of the ICA, wrote a preface.
Zeid would go on to participate in almost 50 exhibitions in Europe, America and the Middle East. Her husband died in 1970, and in 1975 she moved to Amman, Jordan, where she established the Royal National Jordanian Institute Fahrelnissa Zeid of Fine Arts. She died in 1991.
Suzy Gauntlett is a writer who lives and works in London.