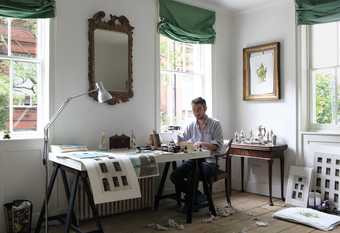 Who is he?
Pablo Bronstein is an Argentinian artist who lives and works in London. His work spans from drawing to choreography and performance; always with a focus on architecture. Bronstein's illustrations of buildings resemble architectural plans of 18th Century France and the 1980's, with much reference to Baroque. However, these are not drawings of real places, they have been dreamt up in Bronstein's imagination.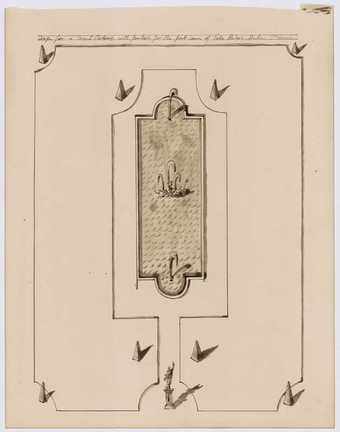 Why did he become interested in architecture?
I'm an immigrant; I was born in Argentina. I lived in a modern flat in Buenos Aires; then I found myself in a very old house in London. My grandmother's house in Buenos Aires was spectacular and classical and grandiose; the house we moved to in London was small and in a horrible neighbourhood. Perhaps that [gave me a] sense of loss … I'm not sure … or a sense of wanting to escape, or an aspiration to bigger things …
Sanctuary: Britain's Artists and their Studios published by Thames & Hudson
What are his key works?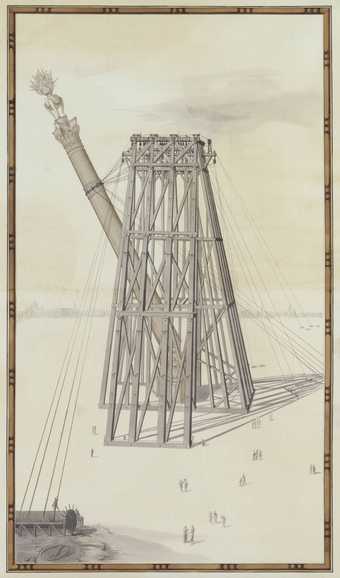 Erecting of the Paternoster Square Column 2008 demonstrates Bronstein's ability to re-create structures from the past whilst reinventing them. As the architect Sam Jacob has observed, 'The picture is drawn and framed in such a way as that one might almost believe it to be some kind of documentary evidence' (Jacob 2013, p.12).
The drawing is one of a series which re-imagines the development of Paternoster Square by Goldman Sachs, thereby exploring the "political, social and visual effects of urban redevelopment projects."
It is a mythical re-telling of the construction of one of the most important Postmodern set pieces in London. This sort of stage set piazza is really quite incredible. It's basically like it's been vacuum molded in this cheap reconstituted stone material to imitate whatever Baroque buildings, it is sort of Baroque, but cheapo Baroque, with bits of terracotta tiling, it's a bit of a mess. 
Bronstein 2009, accessed 28 November 2014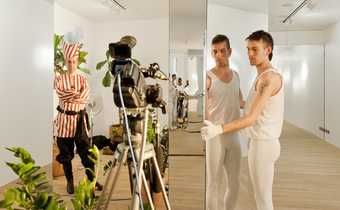 For a BMW Tate Live: Performance Room series, Pablo Bronstein premiered his piece Constantinople Kaleidoscope, an entirely new work made especially for Tate. Involving a group of dancers, Bronstein created a stage set that exaggerated the perspective of the room with mirrored columns.
His most ambitious project to date, Historical Dances in an Antique Setting, will be on view at Tate Britain in the Duveen Galleries, until October 2016. The piece takes inspiration from the neo-classical surroundings of the Duveen galleries and the artist's interest in the Baroque period to create a continuous live performance. Dancers will move through the galleries every day, interacting with the architectural elements of the installation.
What the critics say…
There is no questioning the technique and the labour-intensive quality of his work. His large projects always contain some architectural elements, a mixing of real and imaginary.
Karen Wright, The Independent, 2014
[His] drawings make free use of history but combine it with pure invention, without distinguishing between the two.
Kirsty Bell, Art in America, 2014
Antique glamour, the courting of kitsch, the constant presence of questions about politics and economics — all of these [are] aspects of Bronstein's work …
Brian Dillon, NY Times, 2015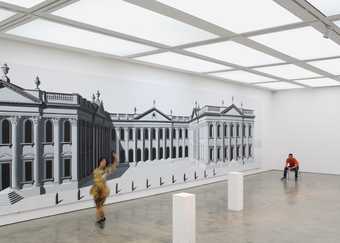 Bronstein in quotes…
One thing I like about architecture is its attempt at aspiration, its desperation. I'm not excited by good-quality, decent, sophisticated buildings. I like buildings that want to be seen as better than they are.
Sanctuary: Britain's Artists and their Studios published by Thames & Hudson
My feeling is that if it looks too much like art then it probably isn't art.
Sanctuary: Britain's Artists and their Studios published by Thames & Hudson


Instead of drawing traditional houses as a child "I drew castles, with carefully demarcated bricks – and each brick would have a different motif carefully drawn upon it.
The Independent, 2014