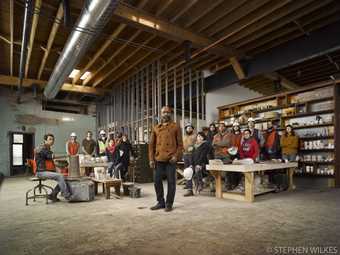 Theaster Gates is a social practice installation artist living and working in Chicago, United States. Social practice is art which involves people and communities.
He began his career studying urban planning, and carried out a joint masters in religion, ceramics and city design. Thanks in part to these influences he now brings activism, project management and urban planning to his work.
He used to be a potter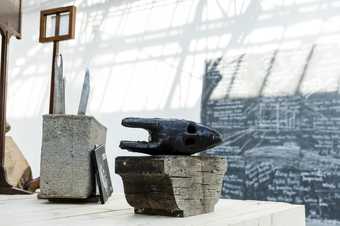 Before installations, Gates made pots, and here he explains how this led him to where he is now:
I spent about 15 years making pots … you very quickly learn how to make great things out of nothing. I feel like as a potter you also start to learn how to shape the world.
How to revive a neighbourhood: with imagination, beauty and art, TED Talk
Pottery and ceramics continue to play a big part in Gates's work. In the early 2000s he started his Plate Convergences events, where local people would come together to eat off plates he had designed and made. While he also makes ceramics to show in exhibitions, with works such as Tarred Vessel 2015.

He responds to social history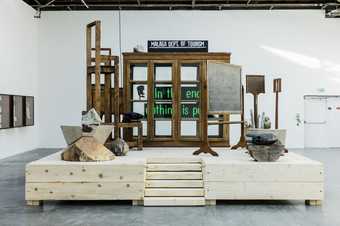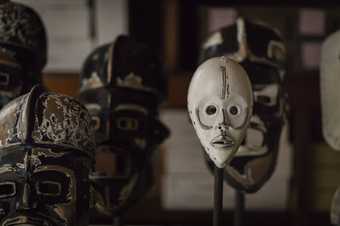 In his exhibition Amalgam, Gates looked at the history of Malaga island in Maine, United States. In 1912, the state governor evicted the island's mixed-race population with no offer of housing or support. At this time, racial segregation was still enforced across the US and some states made mixed-race relationships illegal. Gates's body of work responds to this little-known story, connecting it with the wider history of African-American people.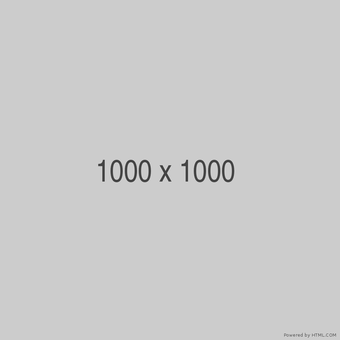 In Civil Tapestry 4 2011, Gates collected old fire hoses and arranged them to resemble a 1960s abstract painting. Hoses like these were used to break up peaceful protests during the Civil Rights movement, injuring many people.
He rebuilt a neighbourhood
… and told all about it in his Ted Talk:
In 2009 Gates began what is now known as the Dorchester Projects. He was influenced by the high numbers of abandoned buildings in his home neighbourhood of South Side Chicago. To help revitalise the area, he bought and renovated a building on Dorchester Avenue. He now has numerous buildings in the area, including the Stony Island Arts Bank. This former bank, built in 1923, now houses a gallery space alongside Gates's collections of records, magazines and other artefacts from African-American history.
He rescues materials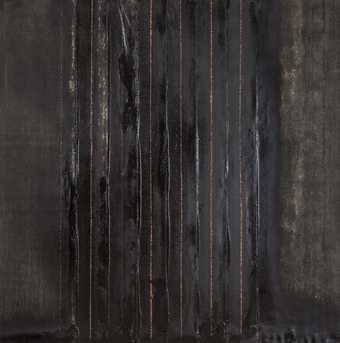 Gates often works with materials that have been discarded. As part of Amalgam, one installation uses over 70 pillars made from ash trees that were going to be destroyed.
These trees were dying. A miller said they were not fit for timber. Useless. Somewhere in the death of a tree is the truth of its strength.
Amalgam, Tate Liverpool
Gates also creates many works using an old tar kettle from his father's time working as a roofer. These include his Tar Paintings and pieces like Tarred Vessel 2015. The results are beautifully simple yet rich with family history.
He's in a band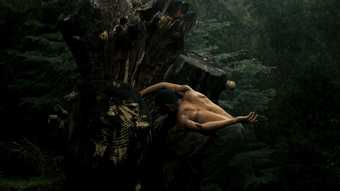 Gates's band The Black Monks are a consistent presence throughout his art projects. The group take their inspiration from the blues and gospel tradition in African American communities in the south of the US.
They have taken part in many of Gates's projects, including recording the score for his film Dance of Malaga 2019. This film also saw Gates collaborate with African American choreographer Kyle Abraham on a new dance filmed on Malaga island. Abraham's piece The Runaway was recognised by the New York Times as one of the best dances of 2018.
Theaster Gates: Amalgam is at Tate Liverpool 13 December – 3 May 2020