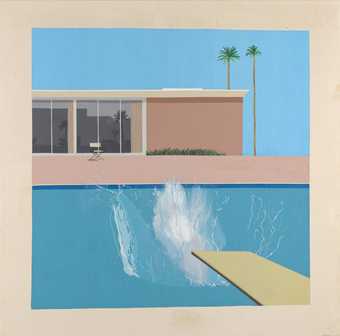 Contents
Introduction
David Hockney is one of the most popular and widely recognised artists of our time. For over sixty years he has enchanted audiences with his bold, colourful, and innovative art.
In the 1950s and 1960s when Hockney was just starting out, lots of artists were experimenting with abstraction. For example abstract expressionist artists such as Jackson Pollock were making paintings using only colour and gestural marks. Although Hockney explored abstraction at art college – simplifying and abstracting people and using expressive marks – he has always been interested in representing the places and people around him.
To me painting is picture making. I am not that interested in painting that doesn't depict the visible world. I mean, it might be perfectly good art it just doesn't interest me that much.
David Hockney, Audio Arts 1978
Focusing on David Hockney's iconic painting A Bigger Splash we look at the ideas, themes, and inspirations that make Hockney such a great picture-maker.
A closer look at 'A Bigger Splash'
Painted in 1967, A Bigger Splash is perhaps David Hockney's best-known artwork. What is it that makes this painting so iconic and seductive – and still very modern-looking fifty years after it was made?
The painting depicts a sun-drenched swimming pool in Los Angeles. Behind the pool is a pink modernist building and an empty chair. The silhouettes of neighbouring buildings are reflected in the building's large window. Two spindly palm trees and a neat border of grass suggest carefully manicured gardens. Unusually for Hockney's paintings from this time, there is no-one in sight and the scene is almost entirely still … apart from the splash.
We are left wondering who dived in. The fact that the diver is not shown, adds to the sense that it could be anyone – even us sitting in that empty chair by the pool and jumping into to the cool still water!
What do you think of when you look at A Bigger Splash? Is there a word that sums up how the painting makes you feel? It's OK if that word is 'jealous' as A Bigger Splash is an immediately seductive image. It makes us think of holidays and escapism – or perhaps the sort of life most of us can only dream about.
A 'promised land'
Hockney first visited California in 1963 and was immediately won over by its sunshine and laid-back lifestyle (quite different from London where he had been living). He described it as his 'promised land' and spent much of the next forty years living there.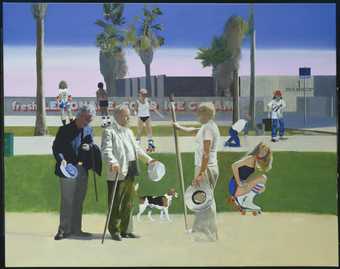 Did you know… David Hockney was also a reality TV star (well, sort of… )?
It wasn't only the Californian sunshine and lifestyle that had an impact on Hockney. Hollywood and celebrity beckoned. In 1971, when he was back living in London (he moved back for four years between 1968 and 1972), he agreed to be in a film. The filmmaker Jack Hazan followed David Hockney for three years documenting his work, life and social circle. This culminated in a 1974 feature-length film also titled A Bigger Splash. Like more recent British reality TV series Made in Chelsea or The Only Way is Essex, it looks like a documentary but in fact is a combination of the real and the imagined.
The splash in focus
Although a seductive depiction of a dream place, A Bigger Splash is not just about that. According to Hockney, the real subject is the split-second moment of the splash itself, frozen on canvas.
Hockney painted the picture from a photograph of a splash taken by someone else. He later commented how he had spent much longer painting the splash than the house behind it – even though a splash lasts two seconds and a building is permanently there. This contradiction fascinated him.
How was the splash painted?
We may think the obvious way to paint a splash is to use a liquid paint and throw it at the canvas – or use big brushes and expressive, gestural marks to mimic the messiness of a splash. After all, abstract expressionist painters such as Willem de Kooning had been making splashy paintings for years, and Hockney himself had used expressive mark-making in earlier works.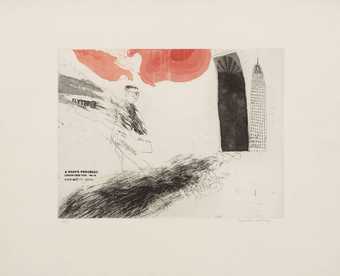 But Hockney instead used small brushes to painstakingly reproduce the splash from the photograph: the shapes made by the upsurging cascade of water, the different areas of transparency and the details and traces of the tiny drips. It took him two weeks to get the splash looking just right.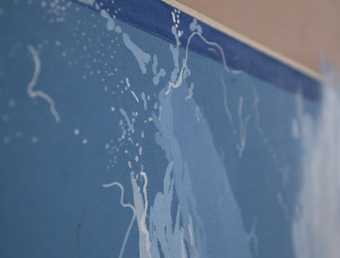 More Splashes in Art!
David Hockney isn't the only artist who has experimented with representing a splash. From videos to postcards of extreme nature, explore more artworks in Tate's collection that make a splash: