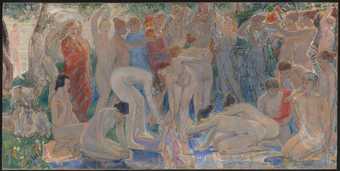 In this painting, the young Phaeacian princess, a key character in The Odyssey, has led her retinue of maidens down to the river estuary to wash the palace laundry. They make a fun day of it by bringing a royal picnic and taking a bathe – followed by an olive oil rub-down and some Bronze-Age ball games. It's at this point that they disturb the shipwrecked Odysseus, who has been sleeping in the woods near the shore.
Nausicaa comes to the aid of the hungry and naked Greek hero, but if you're expecting heterosexual romance to blossom, you'll be disappointed (perhaps like Odysseus himself). Previous paintings of this tale from Homer traditionally made Odysseus the focal point. But if he features at all in Ethel Walker's version, Excursion of Nausicaa, it must be as the faint and oddly boyish figure at the left edge, deep in the background. This lesbian artist has created a version of the story that is unquestionably woman-centred, gently homoerotic, and on an impressively grand scale. Six-feet high and almost twelve across, this probably set a new record for the biggest Sapphic beach party in Western art.
This text is an extract from A Queer Little History of Art, written by Alex Pilcher.