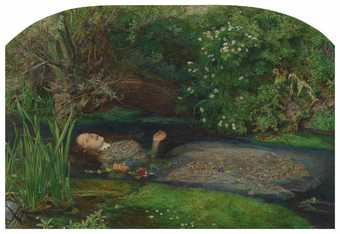 One of the best things about Shakespeare's plays is that no one can tell you what they should look like. The scripts are famously short on stage directions and scene-setting; there are barely any specifications for costume or appearance. Empty of scenery and all but the most basic of props, Renaissance playhouses such the Globe and the Rose were theatres of the imagination: King Lear can be played by a white-bearded 76-year-old in medieval clothing, a bloke in his 60s in 1970s flares, a woman just about to turn 40 wearing a neat goatee. It's down to interpretation. Almost everything is up for grabs.
And it isn't just actors, directors and designers who have run visual riot: generations of artists have done likewise, conjuring an impressive array of worlds from the words on the page. A tour through Shakespeare's influence on art, from Renaissance engraving to post-pop painting, eighteenth-century cartoons to vast Sturm und Drang landscapes, would encompass thousands of works,  but here's a highly selective – and personal – list of five favourites.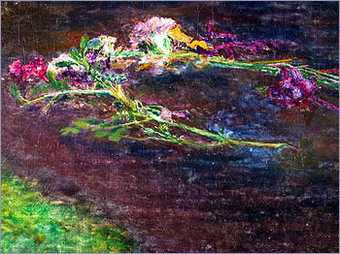 John Everett Millais' depiction of the drowning Ophelia is one of the most visited pieces at Tate Britain and perhaps the most famous Shakespeare painting of all time. Made over a two-year period in 1851–52, shortly after Millais co-founded the Pre-Raphaelite Brotherhood, it's full of the languid calm and bejewelled colour that became his hallmark. Strictly speaking, the scene is imaginary: in Hamlet itself Shakespeare keeps Ophelia's death by watery misadventure offstage, and Millais makes the most of the strange poetry in Gertrude's description ('Her clothes spread wide, / And, mermaid-like, awhile they bore her up') to create a paragon of passive innocence who we watch being absorbed into the landscape that surrounds her. Millais' model, the 19-year-old Elizabeth Siddal, wasn't so lucky: after hours lying in an inadequately heated bathtub, she caught a cold and left the artist with a heavy doctor's bill.
Moonlight and metaphors: William Blake
Worlds away from Millais's forensic precision is the work of William Blake, one of the most remarkable of Shakespeare's artistic interpreters. Blake's own poetry was suffused by Shakespeare, and he created a series of watercolours and sketches that capture scenes and images from the plays with idiosyncratic passion. Oberon, Titania and Puck with Fairies Dancing (c.1786, now in Tate Britain) is rightly famous, with its line of airy figures cavorting in the blue-tinged forest like a moonlit version of Nicolas Poussin's A Dance to the Music of Time, but even more astonishing is 1809's 'As if an Angel dropp'd down from the clouds', a free reimagining of  a stray half-sentence from Henry IV Part I. It depicts a sky painted in a luminous wash of watercolour that runs from hot russet-gold to cool azure, against which figures soar and fall in crisply incised ink: a small miracle of visual metaphor.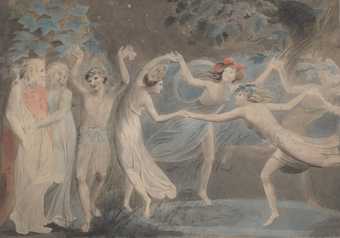 Gothic ghoulishness: Henry Fuseli
Such was Shakespeare's popularity in late eighteenth-century Britain that a printer called Josiah Boydell opened in May 1789 what became known as the Shakespeare Gallery, an exhibition featuring paintings by as many leading British artists as Boydell could strong-arm into taking part. Many were of dubious quality (Joshua Reynolds's leering Puck is enough to give you nightmares), but a few are genuinely distinctive – none more so than those by the Anglo-Swiss artist Henry Fuseli, born Johann Heinrich Füssli in Zurich in 1741. Influenced by the Gothic and Romantic movements that swept from Germany to England, Fuseli created brilliantly imaginative renderings of the plays that blend icy precision and malevolent fantasy. Titania Embracing Bottom (1792–93), commissioned by a spinoff Dublin Shakespeare Gallery, references Michelangelo (all that taut musculature) but also points the way towards the fairy paintings by Richard Dadd and others that were wildly popular during the Victorian era. Fuseli's Lady Macbeth Seizing the Daggers (c.1812) has to be one of the eeriest interpretations of that eeriest play: a swath of pitch-black paint on which images of Macbeth and his wife, fresh from the murder of King Duncan, hover in sweeps of spectral white impasto. It half-looks as if it could have been done by Francis Bacon.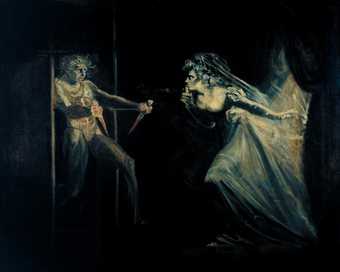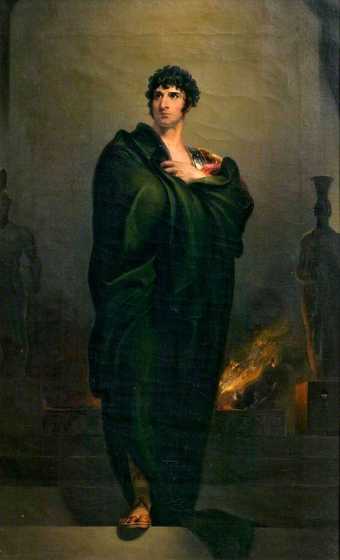 As actors grew more famous and respected, so did the demand for them to be immortalised in oils. Thomas Lawrence – who flourished during the Regency period and became Britain's greatest portraitist after Reynolds – had numerous thespians as clients, and captured some sense of what it must have been like to watch these titans of the stage in action. His John Philip Kemble as Coriolanus  (1798, one version of which is in the Corporation of London's collection) offered Kemble in the role of the Roman general who turns his back on his country, portraying the actor's sable eyes and brooding countenance to best advantage. Lawrence first saw Kemble's sister Sarah Siddons perform while he was a young artist in Bath, and painted her numerous times; although he never formally portrayed her most famous role, Lady Macbeth, his sultry renderings of the 'Tragic Muse' hint at the volcanic experience of seeing Siddons perform.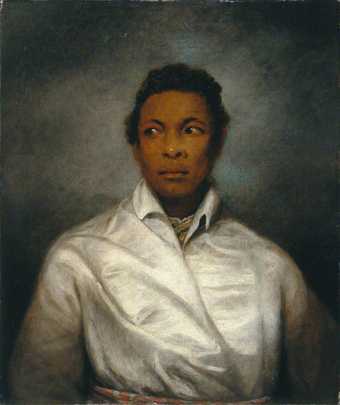 Mystery hangs over one of the most arresting Shakespeare portraits in existence: no one is quite sure who it depicts, its authorship is disputed, and even its relationship with Shakespeare is uncertain. No matter. The painting usually called A Moor, generally attributed to James Northcote (1746–1831, a pupil of Reynolds), was the very first work to be bought by Manchester Art Gallery in 1827 and is by any standards a piece of history. It's thought to be a life portrait of the African American actor Ira Aldridge, one of the first black actors to play Shakespeare, who was forced to leave the segregated United States because it was impossible for him to make a career there. Having become famous across England and throughout Europe – he performed for Tsar Alexander II – Aldridge eventually died in Lodz, Poland, in 1867, and was mourned on three continents as a hero of the anti-slavery movement. The painting seems to depict Alridge as Othello, a role that he later made his own. Although it doesn't capture an identifiable moment in the play, Northcote's work has all the urgency and intensity of Shakespeare's study of tragic jealousy: the hero anxious and doubtful, perhaps on the verge of tears but with murderous resolve lying just beneath the surface. Aldridge is so vividly rendered that he looks as if he might burst out of the frame at any moment. 
Find out more about the Pre-Raphaelites at Tate Britain
Andrew Dickson writes on culture for the Guardian and elsewhere. The second edition of his Rough Guide to Shakespeare came out in 2009, and he is working on a new book about global Shakespeares for Bodley Head/Random House. He blogs at worldselsewhere.com