Sir Edwin Henry Landseer, A Scene at Abbotsford exhibited 1827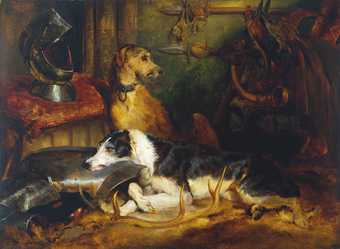 I'm drawn to this painting because dogs have played a central part in my life. As someone with a hearing impairment, I have relied on pet dogs in a very informal way to alert me to noises. I don't have a hearing dog but if my hearing impairment became worse it's an option I would explore.
In the past, I've worked alongside colleagues who use guide dogs. They made the working environment much more friendly. Even though they are guide dogs they would still sometimes be cheeky or naughty. One colleague had a dog who would run off with shoes people kept under their desks, so the office had to install some gates to stop her from going into other offices.
Inevitably there would come a point where an assistance dog had reached the end of its working life and would retire. This painting reminds me of the sadness of that moment.
Interpretation by Fleur Donnelly-Jackson
Fleur is a contemporary artist who is a Volunteers Manager and Chair of Tate's staff disABILITY Network. She set up a network of Access officers across London museums and galleries.
Sir John Everett Millais, Ophelia 1851–2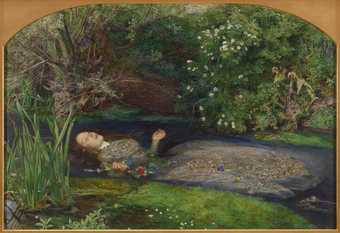 It makes me sad because Ophelia is on her own in the water. Her dress is beautiful; her dress is embroidered. I can see purple, white, pink and blue flowers. A robin is on a branch of a willow tree. The robin is looking at her. Ophelia misses her boyfriend and her father.
Interpretation by Valmie Vita, supported by Dominique Autier
Valmie is a Volunteer Visitor Host at Tate Britain.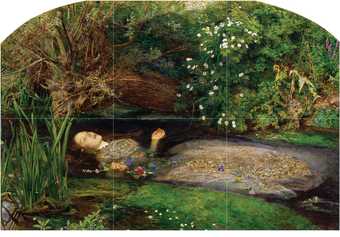 As Visitor Hosts our volunteers are encouraged to engage with artworks in different ways. Valmie Vita is one of our volunteers with support needs and we have adapted our processes according to how she learns. She chose to talk about Ophelia because she could make a link between herself and the young woman painted. To adapt to Valmie's needs we created a large jigsaw puzzle to focus on sections and develop vocabulary. After this, she can understand the idea of the painting more broadly.
In each section of the grid, she was able to learn a new word in a specific context. Through repetition, she was able to communicate that specific section of the painting. She could develop each section and initially relate with her senses – smell, touch, see, taste and hear. Then she brings in a little storytelling with each section. We have created a badge to help spark conversations about Ophelia.
Text by Walney Virgilio
Walney is a Volunteers Coordinator at Tate Britain/Theatre Practitioner and Support Worker.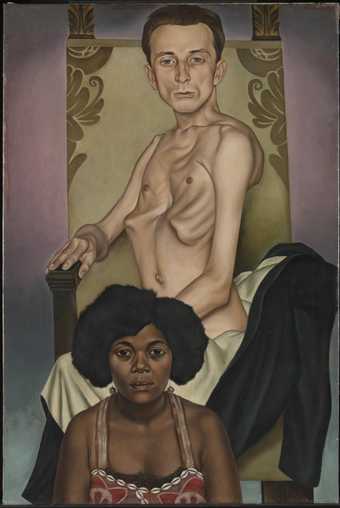 Christian Schad, Agosta, the Pigeon-Chested Man, and Rasha, the Black Dove 1929
I've wrestled with this image ever since I first encountered it. Here is an image of two people, Agosta with a visible disability, and Rasha, a black woman included in a British national collection. A collection that attempts but often fails to reflect the true breadth of human experience. It was a welcomed shock when I saw Rasha and Agosta look out at me in a sea of white and able bodies.
On the other hand, you have an image that makes a spectacle of two people in a society who would have most likely seen them as less than human. Rasha and Agosta were performers for a funfair, viewed as freaks for entertainment. In a period marked by eugenics and in the rise of Nazism, I can't help but think of their lives beyond the image. Still, Agosta is regal in his throne, in his pose, in his grace. He is a defiant figure.
As a queer disabled person, the elegant pride of Agosta in his body is a rare vision of what is possible. But, I must ask, why does Rasha not share in this glory?Where is her throne?
Interpretation by Daniel Bermingham
Daniel is an Assistant Curator, Young People's Programme at Tate. As an independent curator, their work is concerned with the sick, crip, and queer body in regards the urban, social and pedagogical.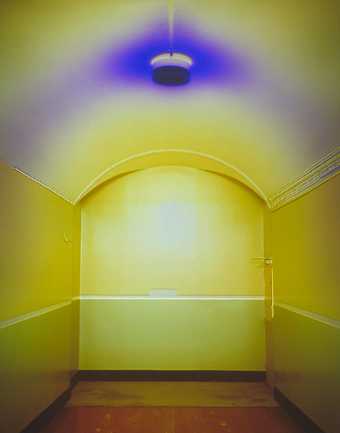 Catherine Yass, Corridors 1994
It is difficult to find something to respond to in the Tate collection. Something that resonates with me. The national collection doesn't have many works by artists with disabilities or depictions of disabilities. We are largely invisible – visibly so.
Then I came across this series of interiors of mental health hospital corridors by Catherine Yass. This work speaks to me because of the invisible presence and the visible absence of our representation in the collection and the way that it presents the medicalisation of disabilities and mental health. Corridors also speak to the history of some of the buildings that house the Tate collection, since parts of the Tate Britain site were formerly the Queen Alexandra Military Hospital.
What does the corridor mean? What do we see and what do we not see? We cannot see who is present in the hospital, those who would use that space, just as I struggle to find them represented in this national collection. I feel that Corridors points towards 'invisible' disabilities or hidden abilities. Those we so often do not see or recognise in others. In 2014 the charity Scope published a survey that found that two-thirds of the British public felt uncomfortable talking to disabled people and that more than a third believed that disabled people are less productive. Writing in 2019, I can feel a shift in the sand, but I would like it to be faster.
Over the last few years, I have felt empowered by my work at Tate, in ways I would not have imagined. With friends and colleagues I seek to create space in these corridors for those with disabilities, space that should already exist. But I have also heard words like 'schizophrenic' used to describe an approach to collecting. I have heard a tacit connection made between the work of artists with disabilities and that of children. So, while we do this work, there is still a sense of us being largely invisible in the collection. Where are the examples of our work? Where is the mandate for the collecting of this work? Representations of disability are equally hard to find and are sometimes reductive. This is why I have chosen to respond to these images – to point to the spaces that we can fill both within the gallery and the collection. After all, how can it be called a 'national' collection when it doesn't represent its staff, let alone the nation?
Interpretation by Ruby Maddock
Ruby is a writer, poet and works at Tate as Programme Coordinator for the Clore Hub.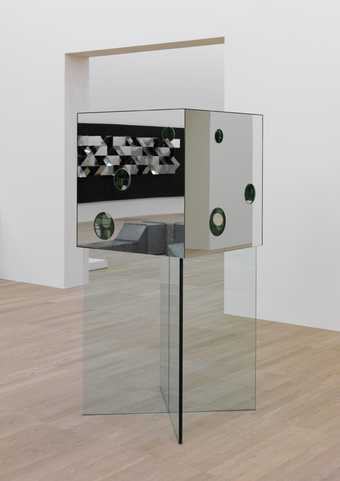 Yayoi Kusama, The Passing Winter 2005
Most people are drawn to Yayoi Kusama's work for its photogenic, some might say 'Instagram-able' qualities. Often overlooked is the fact that she suffers from a neurological disorder which causes hallucinations. These hallucinations often take the form of polka dots and patterns covering everything. Kusama uses her art to share with the viewer the way she sees the world. She has said that by putting what is going on inside her head outside of it, it helps to calm these visions down. Her therapeutic use of art is even more impressive to me than the mesmerising works she creates.
Interpretation by Jennifer Milarski-Stermsek
Jennifer is a Gift Aid Administrator at Tate and member of the disABILITY Network. She is also an artist and currently studying Art Psychotherapy.