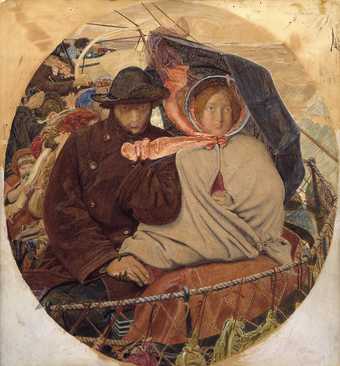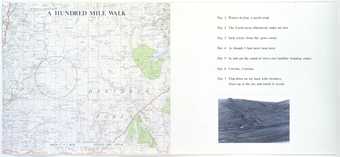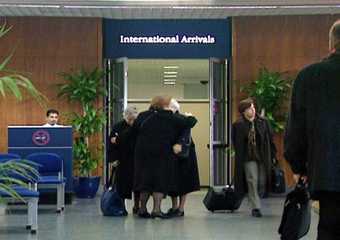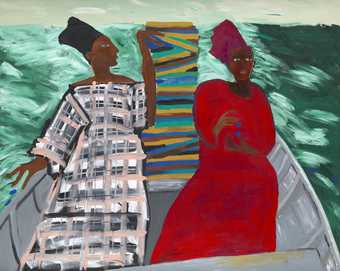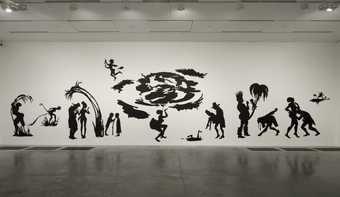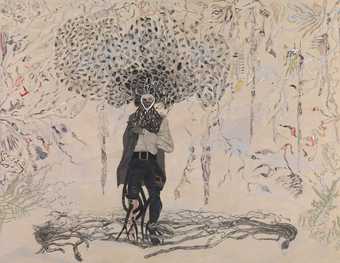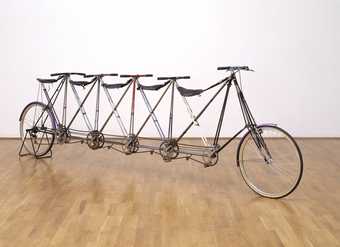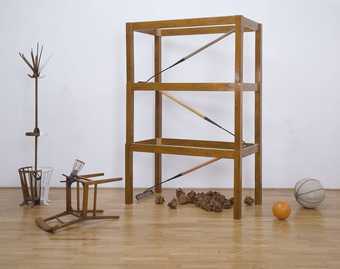 Journeys in art
Whether documenting a journey from A to B; exploring and responding to places; or using historical or personal journeys in order to better understand identity, artists have used different kinds of journeys to inspire their art over centuries.
Journey can refer to an actual physical journey – travelling from one place to another; wandering around a particular urban or landscape location in order to explore it; or enforced migration such as the journeys made by slaves or refugees. However journeys don't always have to involve physical travel. The term 'journey' is often used to describe the journeys we make in life: such as personal experiences that involve an element of self-discovery or more generally the journey through life – growing up or getting old. Journey might also be used in relation to formal processes in art making, for example in the work of artists whose process dictates the end result of the work.
Land art and urban mapping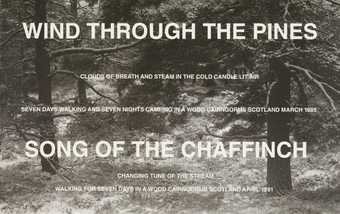 Land artists such as Hamish Fulton and Richard Long use walking as a way of exploring landscapes. Hamish Fulton records his experience of the walks he makes in poetic texts. In Wind through the Pines 1981 the things he sees, hears and experiences are transformed into descriptive sentences or single words which together evoke the sense of journeying through a landscape. Richard Long's A Line Made by Walking creates a temporary sculptural intervention in the landscape as the route he takes across a field flattens the grass and becomes a trace of his journey.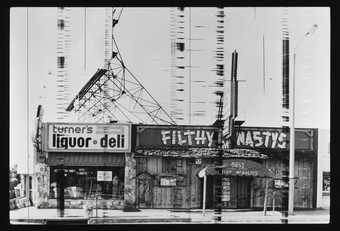 Ed Ruscha journeys through the urban spaces of Los Angeles in order to create a portrait of the city, often collecting these photographs together to form photobooks. For his Sunset Strip Portfolio he photographed every single building on the Hollywood Strip in LA, a mile-and-a-half strip of Sunset Boulevard in West Hollywood. In doing so he not only gave a sense of moving from a point at one end of the strip to the other, but also captures the history of the city, and provides a snapshot of its socio-economy as reflected in the changing nature of the buildings and businesses.
Psychogeography: The politics and poetics of locations
The term psychogeography refers to an approach to geography that emphasizes drifting around urban environments in order to explore the effect of particular locations on emotions and behaviour. Ruth Ewan's The Darks is an alternative audio guide to Tate Briatin which invites visitors to navigate the area around the building where the notorious Millbank Prison once stood.
Patrick Keiller's films record the exploratory journeys around England of a fictional, unseen character called Robinson. Robinson's chance encounters with various locations cause him to reflect on the significance of places and what he sees there in relation to greater global themes – such as the economy or politics. For his installation The Robinson Institute at Tate Britain in 2012 Keiller selected images of landmarks and locations in the English landscape from Tate's collection, to illustrate the development of capitalism.
Susan Philipsz uses her own voice to create uniquely evocative sound installations that play upon and extend the poetics of specific, often out-of-the-way spaces. For Lowlands, she uses an old Scottish folk song to explore the spaces around and under three bridges along the River Clyde in Glasgow.
Willie Doherty's photographic work The Bridge is made up of two views from either end of Craigavon Bridge which crosses the River Foyle in Belfast, marking a point of connection between the Protestant and Catholic communities in the city. The photographs demonstrate that the perspective may be different but the view is almost identical. The bridge divides the two communities but also links them and has the capacity to be a point of meeting and exchange.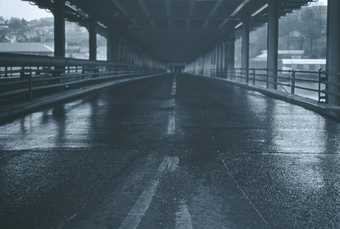 Artist Francis Alÿs journeys along borders and boundaries in order to raise awareness of political issues. For The Green Line 2004 Alÿs walked around Jerusalem, trailing a ribbon of green paint behind him. He was following the so-called green line, which was drawn on a map by the Israeli Minister of Defence Moshe Dayan at the end of the Arab-Israeli war of 1948–9 and has become one of the most contestded boundaries in the world. It marked the respective positions of Israeli and Arab forces in the final ceasefire, and it has served as a boundary between Israel and the West Bank ever since.
Migrations
Migration – whether enforced through slavery, through escaping war or disaster, or triggered by economic needs – has played an important role in the lives and histories of many people and is a theme that has been widely explored in art. Ellen Gallagher's Irish and African American origins have shaped the texture and subject matter of her practice. Bird in Hand refers to the experience of slaves of the Cape Verde islands off the West Coast of Africa, the birthplace of the artist's father, a region that was for three centuries a hub of the transatlantic slave trade. Kara Walker's room-sized installations of silhouette cut-outs explore the narratives and journeys of Black history, its telling and re-telling, and the effect this has on African-Americans today.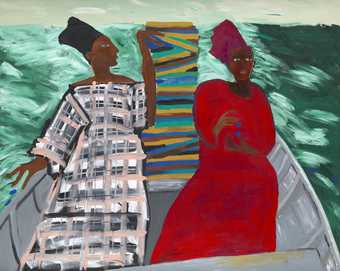 Lubaina Himid was born in Zanzibar in Tanzania but moved to England with her parents shortly afterwards. One of the founding members of the Blk Art Group – formed by British artists whose parents were Caribbean and African migrants – her paintings, woodcuts, installations, works on paper and curatorial projects emphasise the contribution of African migrants to the development of European culture. Between the Two My Heart is Balanced 1991 is a large painting depicting two black women dressed in African-style clothing at sea in a small grey boat. The title of the work suggests the struggles for identity and belonging faced by migrants.
Cuban performance and installation artist Tania Bruguera's ongoing art project, Immigrant Movement International is an artist-initiated socio-political movement which aims to explore who is defined as an immigrant and the values they share, focusing on the question of what it means to be a citizen of the world. For her 2012 work Surplus Value at Tate Modern, visitors to the gallery were given a taste of some of the experiences immigrants have to face.
Personal journeys: Identity and life journeys

Although all the journeys referenced so far in this resource have included personal experience as well as referencing a geographical journey, there are some journeys that do not involve geographic travel but soley relate to life, personal experience and exploring identity. Bill Viola's Nantes Triptych is a three panel video installation with video footage of birth (on the left), death (on the right) and a metaphorical journey between the two represented by a body floating in water (in the centre). Viola uses his personal experience of birth and death (the birth of his son and his Mother's death) to exlore the universal experience of the journey of life, but in doing so also expresses his own personal response to these two momentous events.
Tracey Emin's Exploration of the Soul 1994 also explores the journey of life. It is comprised of thirty-two framed sheets of blue A4 notepaper on which Emin has written a poetic text recounting significant moments in her life from birth up until the age of thirteen.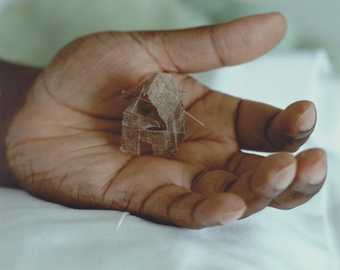 Facing up to and coping with big things that effect our life such as the break up of a relationship or suffering from an illness can become a journey of self-discovery. Artist Jo Spence was diagnosed with cancer in 1982 and much of her subsequent work was a response to her treatment by the medical establishment and her attempt to navigate its authority through alternative therapies. As well as addressing ideas of identity, family, home and Britishness – particularly with respect to a British, Afro-Caribbean diaspora – Donald Rodney's work explores themes of mortality and his own illness. Rodney suffered from sickle cell anaemia, an inherited disease that affects people of African, Caribbean, Eastern Mediterranean, Middle Eastern and Asian ancestry. In the House of My Father is a photograph of the artist's hand holding a small fragile house constructed from pieces of his own skin removed during one of the many operations he underwent to combat his disease. The artwork symbolizes his illness but also the journey the illness has taken him through, in relation to his identity and his relationship with his father.
Process: Journeys in art making
Journeys in art can also be those that relate to the formal processes of art making. Artist Paul Klee famously described the process of drawing as 'taking a line for a walk'. Some artists create work using systems that dictate the journeys they will make in their creative process. For his Chance and Order Group VII, Drawing 6 1971 Kenneth Martin used number permutations which established systems outside his choice to dictate the journey his drawing would go on and the end result. For his sound installation Raw Materials in the Turbine Hall at Tate Modern, Bruce Nauman used the placement of recorded voices to manoeuvre people's journeys through the space.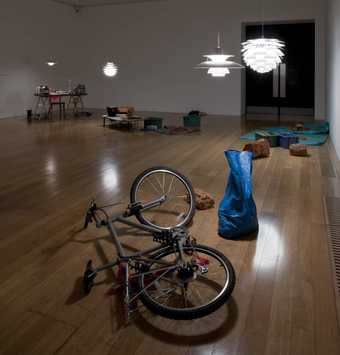 Simon Starling is fascinated by the processes involved in transforming one object or substance into another. He makes objects, installations, and pilgrimage-like journeys which draw out an array of ideas about nature, technology and economics. Starling describes his work as 'the physical manifestation of a thought process', revealing hidden histories and relationships. For Work Made-ready, Les Baux de Provence (Mountain Bike) 2001, Starling rode a mountain bike to France, where he collected a few hundred kilograms of bauxite rocks, which he afterwards processed into aluminium. The installation features a do-it-yourself aluminium production line, and ends with the casting of the aluminium to replicate part of the same mountain bike he had ridden to the mine.