Arts education is in crisis. In the UK, school time and budgets are under pressure and school inspections increasingly value 'core' subjects as the indicators of school level and success. Subjects including art, music and drama are often sidelined in the curriculum. This has led to a steady decline in the number of students choosing to study arts subjects at school.
In 2018 a landmark research project commissioned by Arts Council England, and undertaken by the University of Nottingham, called Tracking Learning and Engagement in the Arts (TALE) outlined the overwhelmingly positive benefits of arts and cultural education for young people. The research drew from the experience and voices of thousands of young people and their teachers in secondary and special schools.
We have pulled together some of these voices and findings from TALE and other research, as well as helpful resources on studying art.
Whether you're choosing art as a GCSE; would like to study art or design at university; or are a parent or teacher interested in arts education: explore, join in and have your say!

Why is it important to study art?
Learning through and about the arts enriches the experience of studying while at school as well as preparing students for life after school.
Arts subjects encourage self-expression and creativity and can build confidence as well as a sense of individual identity.
Creativity can also help with wellbeing and improving health and happiness – many students in the TALE study commented that arts lessons acted as an outlet for releasing the pressures of studying as well as those of everyday life.
Studying arts subjects also help to develop critical thinking and the ability to interpret the world around us.

What are art lessons like? What do you learn?
The art room is a very different space to other spaces in the school. On her visit to Archbishop Tenison School in London TALE researcher Lexi Earl describes the bustle of the art classroom:
'There are piles of sketchbooks, jars with pencils, paintbrushes, sinks splattered with paint. There are large art books for students to reference. Often there is a kiln, sometimes a dark room too. There are trays for drying work on, or work is pegged up over the sink, like clothing on a washing line.'
The art room is a space where students have the freedom to express their ideas and thoughts and work creatively.
The way art is taught means that interaction with other students and with the teacher is different in art and design classes. Students comment on the bonds they form with classmates because of their shared interests and ideas. The art teacher is someone they can bounce ideas off rather than telling them what to do.
Studying art and design provides the opportunity to acquire new skills. As well as knowledge of different art forms, media and techniques you can also gain specialist skills in areas such as photography and digital technologies.
Have your say!
Do you think art is important? Do you think the arts should be an essential part of education? How do you think studying art is useful for the future?
Why Study Art? 2018 is an artwork by collective practice They Are Here commissioned by the Schools and Teachers team at Tate. The inspiration for the artwork was prompted by Mo, a 14 year old workshop participant who told the artists that 'art is dead'.
All responses are welcome whether you've studied art or not! (You will be re-directed to the Why Study Art? artwork site).
Tate champions art in schools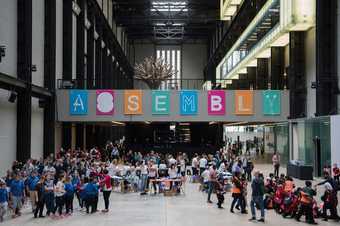 Every year Tate Modern hosts ASSEMBLY, a special event for around 1500 London school students and their teachers. The students are invited to occupy, explore and take part in activities in Tate's Blavatnik building and Turbine hall – which are closed to all other visitors.
This annual event, first staged in 2016 which invited schools from all over the UK, reflects Tate's mission to champion the arts as part of every child's education. The project aims to highlight not only the importance of visual culture in young people's lives, but the importance of those young people as future producers of culture.
Research at Tate
Tracking Arts Learning and Engagement (TALE) was a collaborative research project involving Tate, The Royal Shakespeare Company (RSC) and the University of Nottingham. The research focused on thirty secondary schools spread across England and included three special schools.
Over three-years (2015 – 2018) the research investigated four main questions:
What do teachers learn from deep engagement with cultural organisations?
How do teachers translate this learning into the classroom?
What do pupils gain from these learning experiences?
What do the two different models of teacher professional development at Tate and RSC offer and achieve?
See the findings of the project and explore fascinating insights through the project blogs that feature the voices of students and teachers interviewed during the research.
I don't want to be an artist – why bother studying art?
Art may not be your favourite subject, but studying the arts alongside other subjects significantly boosts student achievement. Schools that integrate arts into their curriculum show improved student performance in Maths, English, critical thinking and verbal skills.
Arts education can also help with developing skills and ways of working that will benefit you in the future in whatever career you choose.
The leading people in any field are those who can think creatively and innovatively. These are skills that employers value alongside qualifications. Making and participating in the arts aids the development of these skills
When you study art you learn to work both independently and collaboratively, you also gain experience in time management – skillsets valued by employers
Studying the arts teaches determination and resilience – qualities useful to any career. It teaches us that it is okay to fail, to not get things totally right the first time and to have the courage to start again. As a drama student at King Ethelbert's School, Kent commented: 'Like with every yes, there is like 10 nos… It has taught me that if I work on it, I will get there eventually. It is determination and commitment. It has definitely helped'

Is art good for society and communities generally?
Arts and cultural learning is more important than ever for the health of our communities and our society
Creativity is essential in a global economy that needs a workforce that is knowledgeable, imaginative and innovative. Studying arts subjects also increases social mobility – encouraging and motivating students from low-income families to go into higher education. Studying the arts can also help with understanding, interpreting and negotiating the complexities and diversity of society
Students from low-income families who take part in arts activities at school are three times more likely to take a degree
By making art a part of the national curriculum, we give the next generation of artists, designers, engineers, creators and cultural leaders the opportunity to develop the imagination and skills that are vital to our future
Engagement with the arts helps young people develop a sense of their own identity and value. This in turn develops personal responsibility within their school and wider community
Arts and cultural learning encourages awareness, empathy and appreciation of difference and diversity and the views of others

Tate Collective
Tate Collective is for young people aged 15 to 25 years old. Its aim is to facilitate new young audiences in creating, experimenting and engaging in our galleries and online with Tate's collection and exhibitions.
In 2018 Tate launched £5 exhibition tickets for Tate Collective members. If you are 16 to 25 sign-up free to Tate Collective. You don't have to live in the UK – young people anywhere in the world can join! Enjoy the benefits of exhibition entry for £5 (you can also bring up to three friends to shows, each for £5); as well as discounts in Tate's cafes and shops.
I love art – but can it be a career?
Studying art and design at school opens the door to a range of careers in the creative industries. The creative industries, which include art, design and music, are an important part of the British economy – one of the areas of the economy that is still growing.
Art lessons at school include teaching functional and useful skills that prepare students for future careers in the arts. Art departments also forge links with arts organisations and creative practitioners, companies and agencies. They organise visits and workshops which provide inspiring opportunities to for students to see what it's like to 'do' a particular job and hear how artists and designers got where they are. As a student at Uxbride High School commented:

If you are interested in pursuing a career in art and design explore our art school and art career resources: