Its collections include over 115,000 books and monographs, 175,000 recent and historic exhibition catalogues, over 10,000 artists' books, zines and serials, 3,000 print and online journals, printed ephemera, audio and video recordings, as well as microfilm and microfiche collections and half a million press cuttings.
Collection overview
We hold a range of DVDs, CDs, VHS videos, microfiche, microfilm, including documentary and audio and video recordings of historical Tate events and interviews with artists.
Please note that the microfilm and microfiche collections are not fully indexed on the online catalogue. Please contact us if you have any queries on this collection reading.rooms@tate.org.uk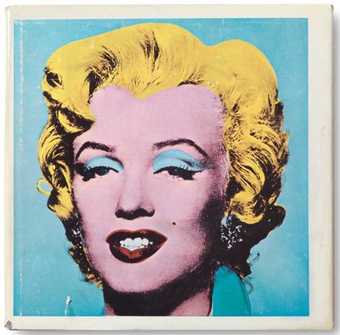 The Library has a renowned collection of more than 175,000 exhibition and collection catalogues dating from early Royal Academy exhibitions to the latest contemporary shows. The collection is particularly strong on British and international modern and contemporary art. It includes catalogues of artists' exhibitions, group shows, permanent and private collections, and catalogues raisonnés.
Many rare items are included in the collection, documenting the development of an exhibition culture in the UK and abroad. The collection is an essential resource for research on artists, in particular the early careers of British and international artists.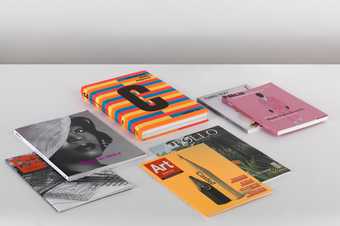 Tate Library's journal collection consists of around 3,000 individual journal titles. The print journals collection includes art magazines, academic journals, newsletters, bulletins, and other serials on British and international art, conservation, museology, curatorship, and art education. A small selection of current journal titles is displayed and available to browse in the reading rooms.
The full list of print journal titles including holdings information can be searched using the "Journal title" search of Tate Library Catalogue.
The Library also provides access to electronic journals and online articles in the reading rooms via the public PCs. The Library subscribes to a number of databases including ArtBibliographies Modern, JSTOR, and Oxford Art Online.
Tate Library holds a comprehensive range of over 115,000 art monographs including books on artists, and titles relating to aesthetics, art theory, art history, artistic practice, museology, and critical and cultural theory.
The Library holds around half a million press cuttings, collected mainly from British newspapers, weeklies and magazines from the 1960s onward. These press cuttings document exhibitions, individual artists, art related news events, and Tate activity.
Although cuttings are not individually indexed, a general record (headed 'Press Cuttings') appears on the Library catalogue where there is a substantial amount of material on an artist or theme. You can search for these by entering 'Press Cuttings' in the title field and the artist's name in the words/phrase field of the Library catalogue search.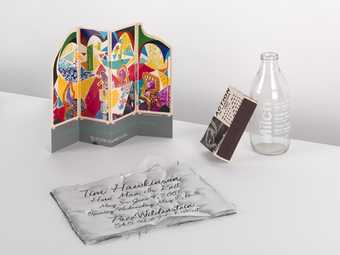 The Library's printed ephemera collections include a large range of private view invitations, artists' CVs, listings, flyers, small posters, and other art ephemera. Ephemera is collected for individual artists internationally, as well as group exhibitions held in London, with the bulk of the collection dating from the 1950s onwards.
Although items are not individually indexed, a general record (headed 'Ephemera') appears on the Library catalogue where there is a substantial amount of material on an artist. You can search for these by entering 'ephemera' in the title field and the artist's name in the words/phrase field of the Library catalogue search.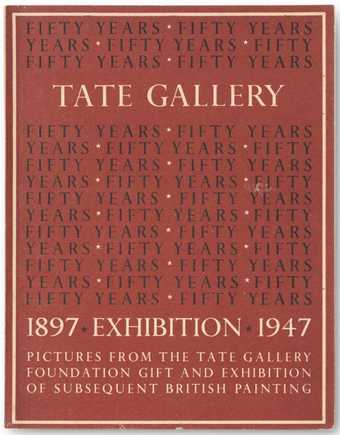 Tate Publications are held in the Library collection, and contain information about the institution, its history, buildings, activities and collection.
Tate Publications in the library include documentation and published guides to the collection since 1897, catalogues for Tate exhibitions from 1911 to the present, monographs published by Tate publishing, annual and biennial reports, catalogues of acquisitions, and histories of the gallery.
Many Tate exhibition catalogues from 1911 to the present as well as other works published by Tate are available to browse in the Reading Rooms without needing to request. Rare and unique items are held in the Library's Special Collections.
Special collections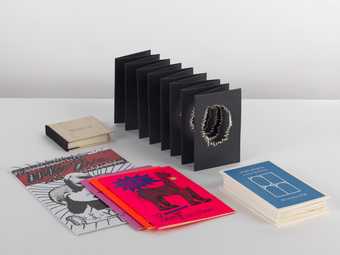 Tate Library holds a collection of approximately 10,000 artists' books dating from the 1960s onwards. These materials are international in scope and although it historically placed an emphasis on British artists, it has expanded to include artists' books from a range of geographic regions, specifically Latin America, Asia, and African countries.
The collection is formed around the following broad definition: a book (i.e. normally a number of pages attached to each other in some way) wholly, or primarily conceived by (though not necessarily actually made/printed by) an artist as part of their practice, and usually produced in a cheap, multiple edition for wide dissemination.
The books range in format and structure, and include flip books, concertina books and books made from materials other than paper, such as brick, vinyl, or fabric.
In 2012 Tate, together with The British Library, the Victoria and Albert Museum and the University of the Arts London, took part in 'Transforming Artist Books', a research network exploring digital transformations in the
creation and reception of artists' books. As part of the project, Tate compiled descriptive texts about works in the collection. Some of the texts contain artist-generated information and all have suggestions for further reading, as well as new photographs of the books. These, as well as workshop reflections, can be found on the Tate website. The final report about 'Transforming Artist Books' is also available online..
From 2014, the Library's collection of zines explores self-publishing in relation to art. It includes many different types of zines which are visual by nature such as perzines, art zines, photo zines, and fanzines which feature collage, illustration, and photography.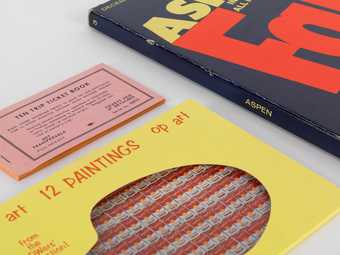 Tate Library holds approximately 250 artists' serial titles in the Special Collections. Artists' serials are publications created by artists which explore the format of serial publishing as an extension of their artistic practice.
The collection of artists' serials is international in scope, although has historically focused on British and European titles.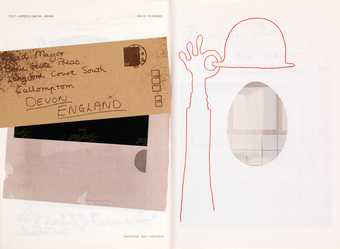 The Beau Geste Press was founded in Devon in 1970 by Felipe Ehrenberg, Martha Hellion, David Mayor, Chris Welch and Madeleine Gallard. The Library holds approximately 150 titles from the output of the Beau Geste Press, and 65 titles from the Beau and Aloes Arc Association. The collection was acquired directly from David Mayor in 1980 and uses Mayor's original inventory as the basis of its organisation. This collection's importance lies in its documentation of a group that specialised in producing limited-edition artist books, publishing the work of its own members, but also that of many of their colleagues worldwide.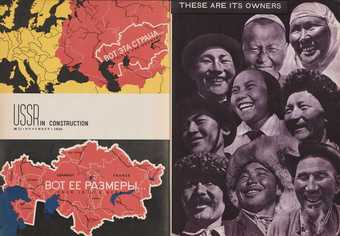 The unique collection of David King spans the tumultuous period in Soviet history from the revolutions of 1905 and 1917 to the death of Joseph Stalin in 1953. It was meticulously assembled over four decades by the collector and was acquired by Tate in 2016. Tate Library holds c.a. 2,400 volumes of rare books, 500 serials, and pamphlets from the David King collection. Amongst these holdings are a complete run of the famous Soviet propaganda publication 'USSR in Construction', which was published monthly from January 1930 until May 1941 and features ground-breaking designs by seminal figures of the Russian avant-garde such as El Lissitzky and Alexander Rodchenko.
It also includes art work and archival material that forms a vivid visual history of this period which are held in Tate's main collection and in Tate Archive.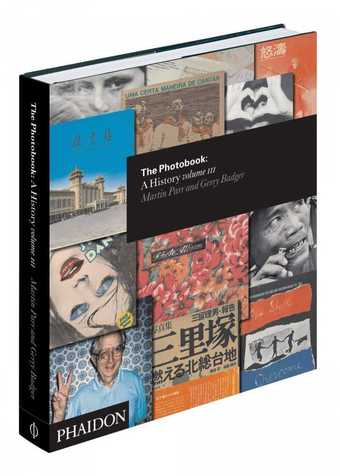 The Martin Parr Photobook Collection is a new library acquisition consisting of over 12,000 titles, and spans a diverse range of time periods, geographical locations, subjects, styles, formats and uses. It comprises many of the most iconic volumes in the history of photography, as well as unparalleled holdings of work by amateur or anonymous photographers.
Over the course of the last 25 years, Martin Parr has built what is often considered the most comprehensive and prolific collection of its kind. Collection highlights include rare photobooks from Japan, China, Europe, Latin America, the United States of America and the United Kingdom.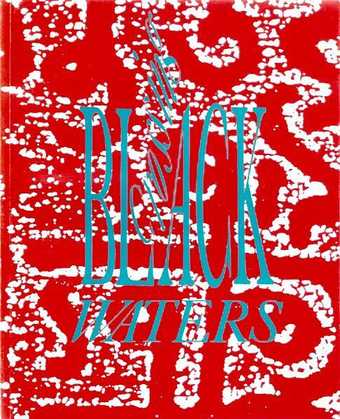 Panchayat was founded in London in 1988 by Shaheen Merali and Allan de Souza, in consultation with Bhajan Hunjan, Symrath Patti and Shanti Thomas, as a response to the need for the representation of Southern world and first nation artists. Panchayat was first imagined by the group as an arts organisation whose focus was to create an archive of work by contemporary artists who would produce issue-based work, with a particular focus on cultural identity and the intersection between race, class, gender, policed sexualities, and disability. As the organisation developed it was involved in publishing, conferences, exhibitions and workshops.
The Panchayat Collection, formerly Panchayat Arts Education Resource Unit (PAERU), consists of ephemera, information files, exhibition catalogues, books, journals, slides and videos relating to cultural activities and activism in Britain, mainland Europe, North America and South East Asia between the 1980s and 2003. The Panchayat Collection is of central importance to the practice and exhibition histories of artists with South Asian, Caribbean and African heritage, living and working in Britain during this period.
Between 1997 and 2015 the collection was housed at the University of Westminster. In 2015, Shaheen Merali and Dr. Janice Cheddie, keepers of the Panchayat Collection, agreed to the transfer of the material to Tate Library as a Special Collection. Since then, it has attracted newer audiences and a wide range of researchers exploring topics including diasporic connections and the role of women of colour in the visual arts. The Panchayat Collection was the focus of a case study for the Provisional Semantics research project in 2020–2022.