16 – 25 March 2018
Tate Modern, The Tanks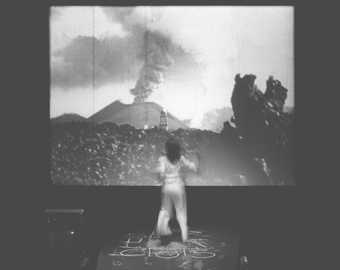 Tate Modern stages its second annual BMW Tate Live Exhibition this month in the atmospheric subterranean Tanks. Joan Jonas, a pioneer of performance art, is this year's focus coinciding with a major survey of her work in the galleries above. Unfolding over ten days and six nights, BMW Tate Live Exhibition 2018 showcases Jonas's performances and installations including ground-breaking works not staged for 40 years. Her work is presented in dialogue with an intergenerational selection of artists – including Jason Moran, Mark Leckey, Sylvia Palacios Whitman, Jumana Emil Abboud and patten – demonstrating her lasting legacy and powerful impact on contemporary artists today.
Throughout the exhibition's ten days, visitors are invited to explore a series of installations in the Tanks. These include Joan Jonas's acclaimed installation Reanimation, a spellbinding environment made from projected footage of Arctic landscapes and light refracted through dozens of hanging crystals. Two early sculptural works by Jonas, Cones/May Windows (After Mirage) 1976 and Stage Sets 1977, are also displayed alongside the video of a newly-preserved 16mm print of Wind 1968. Jonas's interest in myth-making and mystery is echoed in A Happy Ending III: Tate Tales 2018, a new commission in the Tanks foyer by Jumana Emil Abboud drawing on Palestinian folklore and fairy tales and animated each day with live storytellers.
The six night programme will open with Jonas performing live with her long-time collaborator, celebrated Jazz pianist and composer Jason Moran. The third and fourth nights will be dedicated to three seminal performances from a formative period in Jonas's career: Mirror Check, Mirror Piece II and Mirage, the latter performed by Jonas herself for the first time since 1980. The final weekend will focus on Chilean-American artist Sylvia Palacios Whitman, a peer of Jonas who also came to prominence in New York in the 1970s. She will perform for the first time in the UK and will debut a new collaboration with photographer Christopher Rauschenberg, son of legendary experimental artist Robert Rauschenberg. Their presentation on Friday 23 March will be followed by an immersive audio visual performance by London based duo patten. The final night will feature a chanted sound piece by Turner Prize winner Mark Leckey made in collaboration with members of Tate Collective and building on his work Exorcising the Bridge, as well as a DJ set by the artist.
In addition to the ticketed evening programme, there will be free daytime performances of Jonas's Mirror Piece II, and at low tide, from Thursday 22 to Sunday 25 March, the exhibition will extend onto the banks of the Thames for a newly reconfigured version of Jonas's performance Delay Delay (London Version) 2018, an outdoor ritual which will play out on Bankside's shoreline.
The exhibition follows the success of last year's inaugural BMW Tate Live Exhibition, which welcomed tens of thousands of visitors. Part of Tate Modern's ongoing performance programme in partnership with BMW, the first Ten Days Six Nights broke new ground for the exhibition format with an ever-changing programme of installations and live performances. Taking place in the Tanks, the world's first museum spaces dedicated to performance, film and installation, as well as on the new terrace above, it included a fog sculpture by Fujiko Nakaya, and a host of one-off performances and screenings.
BMW Tate Live Exhibition 2018: Ten Days Six Nights is curated by Catherine Wood, Senior Curator of International Art (Performance), Isabella Maidment, Assistant Curator of Performance and Andrea Lissoni, Senior Curator of International Art (Film).