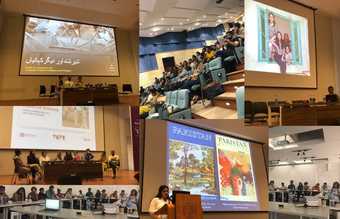 The Karachi Seminar was conceived to bring together artists, researchers and curators whose work is of interest to Tate Research Centre: Asia and for collections and exhibitions research related to South Asia. The programme was timed to coincide with the academic talks and lectures organised by the Lahore Biennale and while there was an attempt to draw in participants and speakers from across the region, the themes of the seminar responded specifically to the local context. The event commenced with a day-long public seminar at Habib University, followed by a two-day workshop at the British Council.
Day One: 24 March, Habib University
The public seminar was organised around current research and practice in Karachi, bringing it into a wider context. Presentations were invited from local artists and researchers, while established academics were invited to moderate and lead discussions.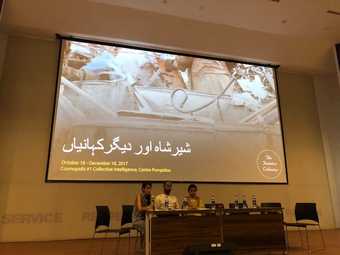 Panel One: Urban Sites – Working Through the City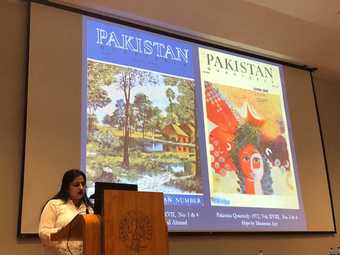 Panel Two: Negotiating History – Recuperating Artistic Practice and Exhibition Histories
This panel highlighted recent art historical research related to Pakistan, providing a platform for mid- and early career researchers, and emphasised the importance of locally grounded research and how it might inform artistic and curatorial activity.
The session brought together studies of individual artistic practices (particularly by women artists), exhibition histories and research that reconsiders established local narratives.
Panel Three: Watery Biennials – Critical Perspectives on 'Biennialization' along the Indian Ocean
This session considered regional biennials through a comparative frame, consciously set against the backdrop of the Lahore Biennale, which was in progress at the time of the conference. Through critical responses to the Colombo Art Biennale, the first edition of the Karachi Biennale and the Sharjah and Kochi-Muziris models, the panel hoped to consider the effect the biennial has on infrastructure, art production and circulation.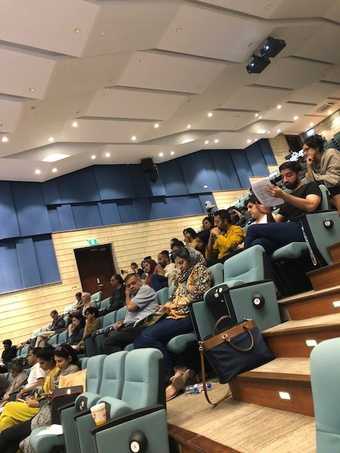 Days Two and Three: 25 & 26 March, British Council, Karachi
Workshop led by Adnan Madani, Visual Cultures, Goldsmiths
This practice-based workshop was held over two days with the same thirty participants who were asked to prepare short presentations with specific questions that they wanted to share with a peer group of artists, curators and teachers.
The workshop explored experimental pedagogy and critical perspectives on artistic research and education, led by participant presentations. Groups made presentations on an archive or object that can open up current issues in artistic and academic research in Pakistan, particularly from the perspective of education as a practice of decolonialism. The particular focus was on the ethics and genealogies of collaboration, solidarity and resistance in relation to entrenched colonial and capitalist notions of value, method and progress in the postcolony. The aim was to begin to produce a conversation about how artistic research in Pakistan can respond to both hyperlocal conditions and to increasingly globalised networks of exhibition, funding and circulation.
The format was non-hierarchical and sought innovation, discussion and learning between all participants. Attendance for the workshops was much better than expected, given that it was free and ran across two days. The presence of travel grant attendees from Lahore and Islamabad worked very well, as it brought together a group of artists who do not often discuss their work together. This meant that the very different conditions of production, audience engagement and patronage, even within Pakistan, could be compared.
Each participant was invited to present for five-to-ten minutes, followed by a group discussion. With the assistance of our local liaison, independent curator Hajra Haider, these were loosely organised into clusters. They included artists, curators, academics and artists who are involved in arts education. Themes that emerged from the presentation include socially engaged practice and performance; collaborative practice; and neo-liberal formations, as most public initiatives are privately funded. The discussions were open and there was lively participation from the group. CAMP (Shaina Anand and Ashok Sukumaran) and Adnan Madani helped guide the discussions towards questions around ethics and strategies that might be useful for artists as they negotiate their autonomy vis-à-vis the structures of funding and circulation they operate within.
Common themes that emerged include the question of local versus international; the need for funding; increasing self-organisation; more local and DIY attitudes towards archiving and sharing; and the need for more peer engagement and review. Difficult questions around performance as a form and how the public is perceived by producers in relation to class and access were discussed, with most artists recognising that the documentation of live work and its circulation is problematic and, in this context, unresolved, as often the public recognition and participation in the work is limited. The power of the Western museum, the international art market and the specific concerns of artists and researchers who seek more local and regional engagement were also discussed.
There were two presentations that stood out. The first was by former Brooks Fellow Rabbya Naseer, who spoke about the push the fellowship enabled in her research on performance practices in Pakistan. Based on her conversations with me, she has developed a video archive where eyewitnesses are interviewed as part of the documentation process. The second was by Abeera Kamran, who spoke about The Past is Now, an experimental curatorial intervention at the Birmingham Museum and Art Gallery which has led to wider debates around decolonising collections.
At the end of the second day, Karachi LaJamia took a smaller group on a tour of Karachi, a condensed version of a series of 'Radical Tours' they lead through historic sites that have become obscure. We visited the site of a Sikh place of worship that was attacked and destroyed during Partition, but remains hidden behind a school.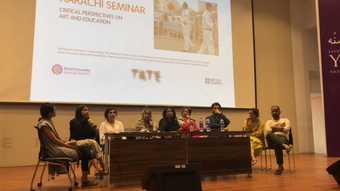 Perspectives from Travel Grant Awardees