At the heart of Doris Salcedo's work is the visual articulation of that which is so often unacknowledged or made invisible: the victim of violence, the refugee, the immigrant, the decimated domestic sphere, the disregarded social contact. Salcedo fashions a space in which these realities can be both recognised and legitimised. Since 1985, her consistent address of individual and collective tragedies has fanned out from the specific circumstances of her native Colombia to abuses visited upon humanity across the globe. By giving physical manifestation to experiences of human suffering, she bears testimony to mechanisms of power that have diminished people's sense of self and the public sphere.
Salcedo grounds her art in intense research, which includes prolonged fieldwork and extensive interviews with those who have experienced violence and loss. Seeking out direct accounts, or obtaining physical evidence from victims or their relatives and friends, she becomes what she calls a 'secondary witness'. To articulate catastrophe visually, she has consistently resorted to techniques of eradication, disfiguration, blockage and especially removal. The last of these offers a particularly effective way to represent trauma – not only because disaster literally annihilates people and things, but also because when attempts are made to recall it, there is often a failing of memory, since trauma has the effect of obliterating its own recollection.
Atrabilitarios 1991–6 brings this point home. Shoes inserted into cavities in the wall – physical voids – are half-concealed by semi-opaque layers of animal fibre roughly stitched over the openings of the niches with surgical thread, as if they were rectangular gashes requiring coarse suturing. These works are portraits of desaparecidos – the 'disappeared', as victims of Colombia's civil war are often called, in yet another term of absence – for whom a shoe may be the only means of identification left. The image of shoes barely visible through the fibre stands for the location of the victim subject to erasure, the blurred recollection that trauma induces in surviving family members and the continued condition of racking uncertainty in the face of an unresolved disappearance. A tragedy that can never be recollected in full, or in full focus, leaves a permanent sense of absence, here transposed to real space.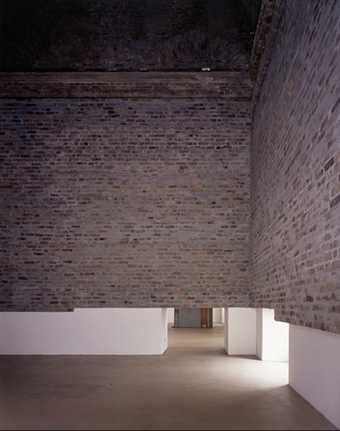 Salcedo's objects and scenarios locate themselves at the fault line between vanishing and emergence. In La Casa Viuda 1992–5, Upland: Audible in the Mouth 1998 and a series of untitled sculptures (1989–2001), she took found doors, tables, armoires, chairs, bed frames and other pieces of furniture – objects symbolic of the domestic sphere and its sustaining social bonds – and upended, flayed, dismembered and grafted them together in brutal and disturbing juxtapositions. Voids such as drawers and shelves she filled with cement, so that the furniture's original functions were absented, making way for the emergence of sculptures that are functionless save for their clear ecapitulation of destruction wreaked upon the home.
Salcedo roots the unnameable violence portrayed in her works in a visceral and insistent materiality whose rawness is compounded by the discreet yet highly charged use of organic and domestic materials – hair, bone, buttons, wood, fabrics such as silk and cotton. Though close to home and self, these elements become uncanny when hand-woven into sculptural compositions with the greatest of care, through long, deliberately painstaking labour. This exhausting process may be the only way that allows Salcedo to feel that she can bear legitimate witness to pain and suffering. Surfaces are obsessively worked and reworked, not only using aesthetic processes common in artists' studios, but also sewing, wrapping, mending and patching – modes of healing labour, usually associated with the home or hospital, that are also determinedly ritualistic. From these rigorous processes evolve surfaces of a subtle and poignant delicacy, even at the epic proportions of her more recent, architecturally scaled work. Such pronounced emphasis on tactility grounds the viewer in the presence of the work and in immediate experience.
While Salcedo's earlier sculptural vocabulary took the domestic object as its point of departure, she has more recently taken into account the work's architectural container. Tenebrae: Noviembre 7, 1985 2000 announces this transition. The work was inspired by events that the artist herself witnessed: in 1985 Colombia's Palace of Justice, in the heart of the nation's capital of Bogotá, was seized by leftist rebel forces, trapping more than 300 civilians inside. During the ensuing military counter-offensive the building was torched and 100 people died. The Colombian government has never formally acknowledged its responsibility in this event, and Tenebrae is a sculptural environment [installed at various locations] that articulates this silent obstruction to commemoration. Entering the first of two galleries the viewer is faced with a physical obstacle: two chair forms cast in lead sit upended on the floor, their radically extended legs of another eleven chairs pierce the walls, partially absorbed into the room's physical structure.
With Neither 2004 the merging of artwork and architectural perimeter is complete. Here, metallic chain-link wire fencing was forced into a layer of plasterboard imitating the gallery walls and placed directly over them, leaving the centre of the space empty yet emotionally fraught. The fencing is evocative of an all-too-familiar language of incarceration and exclusion, the material language of detention centres, industrial security enclosures, private property perimeters, contested national borders and other areas restricting individual movement and freedom. Neither further develops Salcedo's vocabulary of phantom image as political presence: the fencing material seems simultaneously to be sinking into and emanating from its plasterboard ground, as if to bring the question of boundaries – of who is inside and who outside, who is displaced and who is protected, who is absent and who present – to its finest, skin-thin point.
Abyss 2005, which was temporarily installed at the Castello di Rivoli in Turin, is likewise a haunting and disconcertingly visceral experience. Entering a low doorway that has been partially bricked in at its top and sides, the viewer feels immediately constricted, his or her body instinctively bending down and closing in on itself, as if preparing for a blow. Once inside, the visitor is faced with a square room whose four large walls are encased in a curtain of brick and cement hanging from the eighteenth-century brick-vaulted dome. Since the curtain walls don't touch the ground, the space feels as if it were on the verge of collapse, infusing the experience with a crushing oppressiveness. While moving away from the specific histories of Colombia, Salcedo's work has remained close to the universal nub inherent in those events – issues around power and powerlessness, freedom and incarceration, communicated in material terms.
These latest works have undoubtedly prepared the artist for Shibboleth, her installation in Tate Modern's Turbine Hall. At the time of writing the work remains very much under wraps, but given Salcedo's long-time concerns, one can imagine that she will be interested in using the Turbine Hall's role as a public space to speak to the lack of civic dialogue globally. We live in an age of radically divergent means, and quality, of access to a collective arena. For an artist such as Salcedo, who has personally witnessed a disintegration of public life and space, and has long devoted herself to materialising the conditions of displacement and exclusion, the Turbine Hall may be the perfect vehicle for lending voice and visibility to those who are denied access to the public sphere. If her work has consistently been constructed around invisibility, one can imagine her asking of the Turbine Hall: who is left out of this space of community and communication? The issue of who can inhabit public space is pivotal to our society, as witnessed by the obverse international insistence on walls and boundaries that speak to people's division and exclusion. Salcedo will surely have us engage in a dialogue with that which is absent, and in a concentrated, fervent and veracious reflection on our lives and times.