The recent Klimt exhibition at Tate Liverpool lacked one of the icons of the artist's work – The Kiss, a loan declined owing to its delicate nature. However the painting is now on view in one of the impressive series of rooms in this exhibition that recreates the original setting 100 years ago of the Kunstchau – the building created under the energy of Josef Hoffmann, Gustav Klimt, Otto Prutscher, KolomanMoser and many others, to coincide with the celebrations in Vienna for the sixtieth anniversary of Emperor Francis Joseph I's reign – even though they were not invited to take part in the official celebrations.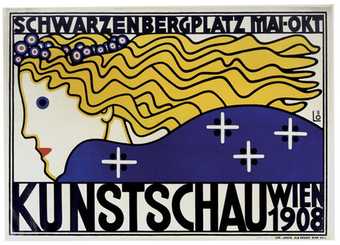 The wooden building and surrounding area, spread over 6,500 square metres was erected remarkably quickly in a few months and included over 50 exhibition rooms, courtyards, gardens, a café, and even a small cemetery – a Gesamtkunstwerk of sorts. Can you imagine anything on this scale now? At the opening, Klimt made a stirring speech, outlining what he thought the exhibition was about. 'It is, he said, 'a show of force of Austrian ambitions in art, and a faithful report on the current state of culture in our empire.' He also thought that he considered that art exhibitions were not the ideal forum 'through which to bring artists and audience together'. Instead, he declared that he would prefer to 'work on major public art projects.' The Kunstchau was in effect both. Klimt, ever the showman, led on by his canny image-maker Carl Moll, was good at this kind of headline-grabbing enterprise, and the Kunstchau was like some giant business card to attract clients. But it benefited from being able to impress the visitors with the art too.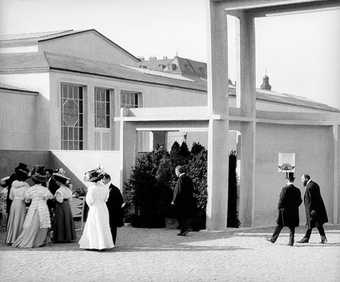 The artworks included in this exhibition include many from the original exhibition including painting by Carl Moll, early works by Franz Kupka, and pieces by Max Oppenheimer and many lesser known painters. As well as The Kiss, the great Klimt works include Die drei Lebensalter 1905, that has come from an Italian public collection, shown in its reconstructed room (that also sadly has some notable absences on the wall). Elsewhere there are sculptures, mosaics, textiles, glassware, silverware and furniture – the highlight of these being Josef Hoffmann's stunning yet simply lattice-designed silver work that must have surely influenced the designs for American skyscrapers? One of the most enchanting sections is a room dedicated to art for children, designed by the students of Adolf Bohm that included a doll's house by Magda Mautner von Markhof. As well as works of art, the exhibition includes documentary photographs, original plans, as well as the recreation of a room of posters designed by members of the Wiener Werkstätte, placed as they would have been originally shown.