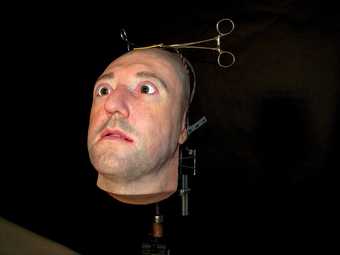 It's August 2007, and I'm outside an east London gallery at a rare summer opening. I talk to Nicolas Bourriaud and am struck by how unconcerned he is about the ongoing circus of critical reflections around his writing on 1990s relational practice. Bourriaud is researching the third Tate Triennial; extending his research, he speaks of an interest in migration linked to ideas around disconnected, dispossessed and transient lives without roots: a journeyform drawn in space and time.
Interestingly, Bourriaud's Relational Aesthetics and Postproduction informed a fashionable discourse in contemporary practice and criticism that prevailed between, say, 2002 and 2006, but in the grand scheme of things this period of obsession now appears less important. Previous to Bourriaud's writing, the art world was equally as concerned with the writings of Slavoj Žižek, and one could say we're now in the middle of a phase dominated by Jacques Rancière's political reflections on aesthetics. The difference between Žižek, Rancière and Bourriaud, however – as figures for recent prominence – is that the last has always taken his cue directly from a practical perspective. Bourriaud is not a philosopher, and if he is journalistic in comparison with Žižek and Rancière, the benefits of this are that his thoughts are always based directly on a very localised form of research. If his aforementioned publications came out of his connections to European artists in the early to mid-1990s – even though criticisms were aimed at his tendency for a levelling generalisation towards the heterogeneity of practices his theory discussed – one could still say it's an interesting time to invite him to curate the 2009 Tate Triennial, especially due to his remarkable involvement in scouring every corner of the UK's contemporary art scene for new tendencies over the past two years.
More than this, the research for this exhibition aims to extend his thinking into a form of uncharted territory for both his own practice and the contemporary scene. If the last Tate Triennial was based around ideas of appropriating redundant modernist languages, this time it's looking at a concern for the unpredictable strobing of possibilities within a new form of modernism, at life beyond a now ancient postmodernism: an "altermodernity", as Bourriaud terms it.
So what is it exactly that constitutes his term altermodern, and who are the principle characters that populate this new period or shift in practice? According to Bourriaud, altermodernism "is characterised by translation, unlike modernism of the twentieth century, which spoke the abstract language of the colonial West, and postmodernism, which encloses artistic phenomena in origins and identities". He goes on: "This evolution can be seen in the way works are made: a new type of form is appearing, the journey-form, made of lines drawn in time and space, materialising trajectories rather than destinations." So we can see that, rather than encapsulate a philosophical postmodernism as an irrelevant diversion to a continuous modernist project, Bourriaud looks to be advocating a scrambling of existing regimes of identification in historical practice, perhaps the use of humour over irony, or the use of séance in order to take history and memory towards radically subjective fictions in the present.
Leading on from this, if Bourriaud's interest in the 1973 oil crisis was the moment when a de-connection appeared between capitalism, natural resources and production, and this had a consequence for twentieth-century modernism, which was populated by practices based on plastics, polymers and dynamic forms coming from oil based materials, by turn, in the current economic climate, altermodernism dwells on a similar failure of capitalism.
Here US oil starts to spill and burst out all over the place. The economic successes of the past ten years can now be seen as a mirage during a post-productive period, and if the illusion of the success of the world economy was just a huge drug, many artists are  celebrating this to the nth degree. In terms of the exhibition, if we take Nathaniel Mellors, David Noonan and Tacita Dean, on the face of it they look relatively incompatible, yet each artist's work tends to wander in time and space in a similarly erratic way. Dean's films travel into geography and history, Mellors's narratives form eccentric riddles, while Noonan's collages of historical popular imagery combine an even darker cult-like Manson-esque unease.
Gustav Metzger is the only historical figure in the show, and his Liquid Crystal Environment 1965, remade 2005, from the Tate collection will be included. At once a historical and aesthetic fetish, the work contains a fluid and dynamic intelligence that connects to others in the triennial; perhaps it will strive to perform a jump or a "burst" forward from the past. Interestingly, the philosopher Peter Sloterdijk has commented on the difference between nihilism, cynicism and a more positive "kynical" outlook, through his unlikely obsession with the world cycling event, the Tour de France. A mistake made by Lance Armstrong in the 2003 race at the base of a mountain climb facilitated "a sudden burst of energy that enabled Armstrong to press on with the fury of Achilles. It drove him to the summit and past every other rider along the way". And just as Metzger's liquid crystal shows were used in conjunction with 1960s popular music, this kynical burst might represent a moment when something clicks and shifts things beyond the prevailing reality or contemporary moment into a more exciting subjective realm, where a condensed channelling of light and an altogether more powerful psychological experience take place. Of the 26 artists selected for the exhibition, perhaps Tris Vonna-Michell, Marcus Coates and Spartacus Chetwynd present other remarkable examples of "journey-form" in time and space. All three work with performance, albeit in different ways. Vonna-Michell deals with fragmented narratives taken from photographic reference points through the highly itinerant nature of his practice, where he successfully maps personal and local events on to world history. Chetwynd mixes theatre, art history and early 1980s television and film into an extraordinary intelligent nonsense, and somehow makes sense of the world through these references. Coates also takes the aforementioned medium of ritual and séance as his starting point, yet there is no irony to his point of view. Much like the majority of the artists in this show, there is simply an honesty that touches on humour and empathy, rather than any empty nihilistic cynicism.
If Vonna-Michell is interested in a speed recital of photographic moments and historical truth and fiction, then Lindsay Seers similarly sees herself as a camera or a recording device. In her work Extramission 2005 we realise that the artist did not speak until she was nearly eight years old, but instead had a kaleidoscopic photographic memory which helped her to record an unstoppable rush of impressions. And if Ruth Ewan addresses other more directly political esoteric histories, particularly those of movements that emerge from a groundswell of discontent, nurtured among people rather than handed down officially, Seth Price's political content underlines strategies, distribution methods and values that art often assumes. Although his work is appropriative (again, the 2006 Tate Triennial was steeped in ideas surrounding appropriation) and he works with the "redistribution" of pirated materials such as music and published texts, archival footage and information from the internet, he successfully remains enigmatic and evasive by disrupting the information systems on which art's success depends. Much like Simon Starling's work, and other artists in this exhibition, his art is tied to ideas of contemporary networks such as Google and Facebook, together with how we all currently research, find, use and reproduce information.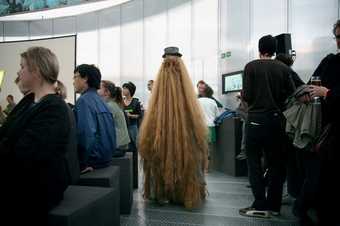 In essence, Bourriaud's previous thinking is extended in this show by looking at a local, yet international scene from a different perspective. Historically speaking, if consumption informed 1960s practices through steel and plastic, and Postproduction looked at the after-effects of this period, we are now much further down the line. Perhaps it's time to start celebrating the artificial confidence of the past ten years and the recent failures in a more extreme manner. Hopefully this exhibition will provide an optimistic, kaleidoscopic and awe-inspiring range of perspectives on failure, and, as Bourriaud puts it, "short or long-distance journeys in a teeming universe".