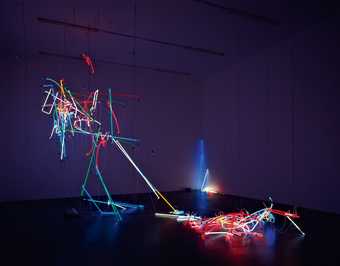 Editors' note
In the 30 ft painting Philip Herbert, 4th Earl of Pembroke, and his Family 1635, Van Dyck created a dazzling visual essay on the nature of wealth, power and family unity, all set against an Arcadian backdrop. However, the world he depicted was on the edge of collapse, disorder and decay. The notion of entropy has permeated the history of Western art, no more so than in the twentieth century. You could argue it has been its most persistent theme. Robert Smithson wrote and made work on the subject of entropy, and believed its most 'succinct' definition was the story of Humpty Dumpty.
Reflecting on her visit to the studio of Katja Strunz, Charlotte Klonk notices how the theme of entropy has informed Strunz's work, not just in the occasional presentation of her sculptures in run-down settings, but in how she has borrowed from artists such as Malevich and El Lissitzky, as well as Smithson, to create playful yet 'ghostly illusions' – a description that some critics have applied to Turner's late works. Observers might refer to this refreshed attention to the previous century's art movements as 'playing the ruins', but Martin Herbert argues that such plundering doesn't necessarily mean absorbing the aesthetics and ideals of the past.
Instead history, memory and myth are, as the artist Adam Cvijanovic puts it, 'hopelessly garbled together in our own personal and political narratives' – an idea that surfaces in Nicolas Bourriaud's Altermodern: Tate Triennial exhibition. However, as Bourriaud's Altermodern describes art made in today's global context which is in part a reaction against cultural standardisation, one could argue that this approach is actually fighting against the 'graduation equilibrium' that Smithson saw entropy forcing upon us.
Bice Curiger and Simon Grant