'FREAK ART HITS TOWN' ran the headline in 1936, as the First International Surrealist Exhibition opened its doors in London. This was the notorious event at which Salvador Dalí delivered his lecture 'Fantomes paranoiaques authentiques' wearing a deep sea diving suit, clutching a billiard cue in one hand and leading a pair of wolfhounds with the other. And it was for this event that Roland Penrose, an artist described by André Breton as the 'Surrealist in friendship', created The Last Voyage of Captain Cook. The piece can be seen in one of the most frequently reproduced photographs (taken by Bill Brandt) of the exhibition, which shows Breton animatedly delivering the opening speech while the work stands next to him, crowned bizarrely with a bath sponge.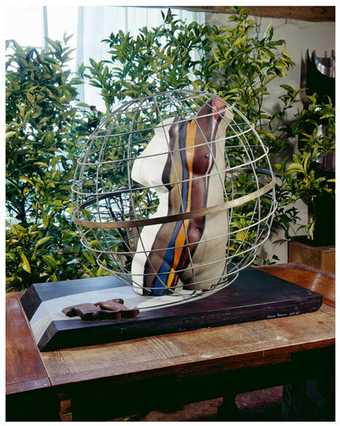 'Surrealist objects were constructed by putting together incongruous objects in such a way as to provoke a hallucinatory metamorphosis,' wrote Penrose in 1976. And The Last Voyage of Captain Cook is such a sculpture; a work composed of disparate elements that come together so that the notions of earth and woman are psychically fused. Penrose said later of its conception that the piece, like the effect that it has on the viewer, 'suggested itself to me'. The torso was an item that Penrose had bought the year before in Paris, where it 'was well known… on sale in lots of shops round Montparnasse. Always that size'. This unassuming plaster object popped up in works by various artists of the time. In Giorgio de Chirico's painting The Uncertainty of the Poet 1913 – also in the Tate collection – it stands exposed, accompanied curiously by a mound of bananas. De Chirico, like his peers, was undoubtedly drawn to its 'unusual and evocative appearance', characteristics that Penrose noted as intrinsic to an ability to excite the imagination, and essential to the Surrealist notion of 'the found object… discovered purely by chance'.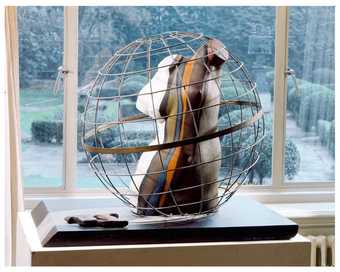 Penrose painted the torso with strata-like bands of colour and fixed it, along with a saw handle and a metal globe created by a local craftsman who mended bicycles, to a wooden baseboard. Once the piece was complete he named it The Last Voyage of Captain Cook, a suitably Surrealist title. Two years after the 1936 exhibition, it featured in Realism and Surrealism: Several Phases in Contemporary Art in Gloucester, before returning to London where it was shown with other work and that of Ithell Colquhoun at the Mayor Gallery. It was visible through the window, though visitors might have been distracted by the moustachioed man sitting in the window, who had been paid by Penrose to drink beer. It was an act which could now be considered as an early example of performance art. During the Second World War various components of The Last Voyage of Captain Cook were lost or succumbed to woodworm. In 1967, along with his son Antony, Penrose set about restoring and remaking the work from photographs. The reconstructed wooden base was made slightly bigger and it was Antony this time who welded together the globe from a coil of wire, using the same torso (Antony later rediscovered the original baseboard, which is now in the Tate archive).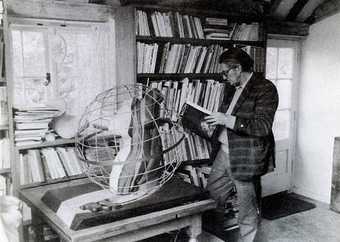 In 1968 the work travelled to New York, where it was shown in Dada, Surrealism and their Heritage, a vast survey exhibition organised by William S. Rubin at MoMA. The next year it featured in Poetic Image at the Hanover Gallery, London, before travelling to the Palais de Beaux Arts in Brussels for Métamorphose de l'objet and to Japan for an exhibition of Surrealism at the National Museum of Modern Art. In 1978 it returned to London for Dada and Surrealism Reviewed at the Hayward Gallery, where it was displayed in a room alongside works by Henry Moore and Paul Nash. After inclusion in an Arts Council tour of the UK and an extensive British Council exhibition of Penrose's work in Barcelona, it was shown at the Musée National d'Art Moderne in Paris in the exhibition Paul Éluard & Ses Amis Peintres. The piece was then purchased from the artist in 1979 by Gabrielle Keiller, a keen collector of Penrose's work, who subsequently presented it to Tate in 1982. It was last exhibited in Surrealism Returns in Cheltenham, a show that aimed to bring back the works included in the 1938 exhibition held in Gloucester.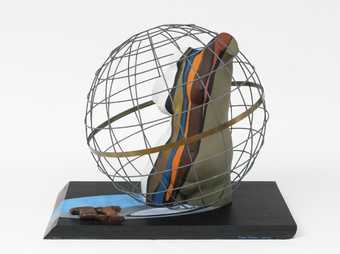 In its travels, The Last Voyage of Captain Cook, like its namesake, has journeyed across the globe. 'I had ambition,' wrote Captain Cook, 'not only to go farther than anyone had been before, but as far as it was possible for man to go.' This intense desire for discovery was echoed in the Surrealist's unrelenting endeavour to explore to the limits of the unconscious. According to the poet and critic Benjamin Péret, Penrose had mentioned to him that he had in mind Paul Nash's painting Harbour and Room 1932–6 as the final destination for his last voyage of Captain Cook, another work that is now moored securely in the Tate collection.