Joan Miró's first visits to Paris in the early 1920s affected his work so much that today art historians often overlook the influence of his other journeys to European capitals, such as Amsterdam in 1928 or Prague in 1932. Tracking Miró's complex biography reveals that his connection to London was equally productive: his paintings were exhibited and sold here as early as 1933, and from 1936 he was establishing contacts with relevant figures of British art – including the Surrealist artist Roland Penrose, and art historian Douglas Cooper.
Miró's first solo exhibition in London was co-organised by Cooper and enterprising gallerist Fred Mayor in July 1933. The Mayor Gallery was a pioneer in exhibiting international avant-garde artists like Alexander Calder, Paul Klee and André Masson. By that time Miró had already showed his works in Paris and New York, and his famous sentence "Je veux assassiner la peinture" (I want to assassinate painting) had made him l'enfant terrible of Surrealist art. In October that year, when the gallery organised a group exhibition in connection with Herbert Read's book Art Now, Miró showed his 1929 Portrait of a Lady in 1820, a transfigured version of a John Constable painting.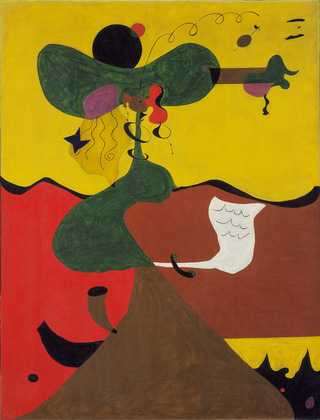 In spring 1936 three of his works were included in the "Abstract and Concrete" touring exhibition curated by Nicolette Gray, which showed works by British abstract artists, such as Henry Moore and Ben Nicholson, in the wide context of the European avant-garde movements, represented in the show by Naum Gabo and Piet Mondrian. A picture of the installation showing the 1933 Peinture by Miró was later reproduced in the magazine Circle, edited by Nicholson, Gabo and architect Leslie Martin in 1937.
Miró first travelled to London in June 1936 to attend the opening of the "International Surrealist Exhibition" held at the New Burlington Galleries, along with fellow members of the Surrealist movement – André Breton, E. L. T. Mesens and Salvador Dalí. The show was organised by Penrose, Read, Moore and poet David Gascoyne, attracted over 23.000 visitors in its three week run and marked the "official" introduction of Surrealism in Britain. Miró exhibited several assemblages and paintings, including his two masterworks Harlequin's Carnival 1924-25 and Dutch Interior I 1928. It was an eventful exhibition. As well as Dalí's infamous lecture given in a deep-sea diving suit  As art historian Michel Remy has stated, Surrealism was also put to the test "when a herring was pinned to one of Miró's objects, apparently by the composer William Walton, and had to be taken away by [Paul] Nash on account of the smell".
In May 1937, the Zwemmer Gallery hosted the exhibition "Selected early paintings and drawings by Joan Miró", showing works such as The Tilled Field 1923-24 and Maternity 1924, as well as five paintings from the Cooper collection. One year later Miró had his second show at the Mayor Gallery, which hosted at the same time, in its upper floor, an exhibition of drawings by Picasso. In May 1938 the London Bulletin published a complete list of the exhibited works, together with two texts on Miró. This interest for the Catalan artist in England undoubtedly helped him in a moment of economic and political difficulties, due to the Spanish Civil War that had forced him into exile in France.
In 1938 and 1939 Miró's work was again being shown in London. He participated in three group shows organised by Peggy Guggenheim in her newly opened Gallery Guggenheim Jeune.
Miró's international reputation increasingly grew during the 1940s and 1950s. In February 1950 Mesens exhibited at the London Gallery fourteen of his works, including the 1938 (self) Portrait of J. M. engraved by Miró and Louis Marcoussis.
Walter Erben's famous monograph was published by Lund Humphries in London in 1959, and Thames and Hudson translated Jacques Dupin's seminal 600-page book Joan Miró. Life and Work in 1962.
The reception of Miró in Britain reached its climax in 1964, when both the Tate Gallery and the ICA organised retrospectives of his oeuvre. With that occasion the artist travelled again to London. A series of stills taken in September by the American photographer Lee Miller (Penrose's wife) shows a happy and active Miró watching the city from a high building and visiting the zoo with Desmond Morris.
Other important London exhibitions would follow during Miró's lifetime. In 1966 the Marlborough Gallery showed twenty-nine works, and in 1972 the Hayward Gallery exhibited several bronze sculptures, including Solar bird and Lunar bird 1966, praised by art critic David Sylvester as "masterpieces of Surrealism". Although Miró did not come back to London after that, in 1978 Penrose visited the artist studio in Palma de Mallorca to shoot for the BBC the emotive documentary Miró: Theatre of Dreams. The Catalan artist had just turned 85 years old – and he was still painting.