John Everett Millais, Ophelia 1851–2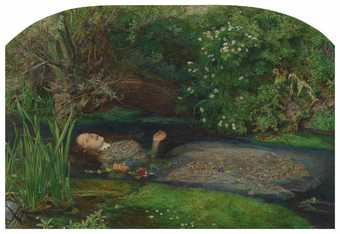 The main reason I love this painting is the colour and the drama. There's something that's so alive about it, ironically. Perhaps it is the flowers floating on the surface, or the translucency of the water. In my own work I've always been very preoccupied with colour, and the idea of mixing in contrasting shades. In Ophelia you get this vibrant green with shots of intense and rich red. I like the way he has painted the water too. It is a very dark mauve, but you can see this thin layer of rich blue on the surface surrounding her dress that shimmers in the sun. Obviously it's a dramatic image. We have what appears to be a really beautiful, perfect day, but something horrific has happened. You can imagine that she laid herself to rest, and is about to go under the water. She looks so peaceful.
On display in Room 1840 of BP Walk through British Art at Tate Britain.
British School, The Cholmondeley Ladies c.1600–10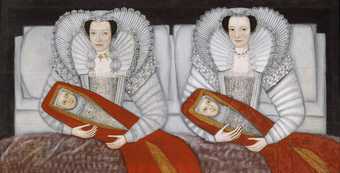 There's something very mysterious about these two ladies. No one knows who painted the picture, or who is being depicted. They appear to be twins. Each has different coloured eyes, and there are slight differences between their dresses, their jewellery, and even in the children they are holding. We don't even know if they are twins. What I really like about this painting, though, is that there's a flatness to it that is so peculiar. There is amazing detail here too, which makes it look almost architectural. There is something naïve about it that actually makes them look oddly modern. I've always been preoccupied with the idea of imperfections; also things that have little secrets and small details that you don't necessarily notice right away. So the differences between these two women draw me in. I want to know more about who they are, and where they came from.
On display in Room 1540 of BP Walk through British Art at Tate Britain.
Gerald Brockhurst, Portrait of Margaret, Duchess of Argyll c.1931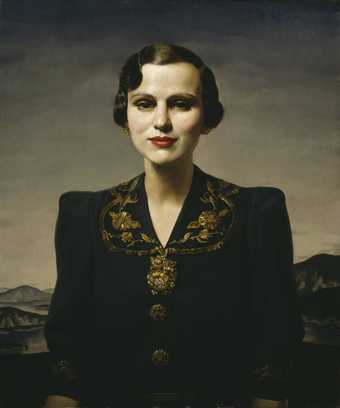 There's something quite dark about this picture. There is a sense of space between the icy veneer of the sitter and you the viewer. She is not really giving anything away. On the surface it appears to be a typical society portrait, but I think there's more to it than that. Apparently, she had what you might call a larger than life personality, and you can feel that she's hiding something behind those eyes, which is what makes the painting so fascinating. I also like it for a quite superficial reason, and that is the way she is dressed. She looks quintessentially 1930s with those decorative buttons, the broach and the embroidery around her collar. You could imagine her wearing Schiaparelli. She definitely looks like a woman who would have shopped on the continent. She has this Parisian chic, which is a great contrast to the gloomy Scottish countryside in the background.
On display in Room 1930 of BP Walk through British Art at Tate Britain.