In a recent conversation for Tate Etc, Kaelen Wilson Goldie asked the Egyptian artist Wael Shawky, as well as fellow participants Kader Attia (Algeria), Vasif Kortun (Turkey) whether they agreed with the common assertion that the contemporary artworks that have been produced in the Middle East over the past ten to fifteen years are quite heavy on politics, more so than in other regions.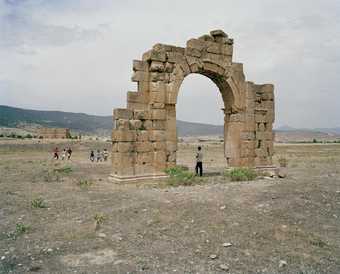 Shawky's reply was revealing: "I have been involved in many shows under the banner of Middle Eastern art and Islamic art. And I have started to refuse to take part in them. Many artists now are doing the same. Because of 9/11, this interest touches the political or religious aspects I'm using in my work. But it's because I'm coming from this religious background in Mecca that my work is dealing with these topics, so I don't think I feel the problem myself. At the same time, of course, I have to reject this interest, as a political position."
In contrast, western audiences (and we are generalising here to make a point), particularly those who are neither familiar with recent developments of art in the Middle East, or aware of its intricate inherent differences, are likely to be attracted to works that reflect their perception  and understanding of the Middle East. Politics features prominently. And over recent months, the turbulent events in Egypt, Libya, Yemen and Syria, has seen an increased interest and awareness in art from these regions.
The political upheaval provided the backdrop for the Dubai Art Fair. Now in its fifth year fair, there were 81 galleries from 34 countries from across the globe. As the fair's director Antonia Carver acknowledged, there was an increased level of international interest in the arts scenes, and a good level of regional support for artists and their projects. She also noted a rise in 'Arab support for Arab artists'. There was a greater geographical spread of galleries than previously and, in particular, impressive representations from India, Iran and Lebanon. Proof that Dubai feels confident in its position is that new spaces have been opening in Dubai, including the non commercial The Pavilion, as well as three commercial spaces Lawrie Shabibi, Traffic and Etemad.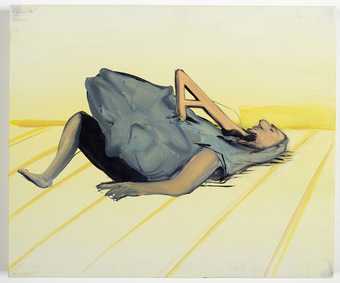 The range of works that these galleries show, in more cases than most, that politically-motivated art is not a primary concern. One could find good work by both prominent and upcoming artists including Tala Madani (Pilar Corrias), Zarina Hasmi's symmetrical works (Lakereen, India), photographs by Allora y Calzadilla (Chantal Crousel, Paris), a Kader Attia lightbox (Galerie Krinzinger, Vienna), Camille Zakharia's wonderful series of photographs of fishermen's huts in Bahrain (Lucy Macintosh, Switzerland) and neon work by one of the Abraaj prize winners, London-based Shezad Dawood, as well as his Brion Gysin-inspired sculpture.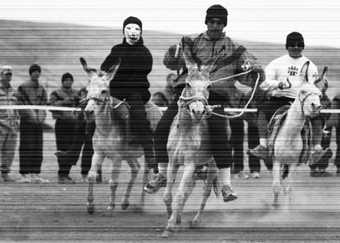 Some galleries, however, were not afraid to display challenging work. One example was Wael Shawky Cabaret Crusades, The Horror Show File 2010, photographs taken from his new film of the same name. (showing at Sfeir-Semler gallery, Beirut/Hamburg). The film (currently on show at Nottingham Contemporary until 26th June) is the re-telling of the story of the first crusades (1096-1099) using two hundred year old marionettes. On the face of it, it appears to be his own take on the effects of religious war and how this has affected Arab relations with the west, but as with many of Shawky's films though – he is never just telling a story – but mixes in myth, fantasy and fairytales. To Western eyes, these photographs might seem confrontational, even aggressive, but Shawky's work is more open-ended. Visitors to the fair were able to see more of Shawky's work in the Bidoun Projects Art Park, staged within the fair, where Sarah Rifky (of Cairo's Townhouse Gallery) had curated a retrospective of Shawky's films, including The Cave 2005, Al Aqsa Park 2005 and Telemach Sadat 2008.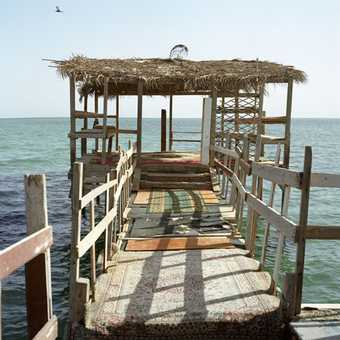 Audiences: 'How Much Do We Really Care'?
How do Middle Eastern audiences perceive these works? Any do they buy them? There were, apparently, more than 60 museum groups from around the globe at the fair, though it is not clear how many were from the Middle East. It is already well known that collectors from the Middle East, as well as buying contemporary art from across the globe, have been energetically buying paintings by 19th century 'Orientalist' artists - a development that would have had Edward Said scratching his head in bemusement. When these works go into public institutions (which will include several forthcoming museums in Doha and Abu Dhabi), who will see them?
One of the challenges for a rapidly expanding art scene is for galleries and institutions to understand who their audience is, from where this audience comes and what kind of art it wishes to engage in. One of the strong features of the fair is the Global Art Forum talks series, which invites artist's, critics, curators and museum directors, has been to explore such issues. This year's keynote speech, given by director of Tate Modern, Chris Dercon in his talk 'Audiences: How Much Do We Really Care?' presented at the Mathaf: Museum of Modern Art, Doha described how Mathaf museum stands for 'a Middle East without borders.' Dercon went on to speak of the driver [for Tate and] Mathaf's global outlook as being intellectual; a position 'born from ideas from a contemporary perspective… that doesn't shy away from complexity and incorporates different points of view.' And of course, audiences themselves are changing, becoming active participants and contributors rather than mere consumers.
Mathaf, which aims to amass a bibliography of Arab art history, has already cleverly positioned itself as a place where intellectual study and debate will be at the forefront of their developments, which will no doubt encourage this global dialogue. Interestingly, this was the first time that Doha and Abu Dhabi (in the shape of the Abu Dhabi Authority for Culture and Heritage and the Ministry of Culture) had joined forces in order the host the debates.
And what for next year's fair in Dubai? Considering the region's strong historic links with the African continent, it would be interesting to see future dialogues and exploration of the links between the Middle East and Africa. Some of these dialogues are already in progress – including Kader Attia and Zineb Sedira's project 'Art in Algiers' set for 2012, that will be using the geographical and historical situations of the country as a bridge linking the culture of Africa to the Arab world.
Africa's rich cultural landscape is not as known as it should be. Dubai is uniquely placed geographically as a centre, so it would appropriate and fruitful to see such collaborations and connections. How fascinating it would be, for example, to bring to life Mali's extraordinary history as a seat of ancient learning, many of whose ideas were, historically, shared across the continent and to the east.