Thomas Phongsathorn reviews Franz West To Build a House You Start with the Roof: Work 1972–2008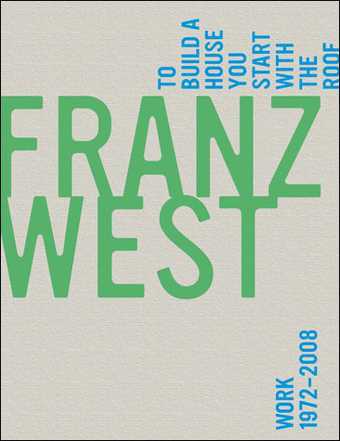 Sex, humour, food and shit: All old friends, often to be found happily mingling together at raucous, joke-riddled, psychoanalytically excavatory gatherings. Gatherings such as those staged by the Vienna Actionists in the 1960s perhaps; or, more specifically, at the gatherings staged in the art created by Franz West – a figure who was only ever a satellite member of the Vienna Actionists, but who has remained associated with the movement throughout his career.
To Build a House You Start with the Roof is the title of an exhibition recently held at The Baltimore Museum of Art, and it is also the title of the accompanying catalogue (published by The MIT Press). It is a book filled with well considered and thoughtfully composed text, and deserves credit for appearing to have absorbed some of the ethos of West's work; it is stylistically candid, ergonomic in structure and broadly educative. It is also successful as an examination of the career of one of the 20th and 21st century's most significant artists. It darts into various crevices of West's life and work, and does not fail to take into account the most unlikely aspects of his ascendance. Indeed, it makes clear that there's a strong element of 'happy accident' to West's success, and that much of his work can be seen as the residue of being Austrian, the son of an overworked (and, by his accounts, rather brutal) dentist, sensitive to the aggressive nature of advertising and consumerism, and an awkward figure in each society he inhabited. He is also a natural comic with an aesthetically honed oeuvre.
The role of reaction is made crucially obvious at various points in the book's text. Of course, West's well known series of works – the Adaptives – small portable sculptures that were meant to be picked up – rely on a willingness on the part of the user; but the concept of the Adaptives is a reaction in itself – to the sanctity of art in the romantic sense, and, consequently, to the unsaid, unwritten code of art gallery behaviour. West's reaction to the Actionists is well documented; and he knows how to cause a reaction with his work by using sexual and taboo imagery and language: he loves a good (or, indeed, bad) pun, and a knob joke.
The most curious aspect of the book is a subdivided essay, based loosely on the subject of West's public art, entitled Hostess with the Mostess. It opens with a reference to Twinkies – a hysterically calorific American sponge cake snack known for staying 'fresh forever' thanks to it's heftily artificial composition. This rapidly leads into a consideration of the significance of lustre and 'freshness' as qualities of West's public work. A question is posed: 'Why do we like art that looks fake yet 'tasty'?' Two further sections follow; one entitled Roses, in which West's use and application of colour is examined, and the final section is called Sausages. This is something of a summary, but is also about food, and one of the fundamental – typically private – upshots of consuming it.
In the in the early stages of her essay, curator Darsie Alexander refers to a quote from West in which he fondly recalls the outlandish conversational gestures of his half-brother Otto Kobalek: 'I liked this kind of living talk, this moving talk… it was highly motivating, but what gestures should I make?' West seems still to be concerned with the gestures he should make, and through his work he has opened the question up to the rest of us: In the strange, ugly, beautiful, peculiarly Austrian, interactive, humorous world of Franz West, what gestures should we make?
Simon Grant reviews Buckminster Fuller: Starting with the Universe By K. Michael Hays and Dana A. Miller
As Dana Miller notes in the essay in the excellent catalogue to accompany the recent Buckminster Fuller exhibition at the Whitney Museum of Art (and touring to the Museum of Contemporary Art, Chicago in summer 2009), Fuller's life was 'a single performative experiment; indeed he called himself Guinea Pig B for that reason'.
Described as inventor, architect, engineer, mathematician, poet and cosmologist it is not surprising that he attracted descriptions such as 'the first poet of technology', or as Marshall McLuhan said: 'a Leonardo da Vinci of the 20th century'. Fuller was something of a polymath, working virtually simultaneously on plans and models countless projects, but he is best known for his geodesic domes, that have since been put to common use across the globe.
Buckminster Fuller liked to explain the source for building blocks was being a severely cross-eyed child. During one lesson in kindergarten, the children were given toothpicks and peas and asked to build the model of a house. While the others made little box shapes, Buckminster couldn't: 'Not having visualised the rectilinearity about me', he said, 'I used only my tactile sense. My finger muscles found that only the triangle had the natural shape-holding capability – I therefore felt my way into producing an octahedron-tetrahedron truss assembly…' From small beginnings…
The influence for his geodesic structures was primarily D'Arcy Wentworth Thompson's cult book On Growth and Form 1912 which itself borrowed from Ernst Heackel's highly influential Art Forms in Nature and combined it with the mathematical basis of their structures. However perhaps more important was the time Fuller spent at Romany Marie's tavern, a New York meeting place run by a Romanian émigré, where intellectuals and artists gathered to eat, drink and talk. It was here, as Miller notes, where Fuller 'began crafting his persona as the maverick outsider unrestrained by academic of commercial fiefdoms'. Among the like-minded fellows he met the young Japanese sculptor Isamu Noguchi, who is better remembered now as a quiet master of considered bodily forms, but back then he decorated Fuller's studio in silver 'so that one was almost blinded', Noguchi had said, 'by the lack of shadows'. This was three decades before Warhol's silver factory. They shared many ideas at the time and in 1932 collaborated on a futuristic car design that only made it to model stage.
The 1950s in which he developed his geodesic dome saw the blossoming of some profound and exciting interdisciplinary explorations, and Fuller acted as a kind of pivotal point, surrounded by the painters, sculptors, filmmakers, architects, mathematicians, engineers, town planners and sociologists. The curator Kynaston McShine would draw on these crossovers for his exhibition Primary Structures at the Jewish Museum, New York in 1966.
This is a well researched and nicely illustrated book and with good essays, although the reprint of Calvin Tomkins profile piece originally published for the 'New Yorker' could have done with an edit, being long-winded in places. A small niggle in what is a great resource about a remarkable man whose influences continues today.
Matthew Bowman reviews Why Photography Matters as Art as Never Before by Michael Fried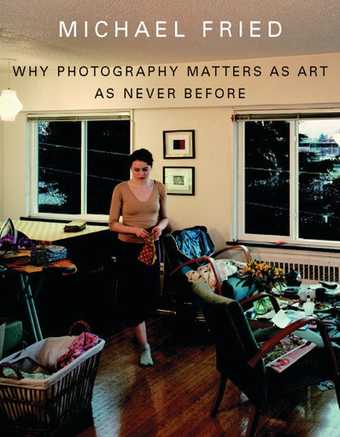 The publication of this book constitutes something of an event. Since moving away from art criticism in the early 1970s, Michael Fried has established himself as one of the most important art historians working today with the publication of a brilliant trilogy of books examining the relation between beholder and painting (the anti-theatrical tradition) in France from the 1730s to the 1860s.
Intersecting with this trilogy has been another analysing realism in Thomas Eakins, Courbet, and Adolph Menzel (Courbet's Realism is the midpoint of both trilogies and the intersection between them). Fried's new book, with its focus upon contemporary photography, might be considered an exile's return to the practice of art criticism from the discipline of art history; but Fried dispels such a view by newly acknowledging an intertwining between his art criticism and art history.
Fried's basic premise here is that contemporary photography – e.g., Jeff Wall, Thomas Struth, Thomas Demand, Andreas Gursky et al – continues and transforms, after Minimalism, the dialectic of absorption and theatricality that characterised French painting between the 1730s and 1860s. Tied in with that premise is another that considers contemporary photography as now having the address that painting once had insofar as these photos are large-scale, intended for the wall, highly composed and digitally manipulated.
For readers who have tracked Fried's art-historical writings closely, the first premise may seem counterintuitive. Manet's Modernism, for instance, argued that the anti-theatrical absorptive strategies explored by painters like Chardin, David, and Courbet reach a moment of profound crisis with Manet; instead of depictions that are 'unaware' of the beholder's presence, Manet's paintings frequently offer figures that stare right at the beholder – absorption is replaced with 'facingness', an acknowledgement of theatricality. Facingness replaces absorption because absorption is both impossibly structured around an 'ontological illusion' of the beholder's non-presence and can function as a means of pandering to the beholder.
If Fried is correct in Manet's Modernism about the ultimate failure of absorption, then it's initially difficult to see what anti-theatrical purchase present-day absorption can have for him insofar as he wants to write a positive account of photography. Fried knows this, and there's a twist: for various reasons, absorption in these pictures is a performance rather than actuality (in homage to Wall's 'near-documentary,' we might say 'near-absorption'); in Wall's Adrian Walker, for example, Walker is not absorbed in his drawing, but pretends to be for the photo-portrait – and this pretence stems from his real-time awareness of Wall being there to take the photo. Such instances, for Fried, testify to a structure of 'to-be-seenness' prevalent in contemporary photography in which the beholder is acknowledged (his non-presence is barely an issue of a 'supreme fiction' in this book) in a non-theatrical way. Other photographers, Rineke Dijkstra, for example, deploy a modern version of facingness that also emphasises 'to-be-seenness'. However, 'to-be-seenness' isn't restricted to depicted content, but can include the format the photography is presented in – e.g., Wall's lightboxes, the fact of them being on a wall, or photographs presented within a book.
That Fried's criticism has never been about excluding the beholder should be clear by now, but it's nonetheless not always easy to discern the intersubjective, social, or political implications that follow from his critique of theatricality. For those new to Fried's oeuvre, it isn't immediately obvious why 'to-be-seenness' is okay as a way of addressing the beholder, whereas theatricality is not. However, to a degree, one doesn't have to buy into the whole 'to-be-seenness'/theatricality 'divide' to appreciate this book.
Indeed, this book serves well as a useful introduction to a range of contemporary photographic practices and the discourse surrounding them. Fried demonstrates, once again, not only his close, perceptive engagement with the photographs discussed, but also with a variety of other critics. Ultimately, one can or cannot accept the 'to-be-seenness'/theatricality dialectic, but his observation that contemporary photography and its critics are interested in types of absorption and facingness seems a little harder to refuse outright. His readings of Heidegger, Wittgenstein, Barthes, and Hegel help reinforce the book's wider claims (Cavell on the 'everyday' figures too, but his The World Viewed is oddly missing) and allow him further opportunity to reconfigure claims made in 1967's 'Art and Objecthood.'
As ever, Fried's latest book will stir debate, but his claims don't strike me as particularly controversial, and they mostly align with rather than deny other critical approaches. I don't think it extends the absorption/facingness/theatricality discussions as deeply as I would like, but their basic presence here seems plausible. Fried's prose is clear, and often feels genuinely continuous with the works he discusses – and, as ever, Yale University Press provides brilliantly reproduced artworks that more than aids his close descriptions. Overall, this is a strong and thought-provoking addition both to Fried's canon and discussions on contemporary photography, and his return to art criticism is very welcome.
Alison Dunhill reviews Women Gallerists by Claudia Herstatt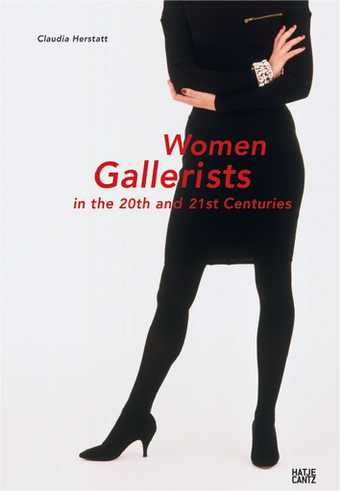 If the title of this book causes a slight hiccup, the edition is good: a bi-textured dust-wrapper showing a slim sexy clad-in-black anonymous female gallerist,her purposefulness implied by the crossing of her arms, her combination of glamour and efficiency suggesting what all of us should aspire to. Claudia Herstatt's writing style is lively and welcoming. She claims in her brief introduction that her selection is qualitative but should not be misunderstood as a ranking list. That this is a co-publication in German and English makes it, at least in the Euro-American sense, international; the inclusion of South Korea and Beijing is more so.
Herstatt wants her book to fill a gap, as she feels that too few female gallerists have received written exposure. Certainly the book, with short zappy biographies beginning each section, followed by summaries of individual agendas and represented artists, will act as an excellent incentive to women contemplating such a career. When Herstatt asks in her introduction the reason why more gallerists and patronesses (this word should be banned) have not written about themselves (naming Guggenheim and Paris dealer Iris Clert as exceptions), is she perhaps missing the point that exceptional talent will always be discussed and recognised? After all they're enablers, not writers.
Doesn't Peggy Guggenheim, at work in the first third of the twentieth century, tower above her contemporaneous male gallerists? And hasn't Marian Goodman's reputation in New York outstripped many of her male counterparts? These are some reasons to question the necessity of the title's gender division, but of course there are reasons too to support it.
Herstatt is dealing with capital city galleries whose spaces offer extensions of the white cube: perfect for contemporary conceptualists hungry to extend beyond floor and wall. The artists' statements about their relationships with the gallerists are enriching and her list of gallery addresses makes this a good practical guide as well as a valuable source book for a little charted terrain.
Charles Danby reviews Index by Bridget Penney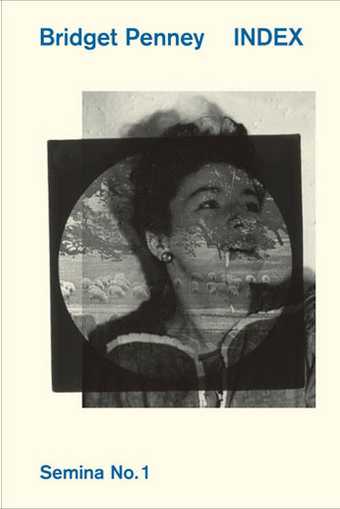 Index is the first in a series of nine books, collectively titled Semina after Californian beat artist Wallace Berman's nine loose-leaf magazines of that title of the 1950s and 1960s. A self-compiled assemblage of hewn-together material, Semina was distributed by Berman through the mail to collaborators and friends. While little remains of Berman's work beyond his verifax collages of the 1960s, mechanical collages made using early copy machines, his influence on a generation of West Coast artists that include Ed Ruscha and John Baldessari is well documented.
Here, through Bridget Penney's book,Index the experimental ethos posited by Berman reaches a further site of contemporary operation. Essentially a work of fiction, Penny's book is structural as much as it is narrative, divided by variations of prose, and intercut with passages of compositional typography, it circumvents clear-cut categorisation. At the centre of the book are the fictional characters Roland and Julie. Their construct shifts from chapter to chapter, not through the generative psychosis redolent of Ballard's protagonist Travers in The Atrocity Exhibition 1970, but through an imploded chronology of historical timeframe.
In the chapter Experiment the characters emerge as infants consigned, under the servitude of their king, to live out an experiment conceived to determine human development based on the deprivation of language. While in The International Symposium of Shadows, the character of Julie plays the role of queen while under the service of Marie Antoinette in a secret game of role-reversal. In addition to Marie Antoinette, Penney draws on a succession of historical figures, as referents and jarring opposites to her characters, that include Cagliostro, a con artist, and Madmesoiselle D'Eon, a gender-swapping envoy and acclaimed soldier, both of whose paths intersected with Marie Antoinette at Versailles. The characterisation of these historical figures sits slightly askew from that passed-down by history informing an alternate strand of fiction, that of historical account.
Throughout Index there is an undercurrent of distortion and obstructed gaze, a number of passages recalling details of glacial shifts, aligning the temperance of the landscape to that of social anxiety. In all there is no composite narrative, the construct of the book follows its title, that of an index. It is one of parts, of passages that collide and occasionally resonate.
The account of an elderly character called Flora towards the end of book and her disclosure of her transvestite past echoes the untold story of Madmesoieslle D'Eon. Index neatly obscures the terrain of poetry and prose, and while occasional passages draw on contrivances that are overly conscious of linguistic structure it is intriguing in its refusal to be a work of readily locatable fiction.
Index is available from:http://www.bookworks.org.uk/