Klaus Weber on Enrico Baj, George Fullard and Paul Neagu
There is a 'certain Chinese encyclopedia' in which it is written that 'animals are divided into: (a) belonging to the Emperor, (b) embalmed, (c) tame, (d) sucking pigs, (e) sirens, (f) fabulous, (g) stray dogs, (h) included in the present classification, (i) frenzied, (j) innumerable, (k) drawn with a very fine camelhair brush, (l) et cetera, (m) having just broken the water pitcher, (n) that from a long way off look like flies'.
Michel Foucault quoting Jorge Luis Borges quoting Dr Franz Kühn
My name is Weber, Klaus. When I participate in group exhibitions, I am usually the last one on the artists list, that is if neither Wilhelm Ferdinand Xylander nor a zebra is participating. This autumn I have curated an exhibition at Nottingham Contemporary called already there!, which will run in parallel with my solo show, if you leave me I'm not coming. For the former I have combined artefacts from all sorts of archives, including the Science Museum, as well as pieces from my private collection. I've also included several artworks from the Tate collection.
To select these things from such a wide field, let's say from a major part of human culture, I decided not to research them, but actually to find them. This way you have to be more open, trusting your wits and your direct reflections on what you discover. It doesn't matter if you are confronted with textual labels, names, listings, or the materiality of the objects. Open the gates, and it can be far more fun and complex then following your script.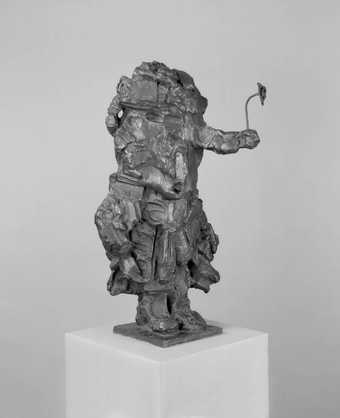 So Abi Spinks (assistant curator, Nottingham Contemporary) and I wandered with museum staff through the storage areas of these collections, down in the basements, devoid of natural light, looking into countless spaces, shelves and lockers. Down there you lose a sense of time. And when you emerge, you are surprised to find the world still spinning. The experience reminded me of the 1966 sci-fi film Fantastic Voyage (in which a submarine crew are miniaturised and injected into the body of a scientist to repair his blood clot). Though in my case it felt like moving ghost-like through the architecture of human culture, going deep into the basement of unconsciousness. It was a truly fantastic, but also disturbing, voyage. Following this path of dissecting, categorising and decontextualising, it seemed obvious that something is fundamentally wrong with such a possessive way of approaching and reflecting the world.
When it came to searching the enormous Tate collection, we did not send our bodies, but our minds. Tate has a great website. You can move from image to image, from A–Z, instead of accessing it by search criteria. Many other museums organise their website search through keywords, which already reduces your approach to an academic lingual sense of ken. When I started to go through the collection, I planned to do it in chunks of a couple of hours. However, I began one afternoon and carried on until 5am without a break. I discovered many works that I didn't even know existed, while others were like an unexpected encounter with an old friend at the traffic lights. It is the best way to meet people if you are open enough to change your daily plans – to hook up with your friends in the Café of Benevolent Knowledge.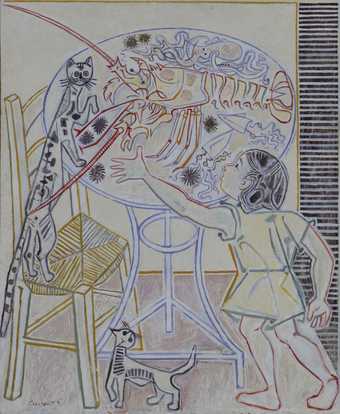 Ian Collins on John Craxton's Still Life with Cat and Child 1959
I come from Norfolk, a county of shellfish, where we are practically teethed on whelks. We graduate from shrimps to crabs to lobsters, but while cockles (with white bread and butter, white pepper and Sarson's vinegar) are my delicacy of adult choice, oysters have the appeal of slime in saltwater.
Not that I told John Craxton that last bit. The world was his oyster: he loved food, and seafood most of all. Within an hour of meeting – at Prunella Clough's wake – we were sharing a fishy meal in Chinatown chosen by John, and we ate and drank our way through a ten-year friendship ending with his death in November 2009.
In London and Greece he celebrated the art of eating any scuttling thing as long as it was cooked to his satisfaction, and in the early days he often prepared his own food in Cretan restaurant kitchens.
David Attenborough says: "One of my great pleasures in life was to be taken by John to a favourite harbourside restaurant in Hania and to be given a dish of cooked sea creatures which even I, who am supposed to have some knowledge of the animal kingdom, found hard to identify."
Sunday lunch in Hampstead was crab, bought in Brick Lane by his partner that morning while he prepared the mayonnaise to the painstaking recipe of Margot Fonteyn's mum. Rash the guest who asked for the Hellmann's (or Sarson's).
In a family of musicians, he said his favourite sound was of people talking over a meal. Ideally a cat would be tucking in too.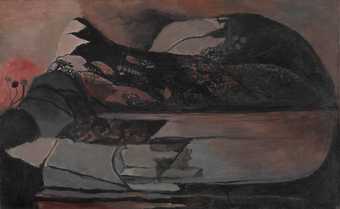 Clare Woods on Graham Sutherland's Black Landscape 1939–40
Three years ago I moved my studio from Bethnal Green to Kington, a small market town on the Welsh borders. The general anxiety of living and working in London was expelled within weeks. The fear of leaving the studio late at night and walking to the tube had gone. The frustration of not being able to move freely around the city at any time of day or night had disappeared, and the bombardment of images, news and information had stopped. Only to be replaced with the dark and a new anxiety. Not fuelled by the fear of the person or what the person could do, but a fear of something larger, something less comprehendible and tangible, something more abstract in its form.
A postcard of Graham Sutherland's Black Landscape had been packed away with other various postcards and found images that were once pinned to the studio notice board. The board had been re-hung in the new studio and Black Landscape found itself surviving the cull and being stuck to the top right-hand corner. But the image had changed. A vivid pink glow to the left side of the picture had come alive. I had never noticed this menacing, almost face-like aura hovering about the edge of the mountain before.
The dark and light areas of the work fit together, contained by the black outlines of the mountain structure and the field boundaries. These enclosed areas are understood not only in respect to the elements of the painting, but in terms of good and evil, or what can be seen and what is shrouded. But the pink paint is not contained by these dark lines. In fact, it is not static at all, it is free moving and hard to pin down, both in its relation to the rest of the surface and to its significance in the time that this work was made.
The border landscape of my new home holds an anxiety and a magic for me that is embedded in Black Landscape. The painting is dark with areas of excessive light, and this is how I feel about my new surroundings. Overhearing a conversation between two women in the local Co-op recently, one said to the other that Kington had a dark heart, and I have to agree. The tragic idyll of contemporary Britain heading into the unknown with one foot in its rural past – maybe this is what Sutherland saw in the Welsh countryside that allowed his non-scenic vision of the landscape to evolve during the war years.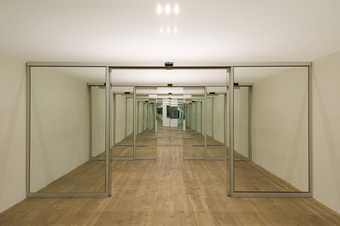 Josephine Meckseper on Carsten Höller's Sliding Doors 2003
One, two, three. The cracks in the floor, the walls yellowish and grey from the years and the dust accumulated. The staircase an ugly brown, intensified by the harsh grey-blue fluorescent light. It makes skin look awful and every visitor should be aware of it. I am nauseous. Is it the tea, or just because it's morning and the mess behind the doors was getting so out of hand that I didn't touch it in a year and a half?
The bathroom was brand new when I moved in. When the previous owner was shot dead, the next room, the middle room, was mirrored all around, Mafia style. A fake chandelier must have once gone up in flames, outlines of a ceiling fixture and a ring of smoke still visible. The front room has three windows and an air conditioner, not too bad. Behind this space is the last room, the bedroom with an ocean blue floor, a bed and a television.
Doors open, doors close. One day passes after the other. Stubborn life hammered into head, no escape. No sense of time, no concept, no master plan. I look over to the left of my computer, in the midst of staples, rubber bands and pushpins is the business card of a handy man. I am surprised that he lives on Fifth Avenue now.
It's getting worse. Shoes too small, the staircase too narrow, I can't leave the house without neighbours peeking through their cracked doors. The circles under my eyes are now permanently carved into my skin.
Out on the street I can't find the entrance to the department store that used to be on Broadway. Careless shoppers and tourists are exiting through opaque mirrors on to the sidewalk, making it impossible to enter the sliding doors.