I met Lowry in the Manchester Art Gallery some years ago – about 1970. I think it was at a Manchester Academy of Fine Arts exhibition. I remember he was looking at various abstract works. We got chatting and he asked me: 'What do you do?' When I said I was a photographer, he shrugged and said 'same thing', which I thought was quite surprising, coming from a painter. What I think he meant by that was that I was documenting things and so was he.
I reckon he was a lot smarter than people gave him credit for at the time. (Few people then knew about his day job as a rent collector.) He was charming, and seemed a nice man. I was, of course, aware of his work, and found it very interesting. He was concerned about whether his work would last, so I think he would have been rather thrilled to have known that Tate is putting on this exhibition.
Lowry and I were working in the same areas – Manchester and Salford. In 1965 I did a series of colour photographs of Hulme, a Manchester suburb that was very run down. I went initially out of curiosity, because I'd seen some cranes in the distance when I was in Salford and asked what they were for. I was told: 'Oh, you know, that is Hanky Park [immortalised by Walter Greenwood in Love on the Dole] and it is being pulled down together with similar areas in Manchester as part of the biggest clearance of sub-standard housing in Europe.' So I thought, I'll go and have a look at that. I was just fascinated by the place. It became almost an obsession.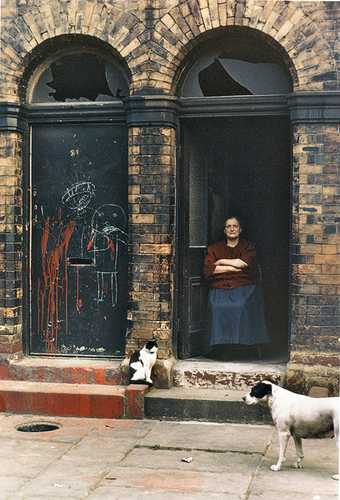 We often think of these areas and that time in black and white, because that was how they were photographed, but there was colour there, as I recorded it. People thought that artistic photos had to be in black and white and preferred them. Now it's the other way round. A photograph was near to what you could call reality, so I didn't see why you shouldn't do it in colour. However, it was hard in those days. You had to be so careful to get the exposure right (I was using Kodachrome for those colour pictures), and, of course, it was a great deal more expensive.
What I was doing was about the people. I would go with an idea of perhaps taking pictures of textures, peeling paint, etc, but I always ended up photographing the people. I knew that it was a time of enormous changes, but I'm glad that I actually managed to capture the traditional areas too, before they were pulled down.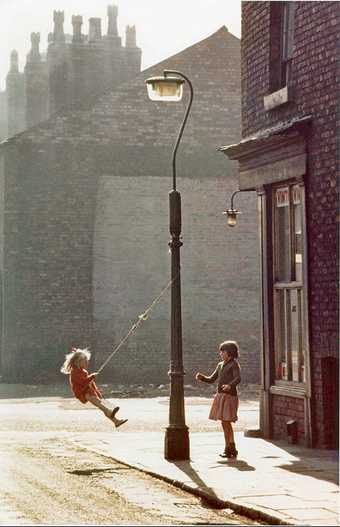 There were streets that hadn't changed at all, as well as those in the process of demolition. It was very hard for the people that were living in those places, because the demolition was going on all around them and conditions were chaotic. I didn't intend to go out looking for poverty-stricken areas. What I did find was a great sense of humour. Also, there was the sense of community, but that, of course, was gradually being broken up. There's a lot said about communities, but there were also areas where people actually hated their neighbours.
A lot of people collected Lowry prints because they reminded them of where they were. It was nostalgia. I hate that word! Though I do understand feelings about past memories. Nostalgia comes later and at that time I was working in the present, and so was Lowry. The other important thing to remember was that many of the people lived in dreadful conditions and their houses had to be pulled down. Then of course, when they built up the new stuff, it wasn't very long before they pulled all that down too.