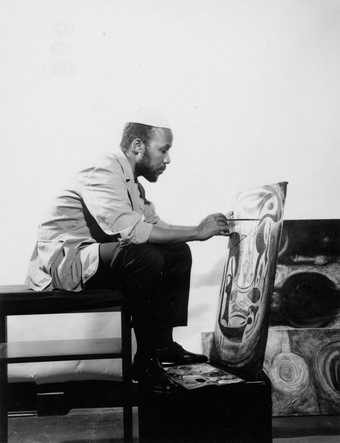 'First of all, on the surface on which I am going to paint, I draw a rectangle of whatever size I want, which I regard as an open window through which the subject to be painted is seen' wrote Leon Battista Alberti in 1435. Ibrahim El-Salahi would draw that window in the shape of a stage, and place himself within it in order to tell his stories. For El-Salahi is a born story-teller. He is full of stories when he narrates, writes or draws, not to mention the tales that are told about him.
During my teenage years, I had heard the story of 'El-Salahi the artist', because part of his family lived in the town near to where I was born. Abdallah Bachir, our art teacher at El-Obeid Secondary School, had shown us ink drawings by him, and had introduced him to us as a Sudanese artist of international repute. I was fascinated by the idea that an ordinary Muslim man could live as an artist, because in my imagination they were unreal creatures who came out of European literature. At the time, the term was applied to self-taught painters, who had difficulty making a living, or singers who were considered to be ruffians.
When I reached Khartoum Art School in 1970, El-Salahi was in London, but everyone knew a story or two about this famous artist. In fact, in 50 years he has exhibited only twice in Khartoum (1962 and 2000). So the Sudanese heard about his shows around the world and the acquisition of his art by the great museums – MoMA, the Metropolitan, the British Museum - without knowing his work. His international success turned him into a national hero, so much so that in 1970 the Department of Tourism distributed a poster in which El-Salahi posed in his studio, with the caption "Sudanese artist at work". Educated Sudanese see him as one of the founders of what the urban middle class had wished for since independence – a 'Sudanese art' integrated within a national cultural identity. Along with artists such as Ahmed Shibrain and Kamala Ishag, El-Salahi developed an iconography from sources in primitive and Muslim art, leading to the formation of the Khartoum School, active between 1960 and 1975. Today he regards this experiment as a methodological misunderstanding between its initiators and their disciples, who settled for the reproduction of empty forms. An ideal situation in which to hear him relate the parable of the wise man who points his finger at the moon and the foolish disciple who looks at the finger.
In 1972 El-Salahi was called to the Sudan to reorganise the Ministry of Information, which was to become the Ministry of Culture. During his years within that ministry, he showed none of his artistic work to the Sudanese public, but he became very popular thanks to his television programme Bait Al-Jak. Each episode was an event, because El-Salahi didn't just introduce people telling stories, but recounted some thrilling ones himself. One day he wanted to tell a very particular story: that of homosexuality and prostitution in Sudan. The broadcast was interrupted abruptly and shut down for good. But he pursued his work at the ministry with conviction, because, as he noted in his Prison Notebook, 'some jobs needed to be done irrespective of who was in power'.
While he refused to get involved in politics, El-Salahi was caught up in them in a singularly violent way. In September 1975, accused of complicity in an abortive coup led by his cousin, he was arrested, beaten and held in custody without trial for six months. Upon his release, he began to live as an exile between Qatar, England and New York, with occasional furtive visits to Sudan. He summed up his experience in prison in a series of parables worthy of the mystical masters. My favourite is the following:
For the first few weeks of detention, we claimed Freedom and Respect according to the Universal Declaration of Human Rights. Then, because the prison food was tasteless, we asked for a few onions. One day, during the monthly visit of the Director of Prisons, it was my turn to ask for the precious onions. We were given three onions, which were to last us until the next visit. I took a piece of onion and planted it in the damp soil under our earthenware jar of drinking water, hoping to see something growing. When the onion became a plant, my fellow inmates called it 'Salahi's garden'.