I was born in Nigeria and came to the UK with my parents when I was two years old. They aren't especially into art, and you don't find that many immigrant families going to a place like Tate Britain, though I do remember visiting Tate Modern on a primary school trip (I honestly can't recall what we saw). My secondary school, Archbishop Tenison's (across the road from the Oval cricket ground), encouraged us to do artwork. I loved drawing, so I went on to do an art GCSE.
Before the start of year 11 my school got the chance to take part in a summer project at Tate Britain exploring the themes around Joshua Reynolds's Colonel Acland and Lord Sydney: The Archers 1769. I jumped at the opportunity and thoroughly enjoyed it – it even included us doing some archery in order to understand the painting. When I went back to finish my GCSEs, I had a very positive approach to the gallery – it wasn't as daunting as I had imagined, and I realised that it was a place that you could just walk into and look at some historic and contemporary art for free.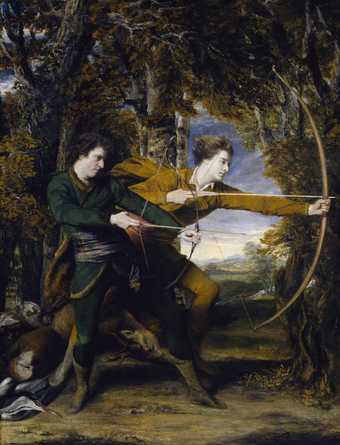 After the project I got emails from the gallery telling me about various activities, most of which I didn't act on. But then there was one from a group called Tate Forum (now Tate Collective), who invited me to an open evening for people my age, so I thought, okay, I'll take a look. That was in 2005 – and I've been here ever since!
The evening was a good experience. We had an 'ice-breaker' session to get to know everyone, which involved folding a long sheet of paper into sections and each of us drawing a part of a body – an 'exquisite corpse'. We were told about the Tate Forum group where we could create and run projects and events for young people, and would I like to take part? That idea really appealed to me: it was a bit like a social space with focus.
As soon as you join Tate Collective you are part of the discussion, and you get to plan and run an event from inception to fruition. At the beginning you clearly won't know the whole process, but the fact that you can have an opinion that is heard and could possibly influence what the group is going to do immediately empowers you. My first project was called BP Loud Tate – a day of art, music and fashion at Tate Britain. I didn't expect that loud music could be played in a gallery, but right from the start we discussed how we could make it happen. Music is one of my passions, and therefore I definitely had an opinion about who we wanted to ask to perform.
The whole point of BP Loud Tate is to attract young people who wouldn't normally come, but also give them an experience of what a gallery can be. We make that experience easier and more accessible by adding an event, workshop, or project that they wouldn't necessarily think could take place in the gallery. And we link these to the art on the walls, so when they go into a room and take part in an activity, they are actually interacting with the artwork in some way, even if it's only through association.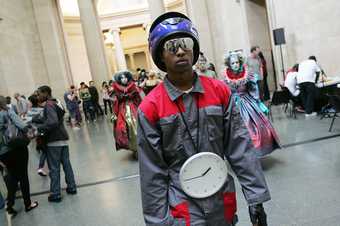 Our latest project was to curate the display at Tate Britain based on works from the collection that we thought would be of interest to a younger generation and audience. We went through the whole process that a curator would to set up a show. Proposals went back and forth, and eventually we came up with this idea called Source, as it is about the re-appropriation of art images. Most young people nowadays use social media sites such as Tumblr, Instagram and Pinterest, where they share artwork and ideas through their own photography or things they've seen on the internet, which is different from visiting a gallery. So we created a 19th-century 'Salon' style of hanging the Tate works to reflect how you might see images on someone's Tumblr wall or Pinterest board. In each case, the layout may look random, but actually it reflects themes: how the artists were feeling, and what they were concentrating on at that time.
Being part of Tate Collective is great for me. I have made a whole new group of friends with similar interests, and there are skills that you learn that are useful for the future. The fact that you can put on your CV that you've created something in an institution such as Tate gives it a lot of weight.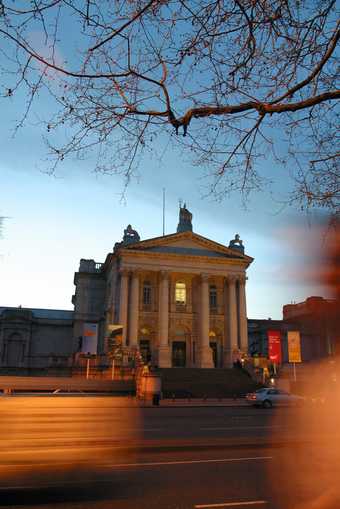 The experience has definitely changed me. Anybody who hasn't grown up coming to Tate Britain must find the front of the building imposing. You get that sense of an elitist world where you need to be very knowledgeable to understand what's going on. But I found that I liked the art, particularly historic paintings representing stories from the Bible or Greek mythology. And I also discovered contemporary art, such as Phyllida Barlow's sculpture in the Duveen Galleries, which completely opposes the whole sense of what most people think happens in the gallery.
I believe it is important to try to change the perspective of the young before they've had their minds set a certain way – to understand that a place like Tate Britain actually is an inviting one. I think what the gallery has seen through its encouragement of Tate Collective is that if you get young people to spread the word (which is now far easier via social media and the internet) that things are happening that could appeal to them, or are specifically for them, you can achieve very significant and positive results.