Colour and light are the sources of my creative practice and the reason for my lingering fascination with Sonia Delaunay. It is something that continues to permeate and define my work as a fashion designer and how I manipulate fabrics and textures in my womenswear collections.
Delaunay's genius was her ability to transcend the defined parameters of her role in the art scene in Paris and delve wholeheartedly and with great skill into fashion and the decorative arts. She had the innate capacity to bridge diverse creative channels and media. I came across her work as a teenager on a trip to Paris and was immediately attracted to her early paintings Philomène 1907 and Composition no.540 1939 and the lush illustration for poet Blaise Cendrars's La Prose du Transsibérien et de la petite Jehanne de France of 1913.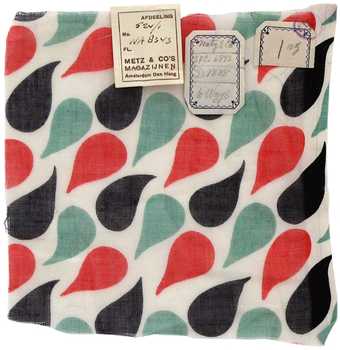 Later on I discovered her foray into design and participation in the famous Exposition Internationale des Arts Décoratifs et Industriels Modernes in 1925. She enthusiastically applied her talents to exciting effect showcasing her clothing design, printed textiles, rugs and interior decoration, presented alongside each other in a meticulously conceived environment. Her boutique simultané contribution to the exhibition was an extension of the Paris boutique that she and her husband Robert had opened: a destination for artists, poets, actresses and dancers, including Nancy Cunard, Sergei Diaghilev and Gloria Swanson, who gathered in this creative epicentre. Her embroidered coats, driving hats and intarsia knit swimwear – a masterclass in execution – have inspired me for many years, and my autumn/winter 2011 collection prints were an ode to her painterly but sharp prints. Zigzags, circles, squares and abstract scribbles. Fabrics she designed in the 1930s for Liberty of London and Metz & Co in Amsterdam are pure explosions of finesse and joie de vivre.
In achieving a harmonious juxtaposition of colour, print, fabric and texture (something that has always been a signature of my work), Delaunay's sense of freedom and experimentation and her deep instinctive knowledge of colour warms my heart and lifts my spirit. Her work is charming and stylish, but never trite or commercial. It educates as much as it appeals. She was a true renaissance woman who transformed colour into the stuff of dreams.