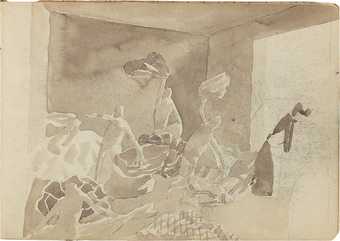 Artistic genius can be difficult to discern from a single work, but artists' sketchbooks – with designs executed over several pages – can be particularly illuminating. These pages from one of Stanley Spencer's sketchbooks, c.1919–27, which came into the Tate archive in 2004, are a perfect example. They cover a crucial period in the painter's life, from his return serving as a medical orderly and latterly as a soldier in Salonika, during the First World War, to the blossoming of his relationship with Hilda Carline: later to become his wife and life-long muse.
Though not necessarily in chronological order, they bear witness to Spencer's time spent with the trade union lawyer Henry Slesser and his wife in Bourne End, Buckinghamshire, in 1919–20; with Britain's first official war artist Muirhead Bone and his wife at Petersfield in 1921; and with fellow artist Henry Lamb in Poole, Dorset, in April 1923, where he produced designs for what would become his magnum opus, Sandham Memorial Chapel at Burghclere, Hampshire.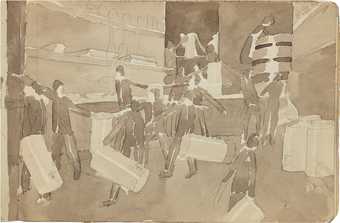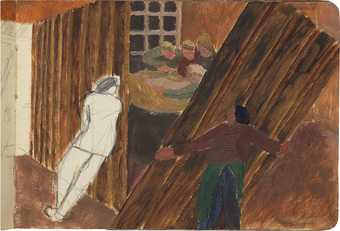 A simple pencil sketch for the chapel is later transformed into a more realised watercolour, while elsewhere one can see Spencer wrestling with ideas for a multitude of hoped-for works, some of which, such as Christ Carrying The Cross 1920, The Disrobing of Christ 1922 and The Resurrection, Cookham 1924–7, he later transferred to canvas. Other tentative designs remained unrealised, such as the double-page spread of a previously undocumented concept for a mural in the Steep Village Memorial Club, Hampshire, commissioned by Bone before the two men sadly fell out in July 1922.
Sketchbooks can also be used by artists as temporary resting places for other drawings, and it was to my surprise and delight that a long-lost and very early sketch of Spencer's brother Gilbert popped out when I was cataloguing this volume.