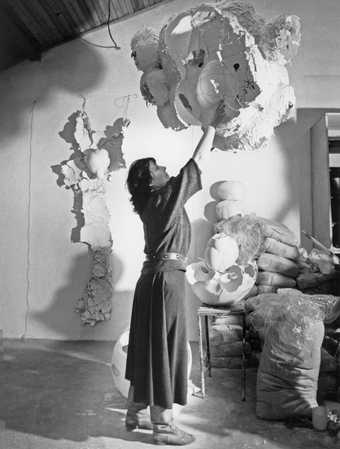 Maria Bartuszová (1936–1996) came from Prague's intellectual and artistic community. She studied in the ceramics and porcelain studios at the Academy of Arts, Architecture and Design in the city from 1956 to 1961, where she acquired a deep knowledge of her craft and began her experimentation. However, perhaps because of unease over political events, she and her husband sculptor Juraj Bartusz, left Prague in 1963 and settled with their young family in Košice, the second-largest city in Slovakia.
Here, while attempting to discover the perfect sculptural form in her studio, she found inspiration when playing with her daughter. She realised that by pouring plaster into an inflatable ball she could produce a pure round shape. She named this technique of casting plaster inside rubber forms (balloons, condoms, etc), through the gravitational action on the liquid and solidifying material, 'gravistimulated casting'.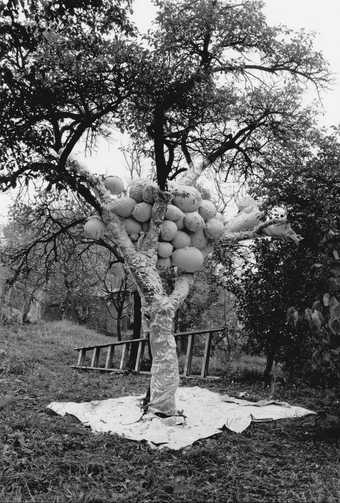 The pieces that Bartuszová created often reflected what she experienced around her, from rain drops to eggs and parts of the human body. Fascinated by the small, fleeting, seemingly incidental, fragile things in the natural world – the flight of dandelion seeds, the rippling of water, air currents – she often photographed her sculptures set within the landscape, as well as staging a number of site-specific works using shell-like forms. As she wrote in her notes: 'I would love to implement more things directly outdoors in the countryside – to connect organically my work with the work of nature.'
As well as studying a wide range of artists such as Jean Arp and Lucio Fontana, she was also much influenced by the organic sculptural forms of Constantin Brâncuşi and Henry Moore. However, while their work was more passive, her sculptures were often designed to be touched and held in the hand. In fact her 'folded' sculptures from the 1960s, which consisted of interlocking elements that could
be reassembled into different configurations, were used as aids and toys at workshops for blind children.
At the beginning of the 1980s Bartuszová's art took a new direction after she was divorced from her husband – reflected in her exploration of pressed and bound forms. These ideas came to fruition in her 1988 exhibition at the Association of Slovak Fine Artists in Košice, which she designed as a 'living organism'. It included her seminal egg-shape shell sculptures, fragile-looking objects that resembled broken vessels or fragmented forms. As she wrote in her sketchbook from that time: 'Ropes, cables, hoops, which sometimes tie up round shapes, can be a symbol of relationships between people, or of limited possibilities, or possibilities that limit what is alive. It can be illness, stress, and relations between what is alive and what is already limited by the time of its existence.'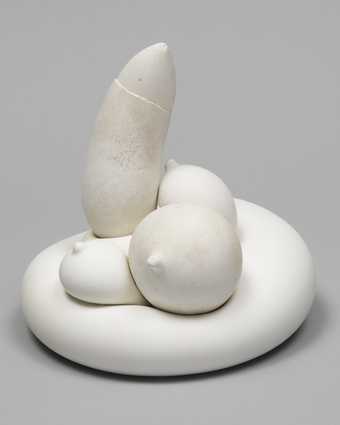 Gabriela Garlatoyová is a curator of the archive and estate of Maria Bartuszová in Košice and PhD candidate in art history at Charles University in Prague.
A display of Maria Bartuszová's sculpture is on view at Tate Modern. Maria Bartuszová: Inspiration, Influence and Legacy, Alison Jacques Gallery, Frieze Masters, London, 5–8 October 2017.