Editor's Note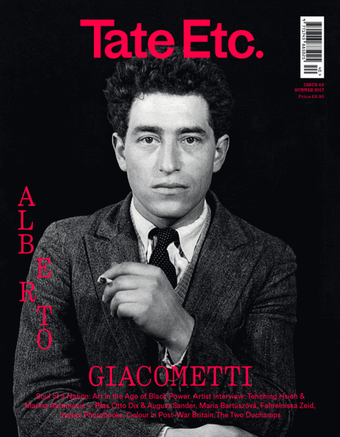 Welcome to the newly designed Tate Etc. We like it and hope that you will too. Do let us know what you think. As well as introducing you to our new designers Guillaume Chuard and Daniel Nørregaard, we welcome, as always, new voices to these pages, including artists Tehching Hsieh, Marina Abramović, Jack Whitten, Mike Mandel, Celia Hempton and Lucy Beech and Edward Thomasson, as well as writers and critics Colm Tóibín, Daljit Nagra, John-Paul Stonard and Patrick Langley.
They are what you might call the visible face of the magazine, but behind the scenes is an array of people across Tate and outside of its walls who help to formulate the look and content of each issue – from curators and archivists to photographers, press officers, marketing teams and many others.
However, there is one person in particular who has provided constant support for Tate Etc. since its launch in 2004, and that is Tate's outgoing director Nicholas Serota. Nick played a key role in the initial idea of Tate Etc. as a magazine published by an art institution that begins with its programme and its collection, but also lives beyond it. Since then his passion for art and for artists has been a constant underlying force in the shaping of the magazine's approach. For all this we are immensely appreciative. We wish him well in his new role at the Arts Council, and we would like to say a big 'thank you'.