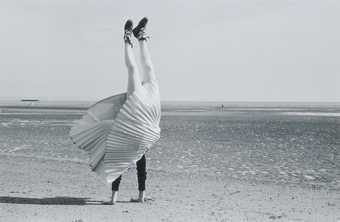 I've known and admired Rose's work for many years but only met her in 2005 thanks to Catherine Kinley, who nominated us to go to China on a research trip on behalf of the Red Mansion Foundation. It was the start of a lovely friendship.
When I remember Rose, I immediately hear her voice and laugh, sharp and warm, and picture her amazing red curly hair. I'm hit by a wave of fresh appreciation for her taste in eyewear, and how she stylishly transported her choice of drink in a small silver hip flask.
A now iconic photograph also comes to mind: The Restless Image 1975 in the Tate collection – a female figure posed in a handstand at the shore's edge, laced up wedge-y shoes hovering in the air, hands flat on the sand, torso and head caught in the folds of a marvellous white pleated skirt evocative of huge paper fans, or a ribbed seashell.
I am always touched and stirred by Rose's photograph, the image upfront yet mysteriously elusive, irreverent and playful, deadpan and serious, the figure simultaneously hidden and revealed, there but not there, trapped and free.
Lisa Milroy is an artist who lives and works in London.
Rose Finn-Kelcey: Life, Belief and Beyond is at Modern Art Oxford, 15 July – 15 October.