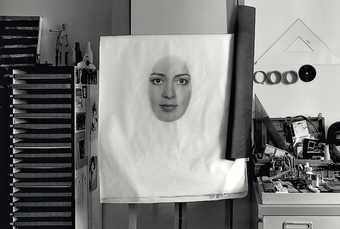 A few months ago, on one of Tehran's hot summer days, I was entrusted with the care of a five-month-old baby. It was not an ordinary day, but the one that Nikoo Kohbodi, an artist – and the baby's grandmother – was laid to rest. To be left alone with this good-natured baby, all her years ahead of her, in an apartment filled with flowers accompanied by notes of condolence, naturally brought many questions about the meaning of life, but also, perhaps more boldly, the life of an artist.
To keep the baby occupied I walked her around her grandmother's apartment, pointing out various objects and talking to her. We went inside one of the rooms used by Nikoo as her studio. There, every tool and appliance clearly bore the signs of use, but they were clean and organised, ready to be reused. The atmosphere of the studio was representative of the woman I had known for nearly 14 years: someone who had worked, unassumingly. Ever since graduating in textile design from Chelsea College of Art and Design in 1976, Nikoo had worked consistently, experimenting continuously with form and media.
Over the years, our group of friends would continue to gather around Nikoo's famous kitchen table, developing from recent graduates to professionals. She would host us with her calm, cool manner, listening to whatever we were going through and giving us her friendly, yet stern, opinions that were drawn from her own experiences. She spoke as someone who had undoubtedly gone through the same struggles, but had overcome them, perhaps by way of weaving life and work into a strong yet flexible mesh.
Now in my late 30s, I have been questioning the meaning of the work that each of us produces – in the light of all that goes before, and beyond, the work itself. Along with the doubts, the stress, the fatigue, the quest for recognition and simply working towards the next deadline, life unravels itself. Nikoo's studio, covered by collaged self-portraits, was the reflection of a soul-searching artist, one ever experimenting with means of expression. But perhaps the most moving piece in the room was an unfinished self-portrait done meticulously in graphite and showing only the roundness of the artist's face, thrusting out of, or dissolving into, the whiteness of the canvas. On the edge of being, or disappearing, her mark of graceful life/work was there. Evidence, perhaps, of nothing more than one's choice of how one spends one's time/life – and of a fading line between life and work: they encompassed one another, and therefore contained both joy and misery.
Nikoo Kohbodi (1952–2017) lived in Tehran and taught at Honar and Alzahra University.
Nazgol Ansarinia's work Living Room 2005, purchased using funds provided by the Middle East North Africa Acquisitions Committee in 2010, is on display at Tate Modern.