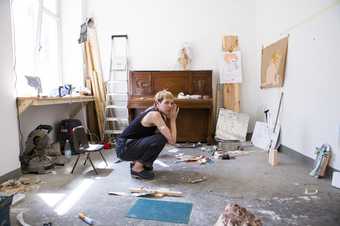 When I'm creating work I'm surrounded by stories of my own making. My sculptures, drawings and I speak in the partial and (in my case) halting language of the body. A neurological disease paralysed most of my right arm and no saint can fix it; with no better narrative options, I had to think about chronic illness, chronic dysphoria, chronic unbelonging, etc., as a form of resistance. Me, with my wounded right hand.
The story of Saint Jerome and the lion goes like this: Jerome and his scholar brothers are studying together in the cloister when suddenly a lion shows up. The lion is roaring and seems rowdy so the monks go for the crossbow to kill it, but Jerome alone raises a hand: this lion is just wounded! Our hero approaches the lion to find a thorn in its paw, or a broken front leg, or something – accounts vary – and he patches it up using his medical kit. From that day on, the grateful lion stays with him forever, instantly tame.
Initially, I viewed this as a beautiful love story. Who doesn't want their wound to be recognised? 'Rowdy lion seeks Jerome to see me in my suffering, and to help navigate stigma around sorrow and sickness, gsoh, all my own teeth', and so on. Wildness and woundedness go together. The whole thing is rooted in some kind of promise that the institutional(ised) relationship will shelter one's wildness from the world, though it's in the vice versa that it becomes problematic. What does one lose by getting into bed with a scholar saint who promises healing? And what's a lion doing in a library anyway?
Let's say that the wound is also Jerome's, and the world's, though the lion must wear it and bear it. To fix the wound is to initiate a hierarchical relationship of dependency and compromise: a means to exercise and maintain control. Jerome, for me, becomes a stand-in for all those who claim knowledge and exercise sovereignty: the patriarch, the imperialist, the supremacist, the taxonomist and the practitioner of the medical/psychiatric/diagnostic industrial complex. He becomes a symbol for the academy, the church and the museum – all of which preserve the status quo in gloved hands, a soft violence. And so I wanted to think about the story from that perspective, acknowledging all the while that 'I' am both Jerome and his lion in this context, both the beneficiary and the victim of these various systems.
Art Now: Jesse Darling: The Ballad of Saint Jerome, curated by Elsa Coustou and Zuzana Flaskova, supported by the Art Now Supporters Circle, Tate Britain, 22 September – 24 February 2019.
Jesse Darling is an artist living and working in London and Berlin.