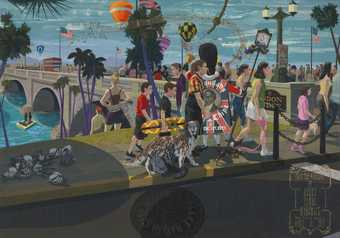 In his recent painting, Untitled (London Bridge) 2017, the American artist Kerry James Marshall imagines a scene in Lake Havasu City, Arizona, where the rebuilding of London Bridge was completed in 1971 after the 19th-century structure had been sent, block by block, from England. While groups of white tourists pass by, an African-American man has dressed up in incongruous pieces of British regalia. He sports a bearskin Grenadier Guards hat, a Beefeater's jacket and an Elizabethan ruff. In one hand he carries a pole with a picture of Queen Victoria, with the other he rings a town crier's bell. Glitter-gold words streaming from his mouth suggest he's singing the Stones's Sympathy for the Devil. On his Union Jack sandwich board, he advertises a restaurant named after Olaudah Equiano.
Born in present-day Nigeria, Equiano was enslaved and sent to Barbados and Virginia. After later buying his freedom he sailed to London where he became a noted abolitionist and published a biography that went into several editions. Its success changed the direction of the movement and earned him a considerable fortune. Today plaques in London mark places where he lived; a cabinet in the new National Museum of African American Heritage and Culture in Washington DC tells his story. But in Lake Havasu City, Arizona, how much notice is being taken of Olaudah's fish and chip shop?
This kind of narrative painting is quite typical of Kerry James Marshall's practice. Today he is one of the most celebrated artists in America, fêted most recently with a three-stop American retrospective titled Mastry. But when Marshall began working in this vein in the mid-1980s, the enterprise of making narrative painting was deemed, at best, an outdated pursuit and, at worst, a reactionary move. Acknowledging the supposed impossibility of history painting, ambitious artists (so it was said) concocted postmodernist pastiches quoting different moments from painting's history, carefully deconstructing their discipline. Those painters who did want to engage with commemoration or historical representation either worked from photographs, for instance Gerhard Richter in his 1989 cycle about the Baader-Meinhof group, or from TV stills, as with Richard Hamilton in The citizen 1981–3. Others abandoned painting to resume its old tasks in photography: Jeff Wall in works such as The Storyteller 1986.
Aware of all these positions, Marshall would have asked: Who exactly had declared narrative figurative history painting 'over', and in whose interest? What does it mean that white artists and critics buried such painting before black artists had explored its possibilities? And were there not potential black audiences that could come to museums to enjoy such large-scale paintings, just as white audiences continued to flock to works by Velázquez, Courbet or Manet?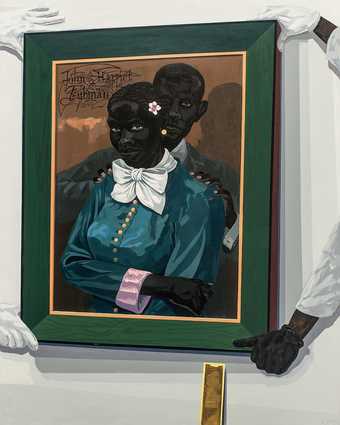 One of Marshall's commitments, then, has been to make ambitious paintings that have taken up physical space in museums alongside works from the canon of painting. He creates pictures of subjects that this canon has excluded: images of everyday African American life in parks and gardens, barbershops and beauty salons; imagined scenes of the heroes of Black history – Nat Turner after beheading his slave master, Harriet Tubman on her wedding day. Marshall paints a new chapter in the history of historical portraiture and 'the painting of everyday life' and he often stages his relationship to, and distance from, the European tradition with quotes of compositional devices or colour schemes. The formal organisation of Untitled (London Bridge) reworks the composition of Seurat's A Sunday Afternoon on the Island of La Grande Jatte 1884–6; its colours recall Derain's London Bridge 1906.
Another crucial idea in Marshall's work was to paint black figures with ivory black, mars black, and carbon black pigments, rather than pigments and mixtures that would more closely resemble the different tones of African-American skins. By using diverse and dark blacks Marshall insisted on the complexity and range of black as a colour. At the same time, he enabled his literally black figures to function as rhetorical devices within their scenes, as much as depictions of people. Marshall's figures pose questions: Which bodies have been previously invisible? Which figures have been excluded from painting's history? This is true for the man at the centre of London Bridge: an entrepreneur pitching a restaurant, and a presence to underline former absence.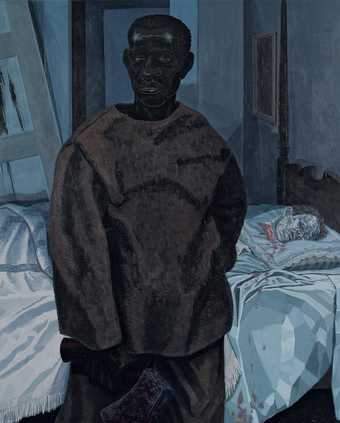 Marshall has said that he wanted to bring together two stories of dislocation and opportunity in the new painting: London Bridge was transported halfway across the world so it could function as a tourist site; Equiano was traded for others' financial motives before later setting up his own enterprises. Taken from the frontispiece of his narrative, Equiano's face, depicted on the sandwich board, is the only one in the painting that looks out at the viewer. And yet, as we look at the work, it seems less and less a work about Equiano. Rather, it's a painting that asks about the possibilities of commemorating Black history, and which looks questioningly at the present: for the man in the centre is having a hard time being noticed. People walk on by.
Marshall's mature work began with his paintings based on Ralph Ellison's 1952 novel Invisible Man, and in Lake Havasu it appears the man by the bridge is invisible, his attempt to commemorate Equiano doomed to failure. In front of him is a looming shadow, and above him swings a rope. What to make of this? Is it a reminder that lynching, in today's America, cannot be consigned to history? In this painting, made two years after the asphyxiation of Eric Garner, does the rope function metonymically, standing for the continuation of state-sanctioned violence?
I don't think we can dismiss these ideas, but nor can we be assured of them – and that's another dimension of Marshall's 'mastry' – to prevent us being able to settle for one reading. Every year at Lake Havasu there are ballooning festivals. The grey zones at the front of the painting are two of the balloons' shadows, and the rope above the man could be a tether dropping from a basket. Perhaps this is just a sunny scene after all. Maybe the bells and the costume will catch attention soon, and, who knows, Olaudah's chip shop will be packed for lunch.
Untitled (London Bridge) was purchased by the Tate Americas Foundation, courtesy of the North American Acquisitions Committee with assistance from Bob Rennie in 2018 and is on display at Tate Britain as part of Walk Through British Art.
Mark Godfrey is Senior Curator, International Art, Tate.